School's out and that means road trips and adventures are on the horizon. Unbeknownst to some, a big part of our northern culture in the summertime includes, chip stands!
These small, mom n' pop stands and trailers serve up some of the best Canadian classics like poutine and freshly caught fish n' chips as well as all-round classics like corn dogs ("POGO") and burgers that draw crowds from near and far and make you dream of cheese curds and gravy. If you're heading on vacation or looking to do some exploring throughout the North, you'll want to hit up some (or all) of these famous spots.
We have done the dirty work and interviewed patrons, talked to owners and straight up taste-tested fan-favourites throughout Northeastern Ontario to come up with this list of the Top Chip Stands in the North. You're going to want to pin, print and plan out visits to these spots.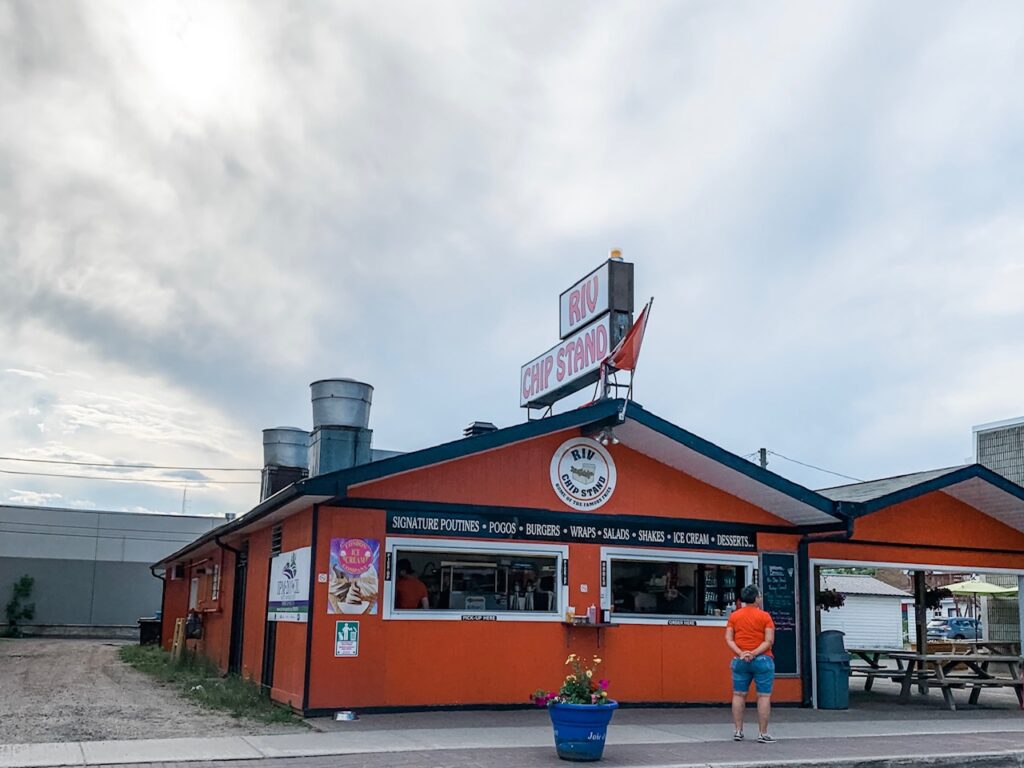 The Top Chip Stands in the North:
Sturgeon Falls
We start our tour in the small but mighty town of Sturgeon Falls Ontario because I believe that it's a scientific fact that chip stands are what put this place on the map. If you're driving anywhere near this area, be sure to stop in for some fries and to fill up on well-priced fuel (usually the cheapest gas!). We spoke to Kate Lepage, owner (with husband Bruno) of RIV Chip Stand to learn more about what makes Sturgeon Falls such a sought-out "chip stand destination".
"The fresh cut fries, that's what makes people come here. We cut them to order. That's what makes all Sturgeon Falls chip stands, stand out".
When asked about the neighbouring chip stands in Sturgeon Falls and what some people tout as a 'rivalry', Lepage said, "I wouldn't really call it a rivalry. Sturgeon Falls is more of a destination. It's a nice drive, whether you're driving through or taking your motorcycle. It's a good stop".
Riv Chip Stand
235 Main St., Sturgeon Falls, ON
https://www.rivchipstand.ca/
Fan Favourite's: Fresh cut fries, poutine, hand-dipped pogo's and hamburgers. Of the burgers, owner Kate Lepage noted, "we get our patties from an Ontario-local farm called VG meats. The beef is raised locally without antibiotics and it makes a big difference. We sell a lot of burgers now."
Monique's Chip Stand
276 Nippissing St., Sturgeon Falls, ON
Find them on Facebook
One of the famous chip stand's in Sturgeon Falls, Monique's is located on the "other" side of the highway. Loyal fans of this local concession stand love the friendly service and great eats.
Fan Favourite's: Pogo, poutine, fresh-cut fries.
Manitoulin Island
The Trough
43 Manitowaning Rd, Little Current
Find them on Facebook
The Trough is a relatively new chip stand to Manitoulin Island but has received rave reviews since it opened it's concession trailer doors. Owned by a chef, it offers hand crafted foods from an expansive menu. Gluten-free dieters can rejoice as it offers great GF items, including GF gravy! Regulars love it for its great patio, big portion sizes and the fact that it's next door to and shares a patio with Manitoulin Brewery doesn't hurt either.
Fan Favourites: Island Red Head burger, chicken club with candied bacon and chicken wings.
Killarney
Herbert Fisheries
21 Channel, Killarney
http://www.herbertfisheries.ca/ or Find them on Facebook

With the catch-phrase, "just one bite and you'll be hooked too", it's no wonder Herbert Fisheries is a sought-out destination. We're writing about the top destinations in the North, but this concession stand and fishery is straight up world-famous for it's fish n' chips – so much so, that it's the only item on their menu and crowds come from near and very far just to dine along the docks of the Killarney Channel. While the road to Killarney is bumpy and long, it's well-worth the drive once you've tried the Fish & Chips!
Fan Favourite: Fish & Chip meal.
North Bay
TJ's Snack Shack
3761 Trout Lake Rd, North Bay, ON
Find them on Facebook
Any true North Bay resident knows that TJ's is the place to be for great food and great views! With delicious offerings and wonderful service in a beautiful waterfront location on Trout Lake, you're sure to enjoy your experience.
Fan Favourites: Fries, jerky, poutine. Plus, great salads, a kids menu and vegan offerings.
Potato Headz
104 Highland Rd, North Bay, ON
Find them on Facebook
One of North Bay's newest chip stands, you can find the friendly yellow Potato Headz stand at the North Bay Museum in the heart of town. Already known for its friendly staff and great food, it's sure to be a popular summer destination.
Fan Favourite: Tornado Potato.
Sudbury
Silver Bullet
593 Notre Dame Ave, Sudbury, ON
https://silverbulletsudbury.ca
The Silver Bullet has been a staple to the chip stand scene and a Sudbury landmark for over 25 years.
As noted on its website, "The Proulx family has always made it our mission to provide Silver Bullet customers with an exceptional "chip stand" experience; mouth-watering food made with the freshest products, sourced locally, and served with a smile".
Fan Favourites: "legendary burgers, Sudbury's cheesiest poutine and the perfect pogo".
Stop drooling and start the car! And when you get to your chip stand, be sure to snap a picture and tag us + use the hashtag #NorthernHospitality! Happy start to summer!
Did we miss your favourite chip stand? Let us know!