This hearty, yet healthy acorn squash and carrot soup will have you yearning for cool temperatures and cozy evenings.
When Autumn calls and days turn crisp, not only do we look to heavy knit sweaters and loads of layers, but we gravitate toward comfort foods that make us feel warm and cozy on the inside too. It's soup season!
This recipe is easy to follow, is relatively hands-off cooking-wise and is made with only a few easy to find ingredients. The results however are far from simple – I'd even say they're downright delicious.
The ingredients list for this recipe is short and only calls for an acorn squash, a few carrots, cloves of garlic and chicken stock. Roasting makes for more flavour and if you're like me, throwing stuff in the oven and walking away is the best way to cook. The stock can be homemade or store-bought and feel free to substitute chicken for vegetable stock, or if you're hosting Thanksgiving dinner, save your turkey bones for turkey stock.
If you're looking to add a beautiful and tasty garnish to your soup, save the squash seeds and roast them with a dash of salt and pepper. Just don't forget them in the oven while you roast your squash or you'll end up with a heap of black seed dust (I speak from experience). Other pretty garnishes can include a gentle swish of heavy cream (35%), a sprinkle of smoked paprika, some chopped chives/green onions, or a handful of parmigiano-reggiano shavings.

Tip from Tara: to give this soup a protein kick, try adding 2/3 of a cup of chickpeas before you blend it up. You can also purée the chickpeas before adding it to the mix. Depending on the consistency you're looking for, you may want to add a bit more stock once everything is blended. For a creamier version you can also substitute coconut milk for the stock!
Ingredients
1 Acorn squash
3 – 4 Carrots
3- 4 Cloves of garlic
4 cups of chicken stock (or any broth/stock of your liking)
Drizzle of olive oil
Salt and pepper to taste
Optional: 1 Bay leaf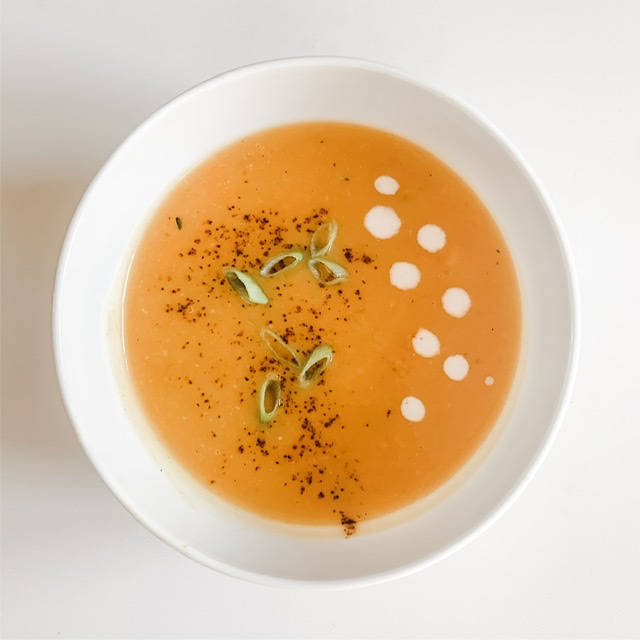 Instructions
1.Preheat your oven to 400F (205C).
2. Cut your squash in half and remove the inner seeds and pulp (save the seeds if you are going to roast them). Peel your carrots and slice them in halves.
3. Drizzle some olive oil and add some salt and pepper to the inside of the squash and the carrots.
4. Add the whole garlic cloves (in their skin and all) in the inside of the squash and place them on a parchment paper lined baking sheet (so the squash is facing down with the garlic underneath). Scatter the carrots around the squash on your baking sheet.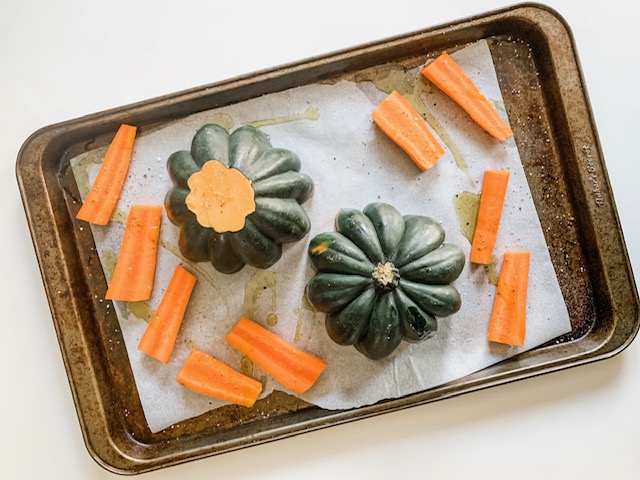 5. Place in the oven and roast for 45 minutes.
6. Carefully remove the baking sheet from the oven and add the carrots, garlic and squash to a soup pot or dutch oven. To add the squash, scoop out the flesh with a large spoon (I wear rubber oven mitts to handle the squash but you could easily let it cool off slightly before doing this).
7. Add the chicken stock to your pot and use an immersion blender to smooth out the mixture. I always wear an apron for this as I tend to be a messy blender-er. Turn the stove on medium-heat until the soup is warm enough to eat. If you have time, simmer it on low for at least an hour. Add salt and pepper to taste.
(If you're using store-bought stock and want to add a bit more flavour, add a bay leaf to the soup once you're done blending it and simmer for an hour. Remove the leaf before eating.)
8. Serve with your choice of garnish and fresh buns, garlic bread or (my favourite) grilled cheese sandwiches.
They say, "it's the simple things in life" … and while I agree, I should also say that making meals simple makes my life better … in so many ways.
Enjoy! xo

Essential Soup Tools
Here are some of my favourite kitchen essentials that make this soup come together so easily:
CUISINART SmartStick 2-Speed Hand Blender with Chopper Attachment
Heat Resistant 550 Degree Oven mitt, Silicone Oven Hot Mitts
Cotton French Country Farmhouse Apron with Pocket and Extra-Long Ties
Our editors review and recommend products to help you buy the stuff you need. If you make a purchase by clicking one of our links, we may earn a small share of the revenue. The compensation received via any form of advertising will never influence Northern Heart + Home's content. We only feature items we love and think you will too!