When it comes to feasting this festive season, it can be difficult to please all appetites and dietary restrictions. These favourite appetizers are yummy and friendly for almost all diets - a guaranteed holiday hit!
Hosting a party or heading to a seasonal soirée over the holidays? We put three of our favourite crowd-pleasing finger food recipes together that will be a hit with everyone you mingle with!

Sweet potato and spinach fritters are vegan, gluten free and paleo-friendly, but don't skimp on taste! The brown sugar and bacon bites will make even the pickiest eaters come back for more. And the mix of sweet, bitter and salty flavours in the pear and prosciutto wraps will melt in your foodie-friends mouths.
Whether you make them all or choose just one, we guarantee some appy-happy-campers with these recipes.
SWEET POTATO & SPINACH FRITTERS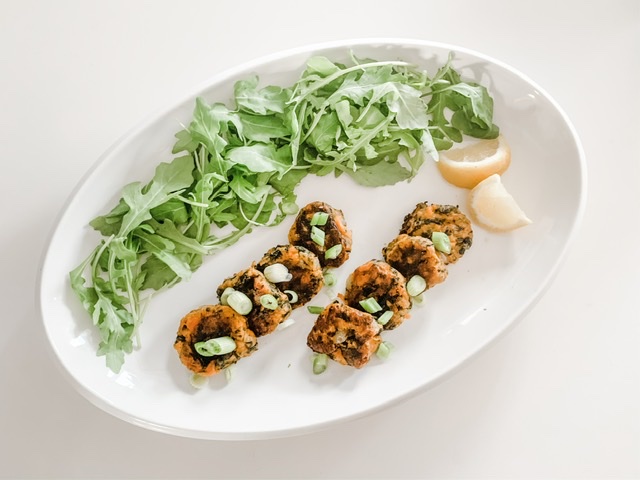 These tiny sweet potato cakes are vegan, gluten free and paleo-friendly but delicious for all diets! Made with spinach, garlic, onions and a little heat; they are crisp on the outside and soft on the inside. Pan-fried in small bites, they are great to serve as a warm appetizer.
INGREDIENTS
2 medium sweet potatoes
1/2 cup frozen, chopped spinach (if you are going to wilt it yourself, I have no idea how much, but would estimate 13lbs. – kidding, maybe like 2 cups fresh to get 1/2 cup)
1 white onion, chopped
2 tbsp olive oil
2 cloves of garlic, minced
1/2 tsp dried thyme
1 tsp of lemon zest, 1 tbsp lemon juice (and lemon wedges for serving)
1/8 tsp chili flakes (or to taste)
1 tsp salt (or to taste)
2/3 tsp fresh cracked pepper (or to taste)
1/2 cup flour (I use GF flour, but regular flour works too)
Oil for frying (you can use coconut oil, macadamia oil, ghee or avocado oil)
Green onions or chives, chopped, for serving
INSTRUCTIONS
Preheat oven or toaster oven to 350 degrees. Bake sweet potatoes whole , until soft when poked through with a knife (about 30-40 mins). Let them cool then spoon out the insides and mash in a bowl. Set aside.
Heat 2 tablespoons of olive oil in a frying pan or cast iron skillet and sauté for about 6-8 minutes over medium heat, until translucent and starting to brown.
Add the chopped spinach, garlic, lemon zest, thyme and chilli flakes and cook for 4-5 minutes. Most of the water should evaporate from the spinach. Add lemon juice.
Get your bowl of sweet potato mash and add the spinach and onion mix, salt, pepper and flour and mix well together.
Get out your frying pan (non-stick works best) and heat a thin layer of oil on medium-high heat. Wet your hands slightly or use a tablespoon to roll equal amounts of potato and spinach mixture into small balls. Remember, these are appetizers, so smaller work best for finger foods (approximately 1 tbsp in size).
Gently place in a hot frying pan, leaving a little space in between balls. Press down on each ball with a spoon or spatula so they flatten out into fritters. Fry for 2-3 minutes on each side, until golden brown crust forms, making sure to turn over gently using a fork and a spatula. Fry in batches, adding more oil as needed.
Serve with chopped green onions or chives on top and lemon wedges.
BROWN SUGAR BACON BITES
Original recipe from tiphero.com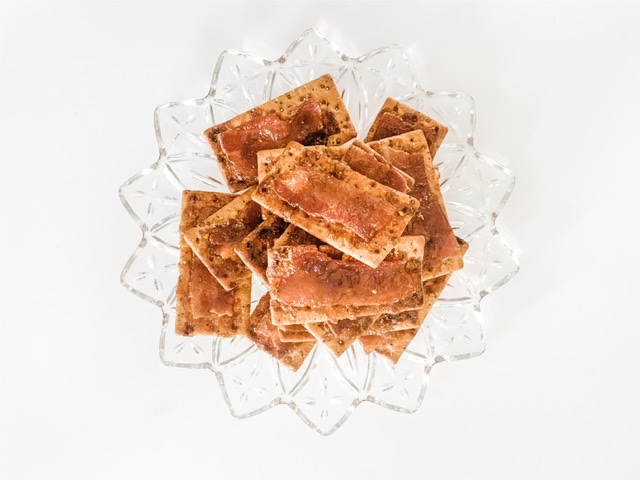 We all have at least one bacon-loving friend or family member – and they're usually the life of the party (am I right?!). These bite-sized brown sugar bacon bites are so easy to make and have a salty-sweet-savory-spicy crunch that is second to none! They'll be an instant favourite for all party people.
INGREDIENTS
1 package crackers (I used Vitta brand, but you could use your favourite semi-plain rectangular cracker or gluten free variety)
8-10 slices of bacon (regular-sliced works best, not extra thick)
1 cup brown sugar
1 pinch cayenne pepper (or to taste)
Cracked black pepper (to taste)
DIRECTIONS
Preheat the oven to 350°F. Line a baking sheet with parchment paper or aluminum foil and top with a wire rack.
Place crackers on the wire rack, leaving a little space in between.
Slice or cut the bacon into thirds or fourths (depending on the size of your crackers). Place a piece of cut bacon lengthwise on each cracker.
Spoon brown sugar on top of the bacon-topped crackers (about 1 teaspoon per cracker). Then lightly sprinkle with cayenne and cracked black pepper.
Bake for about 20 minutes or until the brown sugar melts and bacon becomes crisp. Allow crackers to cool on the wire rack. Use a spatula to carefully lift them off to serve. Brown sugar bites can be made ahead, but taste best when reheated in the oven for a few minutes before eating.
PEAR & PROSCIUTTO WRAPS
Original recipe adapted from Real Simple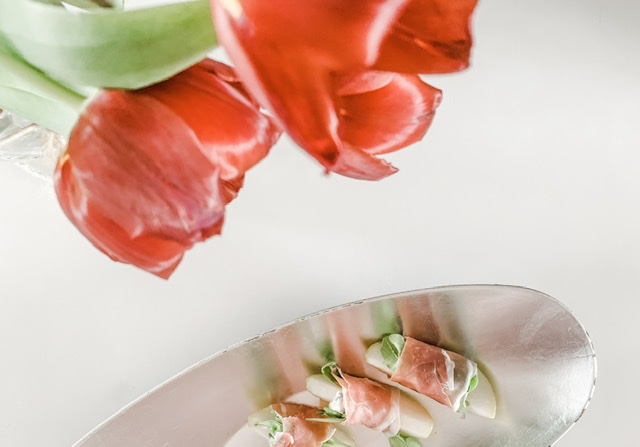 Never has a mix of flavours come together in such beautiful harmony. These bites combine soft, sweet pears, tangy blue cheese, bitter and crunchy arugula, and salty prosciutto, all wrapped up in delicious goodness. Blue cheese lovers unite! This appetizer will have you swooning for more. And GF/carb watchers can rest easy knowing that these are grain and gluten-free.

Ingredients
2 pears (I used d'Anjou), cut into 8 wedges per pear
1 cup arugula
3 ounces blue cheese, cut into small pieces
8 slices of thinly sliced prosciutto, cut in half lengthwise
fresh lemon juice (if you aren't serving right away)
DIRECTIONS
Prep all items according to the ingredients list and lay out in front of you.
Place a slice of prosciutto down on a cutting board or plate and layer with aslice of pear, a few arugula leaves, and a small piece of cheese.
Roll it up and repeat.
Serve immediately or place in the refrigerator. NOTE: if making ahead, gently toss your pear slices in lemon juice before rolling to prevent the pear from turning brown.
Do you have dietary restrictions or picky eaters to make for? What are you go-to finger foods for the holidays? Drop us a note and let us know what your favourite finger foods are. We'd love to hear from you!