A new year and a new decade is the perfect time to get active and embark on a new adventure! Aside from simply upping the fun factor, the health benefits of staying active in the winter are endless. So why not venture outside and enjoy the season in all its snowy splendor? Whether you are looking to visit the North to escape the hustle and bustle of the city or explore in your own backyard, there is something for everyone. Gather family, friends, a significant other or go solo. From staycations to day trips to weekend getaways we've found amazing adventures at every price point for you:
1. Skate on a Torch Lined Trail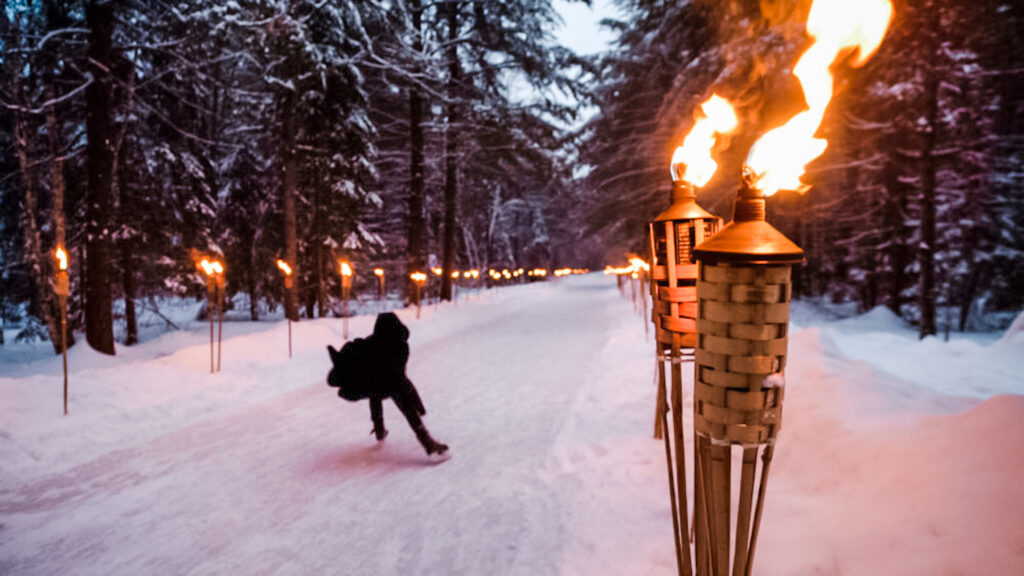 Image source: Discover Muskoka
Arrow Head Provincial Park is located in Huntsville and offers a 1.3 km skating trail that winds through the tall trees. On special Fire & Ice Nights they enhance the experience by offering a night time skate that is illuminated by torches. Two bonfires provide the perfect place to roast marshmallows and drink hot chocolate under the stars. Be prepared to pay a minimum of $12.25 per vehicle for a day use permit but there is no cost for use of the trail and you can bring your own skates or rent them.
When: Select dates in January, February and March, weather permitting
Cost: $12.25 and up
Where to Stay: Use these links to read reviews while accessing the best deals for hotels and vacation rentals near Arrowhead National Park
2. Walk a Wintery Rainbow Coloured Trail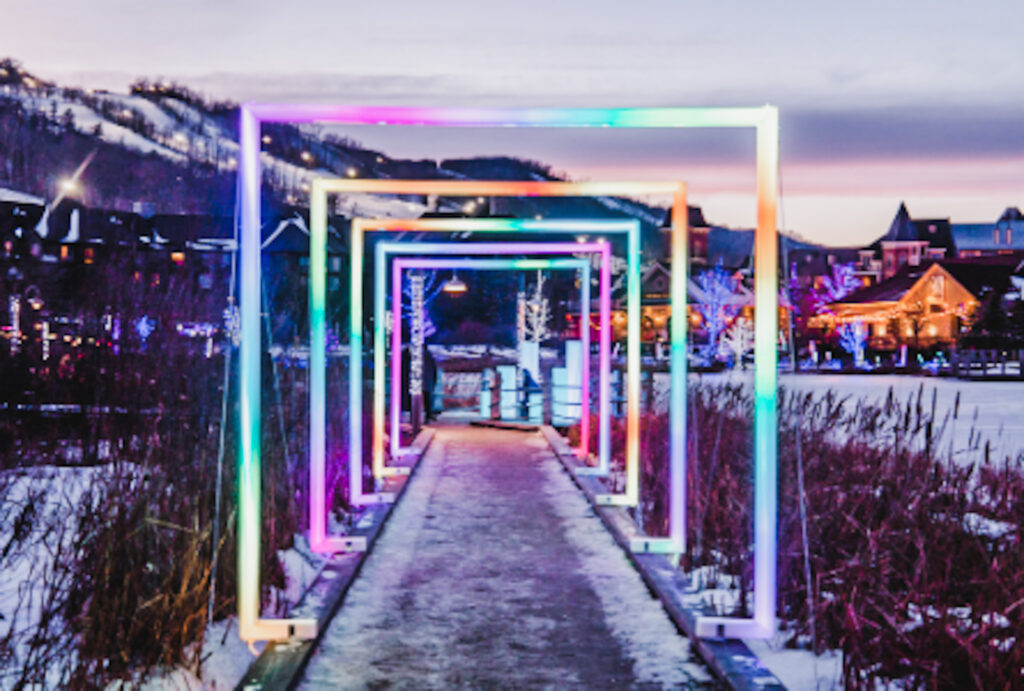 Image Source: Blue Mountain
The Blumination Dream Trail in the Blue Mountain Village is a winter wonderland of multi-coloured twinkling lights. Starting at dusk until 10 pm, this 1km path ends in a spectacular light show where the lights dance to the music at key times. Bonus: Walking the trail is free!
When: Nightly Until March 28
Minimum Cost: $0
Where to Stay: Use these links to read reviews while accessing the best deals for Blue Mountain Resort and vacation rentals in the area
3. Ski and Snowboard the Slopes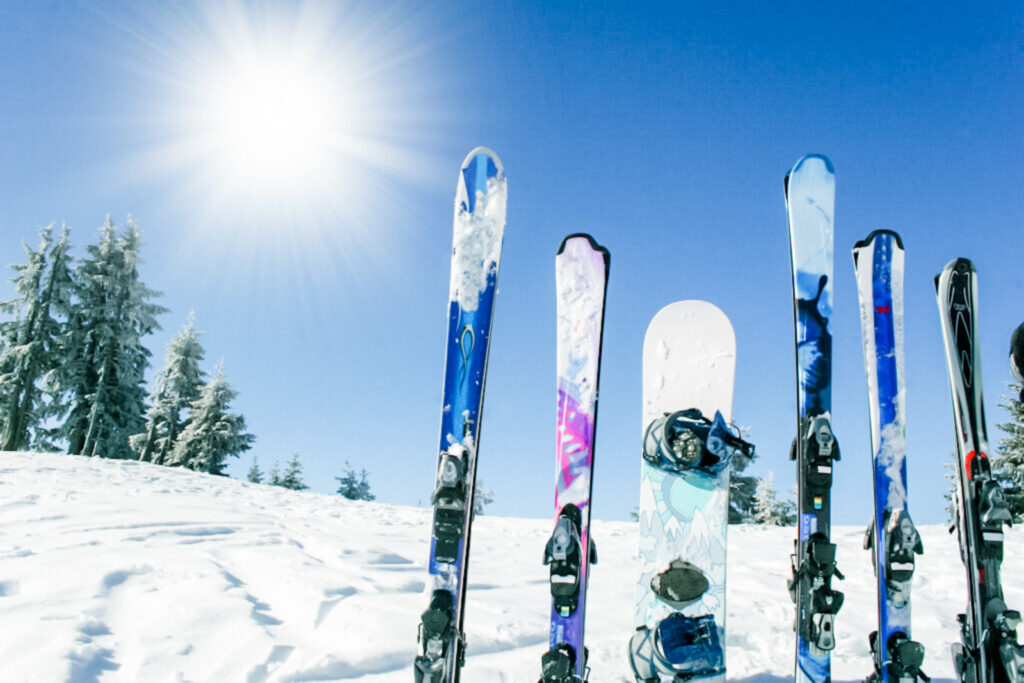 Image Source: Laurentian Ski Hill
Laurentian Ski Hill in North Bay has something for all ages and levels! With 6 runs, 3 lifts and a 300 foot vertical drop, it's the perfect place for beginners or seasoned veterans looking to sharpen their ski or snowboard skills. Enjoy their regular rates or special student, family, group, military and ladies night discounts. The licensed Laurentian Cafe in the lower lodge is the perfect place to grab a cocktail, cup of cocoa or tasty treat.
When: Hours vary Wed-Sun, open Family Day Monday
Cost: $10 and up
Where to Stay: Use these links to read reviews while accessing the best deals for hotels and vacation rentals near Laurentian Ski Hill
4. Cruise the Canadian Shield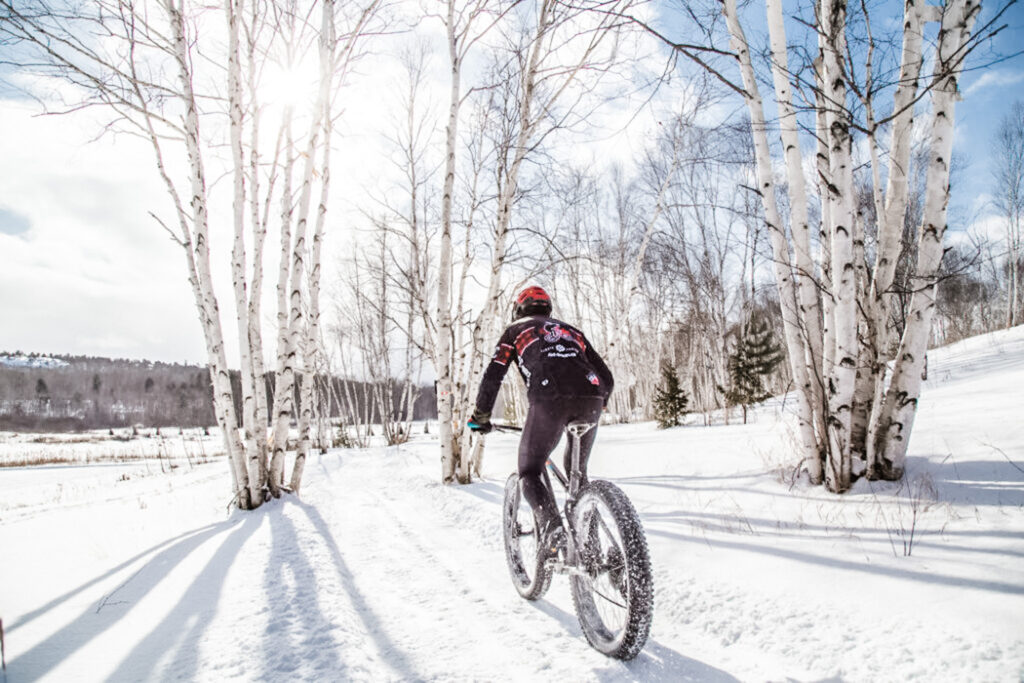 Image Source: Northern Ontario Travel
Kivi Park offers fun for all ages and abilities on 450+ acres in the Cambrian Shield. Explore the network of trails by cross country ski or snowshoe. Skating on the path and illuminated outdoor rink or fat biking are other outdoor adventures to be had. You can also give back by participating in the special events held throughout the season.
When: Daily
Cost: $9 and up
Where to Stay: Use these links to read reviews while accessing the best deals for hotels and vacation rentals near Kivi Park
5. Enjoy an All-Inclusive Snowmobile Stay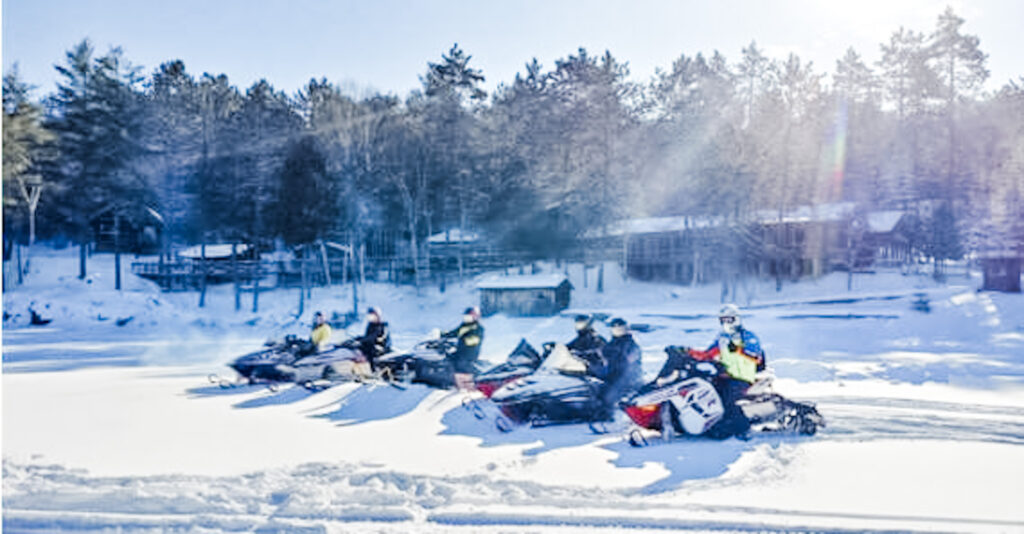 Image Source: Northeastern Ontario
Catering to groups of all sizes and skills, Mattawa River Resort is the top destination for snowmobilers in Ontario. The resort offers private groomed trails with easy access to shared trails. All-inclusive options include lodging and dining with up to 3 chef prepared meals a day. Add further activity to your vacation with snowshoeing, cross-country skiing, ice-skating and sleding!
When: Daily
Cost: Starting at $145 per night for a 3 nights
Where to Stay: Use these links to read reviews while accessing the best deals for Mattawa River Resort and vacation rentals in the area
6. Drive Your own Dogsled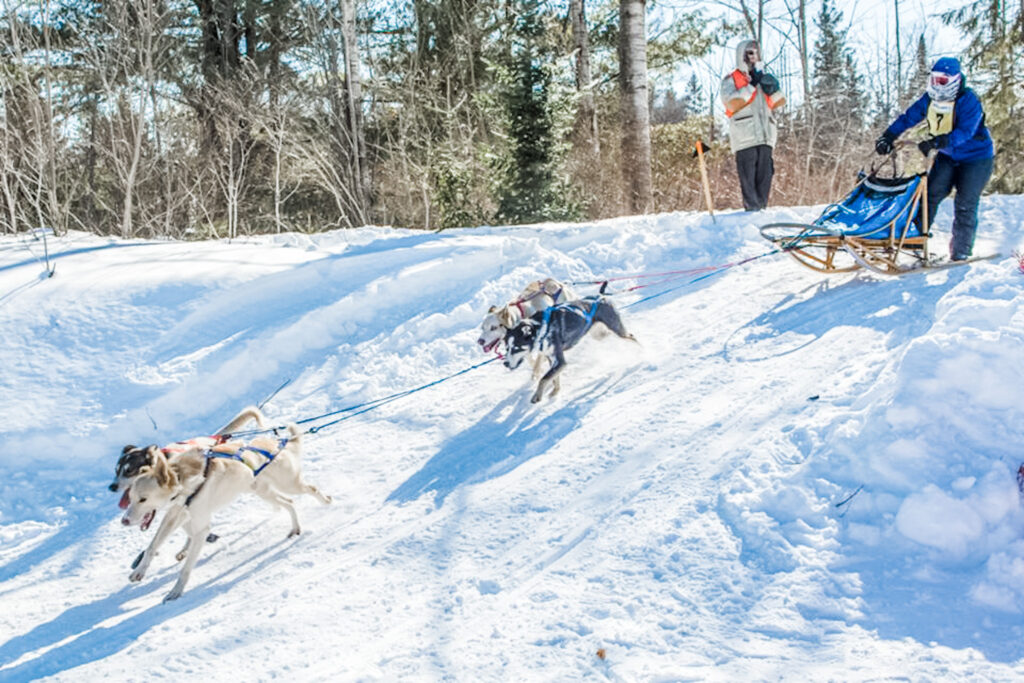 Image Source: Sugardogs Adventure Company
Sugardogs Adventure Company in Sunridge offers dogsled adventures for all ages and abilities! Enjoy private or shared trails through the highland forests bordering Algonquin Park. Options include one hour, half-day, full day or large group packages. Warm up in their wall tent, complete with wood stove and hot cocoa!
When: Daily
Cost: $128.25 and up
Where to Stay: Use these links to read reviews while accessing the best hotels near the Sugardogs Advenure Company
7. Snuggle Up in a Sleigh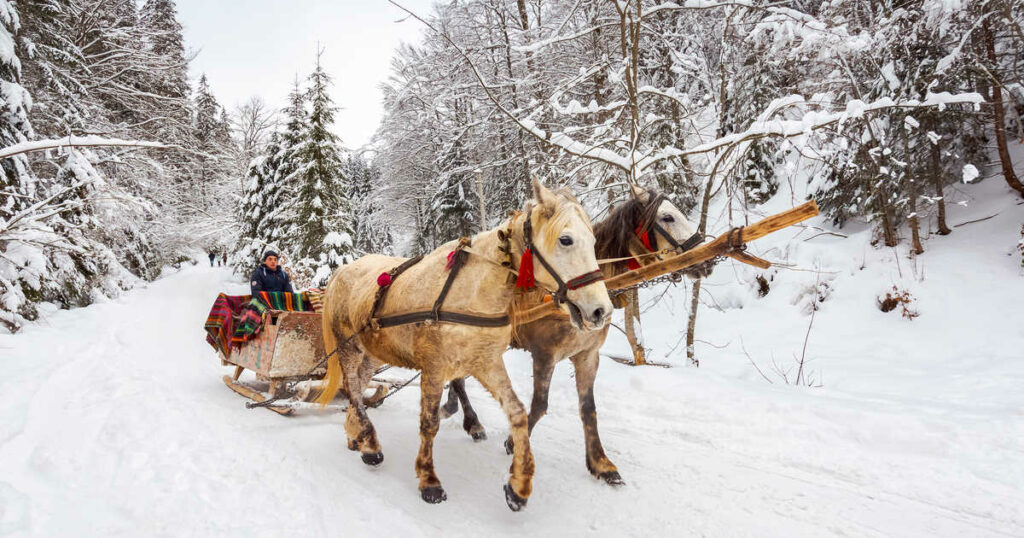 Image Source: Michael Phelin/Dreamtime
A horse drawn sleigh ride with Back of Beyond Equine Centre in Muskoka is perfect for a date night, family outing or a group activity. Bundle up, huddle together and enjoy the freshly fallen snow from the comfort of a sleigh. Whether a one time thing or a recurring tradition, it's a magical memory you won't soon forget!
When: November-March
Cost: $135 for 2 participants, $25 for each additional person. Children 4 and under are free. Reservations required
Where to Stay: Use these links to read reviews while accessing the best deals for hotels and vacation rentals near the Back of Beyond Equine Centre
8. Tube Down the Longest Hill in Ontario

Image Source: Horseshoe Resort
Horseshoe Resort offers the "all thrill, no skill" fun of snow tubing. Go by yourself or grab a group! Take a magic carpet ride to the top, select one of 10 big chutes then glide down the big drop. There is no age minimum but riders must have a height of 3′-6″ or more.
When: Tuesdays-Sundays
Cost: $8 and up
Where to Stay: Use these links to read reviews whil accessing the best deals for Horseshoe Resort and vacation rentals in the area
Did we miss any awesome Northern adventures?! What are your favourite ways to stay active in the Winter? Drop us a note, we'd love to hear from you!
And don't forget to head over to our happenings section to see the latest and greatest of Northern Ontario events each month.
Warm Up Your Winter Wardrobe
With several months of Winter weather still ahead, now is the perfect time to stock up on these staples at sale prices:
1. THE coat that everyone from New York Magazine to Oprah is talking about is on sale! Equal parts cozy and chic, it's available in 5 colours and has over 6,700 five star reviews. Prime members will get the best price on this piece plus free two-day shipping.
Orolay Women's Thickened Down Jacket – $186.99
2. These socks are a staple in our home and have become the key to staying warm while enjoying winter activities or just to keep our toes toasty at home. Available in varying colours and thicknesses, they are scientifically proven to be 3-7 times warmer then you traditional sock depending on the style you select.
Heat Holders Women's and Men's Socks – $14.99-18.99
3. In our quest to find the warmest winter boot we've tried almost every brand. For splurge-worthy warmth and style, Andryanna swears by the UGG Adirondak Boot and Tara loves the Aquatherm Ingrid Waterproof Boot. These Sorel's have now caught our eye as they check all our winter boot buying boxes at a fraction of the cost! We like that these boots have a versatile style, shearling snow cuff, removable washable liner, are waterproof and rated for -32c. With over 11 colours to choose from and most sizes currently marked down under $90 you can't go wrong!
Sorel – Women's Winter Carnival Waterproof Boot for Winter – $89.99
4. Show your Northern pride with this toque made in Canada. The basic black is a classic and will quickly become your go-to way to stay warm in style. The Great North Brand focuses on both quality and sustainability, with 10% of the profits used to support their sustainable efforts. Bonus: Northern Heart + Home readers can use code ANDRA82 at checkout to get a 30% discount on your purchase.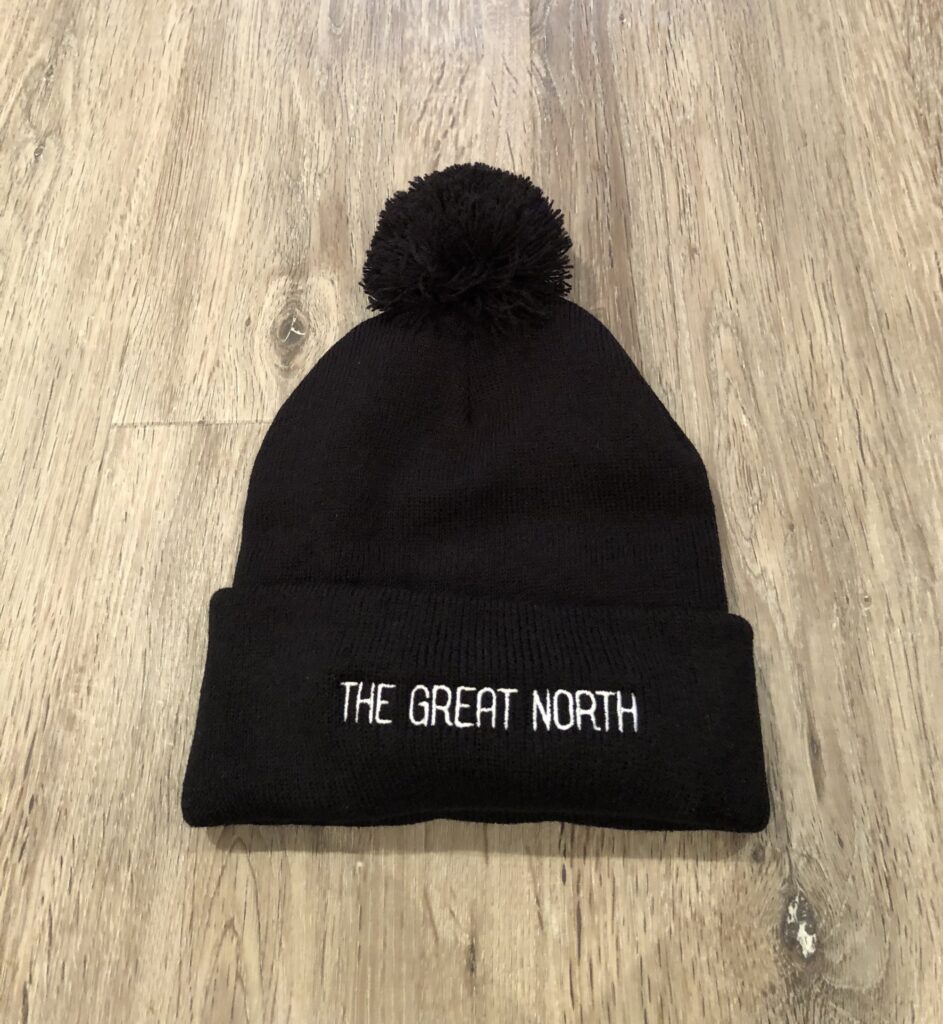 Our editors review and recommend products to help you buy the stuff you need. If you make a purchase by clicking one of our links, we may earn a small share of the revenue. The compensation received via any form of advertising will never influence Northern Heart + Home's content. We only feature items we love and think you will too!