With January under our belts, Cupid's arrow is officially pointing to Valentine's Day on our calendars. We are all about gratitude and love the idea of a day dedicated to expressing our appreciation to all those that have a special place in our lives. Maybe your looking for something special for a significant other, a child, friend, family member, neighbour, coworker, babysitter or even your pet. Why not include YOU? To truly honour Valentine's Day, we're sharing our thoughts on self-love and spreading the love from there.
Something that we have been exploring lately, is the notion of self-love and giving to ourselves so that we can give more to others. For two busy women who are focused on our families, careers, and day-to-day lives, we're learning that when our cup is full, we have the energy and inspiration to really be there for those we love most.
When we think about Valentine's Day, we often dismiss ourselves in an effort to show others how much we care. This year, we want to challenge all of you to take care of you first and then look to those around you. It can be as simple as taking time for a quiet bath, a hike with friends or treating yourself to a massage. When we care for ourselves, we can care for others.
And when we feel like the best versions of ourselves, we want to spread that love and give it to those around us. So as we lead up to Valentine's Day, try to remember who's number one!
To help with self-love and spreading the love we carefully curated and compiled a list of some of the sweetest, most thoughtful gifts made in the North that can be shopped from anywhere. Support local and give to someone special or treat the most important person in your life: you!


Show Your Love With these Gifts Made in the North
HellaFreshDesigns, located in Sudbury, creates unique cards for all occasions. "From sexy and flirty, to sweet and romantic", this shop serves up cute, hilarious and absolutely off-side cards when the commercial variety just won't cut it. Find the perfect Valentine's message for a new relationship, the love of your life, your work "wife" and even your bestie.
From the shop: "My cards … [incorporate] my sarcastic and inappropriate sense of humor. Being a borderline OCD perfectionist, each card is VERY lovingly created, printed, inspected and packaged in the comfort of my home and pajamas.
Delivery: 2 – 5 business days, within Canada.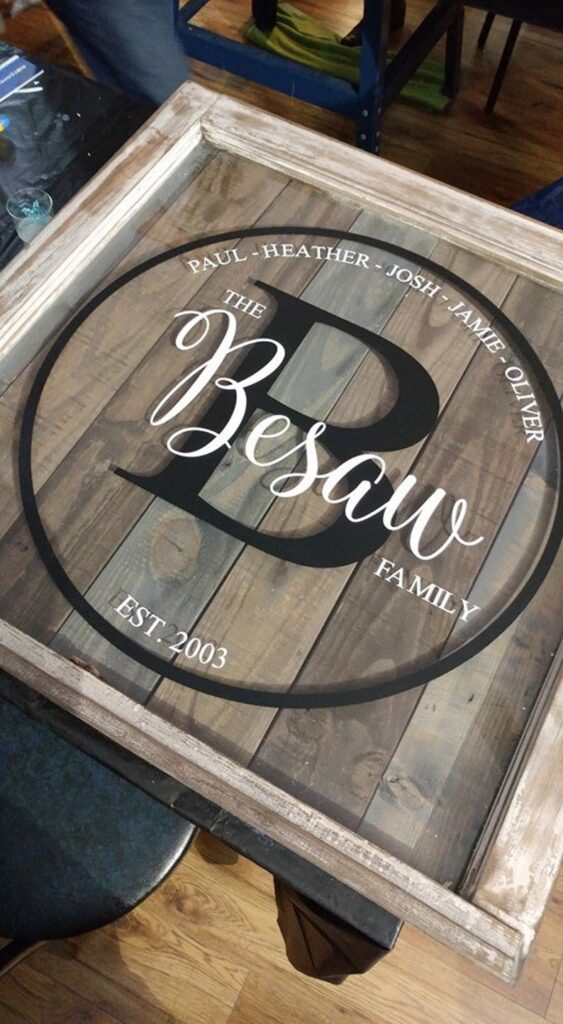 North Bay-based Serendipity Sign Co creates custom signs that can be the perfect gift for you and your loves ones. These rustic and reclaimed works will not only personalize your space but also showcase who matters most in your life.
From the shop: Custom built and reclaimed home decor.
Delivery: ready to dispatch in 1-2 weeks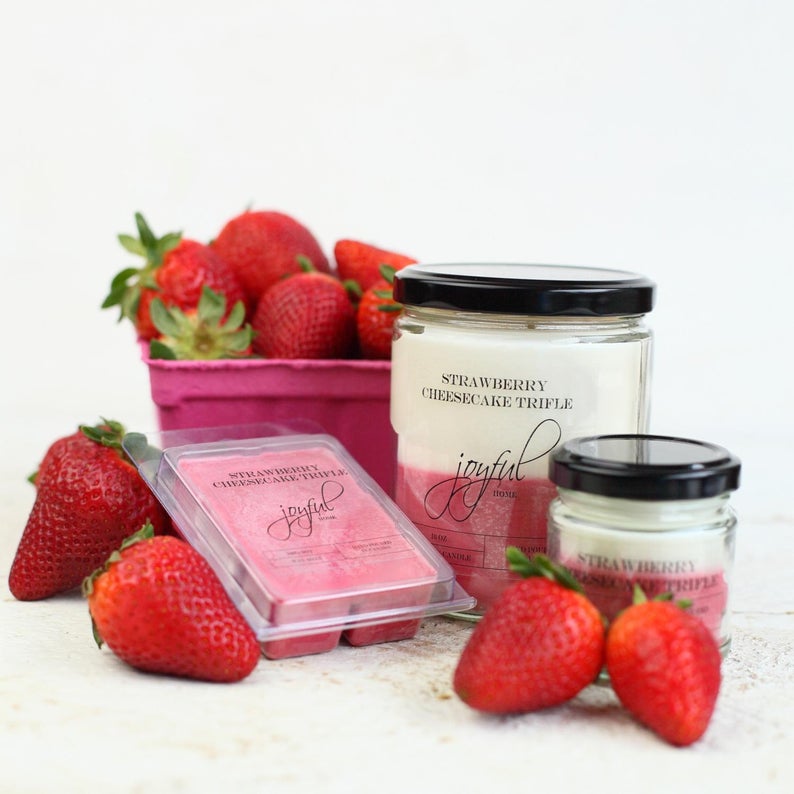 With scrumptious scents like strawberry cheesecake trifle, Canadian maple syrup and apple crumb pie, the vegan soy candles and wax melts from Sudbury-based JoyfulHomeCo will make you fall in love with its aromas and have you skipping dessert!
From the shop: Joyful Home candles are handmade with 100% natural soy wax, which is biodegradable & comes from a renewable source. We use high quality fragrance oils & cotton wicks. Our candles have a long, clean burn that fills your home with its abundant scent.
Delivery: ready to dispatch in 3 – 5 days.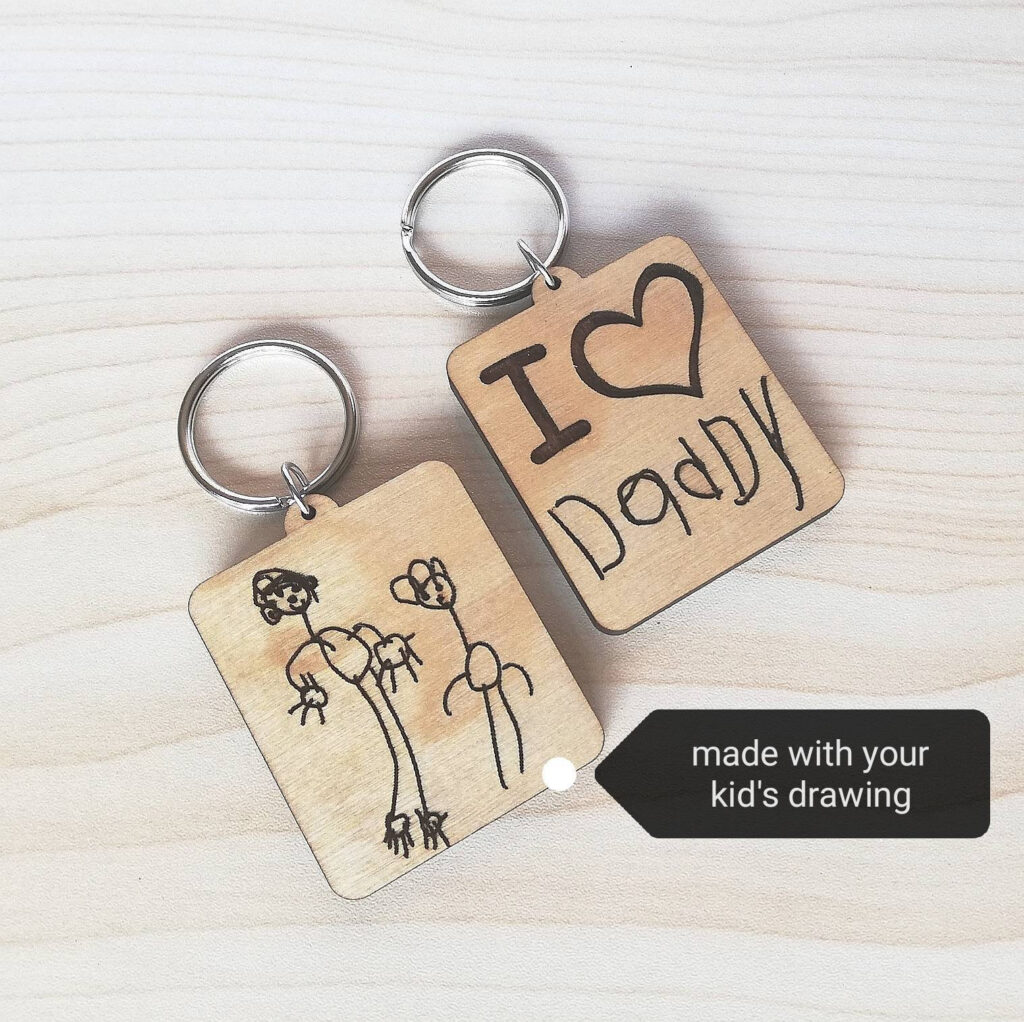 North Bay's Sparked Up Studio will take the original artwork of your child, grandchild, niece or nephew and turn into a practical keepsake. Think laser cut birchwood magnets, keychains, necklaces, ornaments or even dog tags. You can even personalize with a sweet saying or message!

From the shop: Laser Cut, Wood Burned & Hand Painted Designs from your child's art
Delivery: Ready for dispatch in 3-5 days, free delivery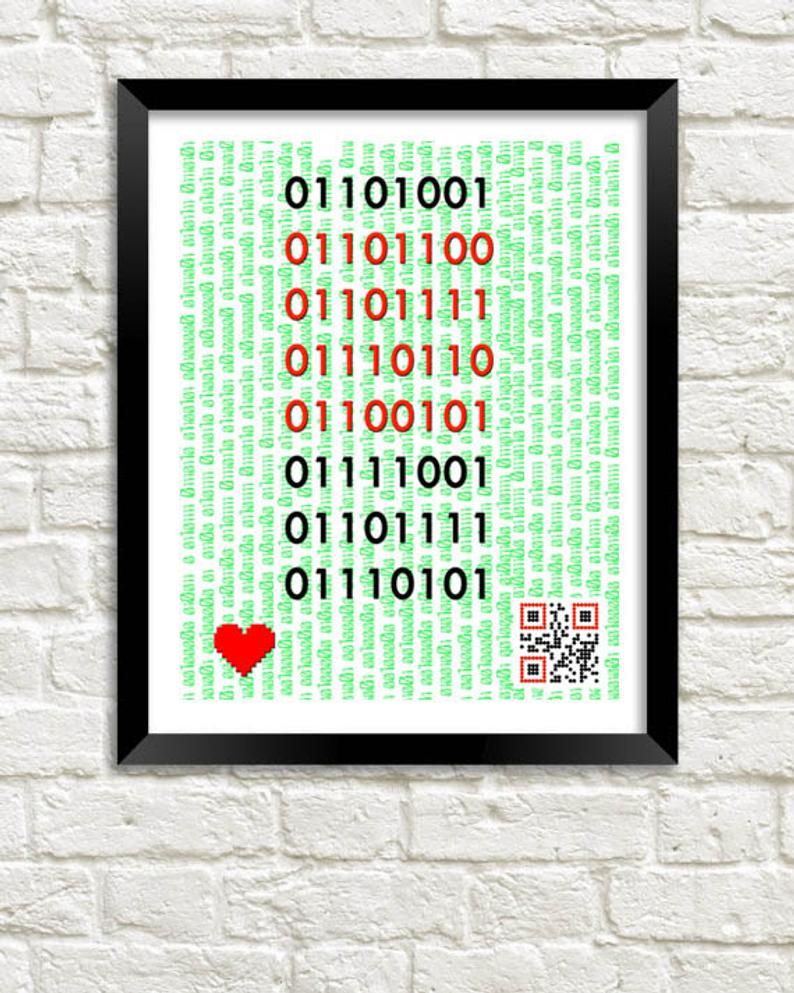 Ed Warwick Fine Art is based out of Sault Ste. Marie, ON. If you're looking to show your favourite "geek" you care, this binary print says it all, by code.
From the shop: This geek "I Love You print says it all, in fact you can scan the QR Code and the I Love You message appears on your smartphone or tablets screen. Gotta love the 8 bit red heart, the green binary code in the background reads "I Love You" over and over again. This makes the perfect gift for that favorite Geek, Nerd, special someone or that person that needs anything Geek!
Delivery: Ready to dispatch in 1 day with FREE shipping.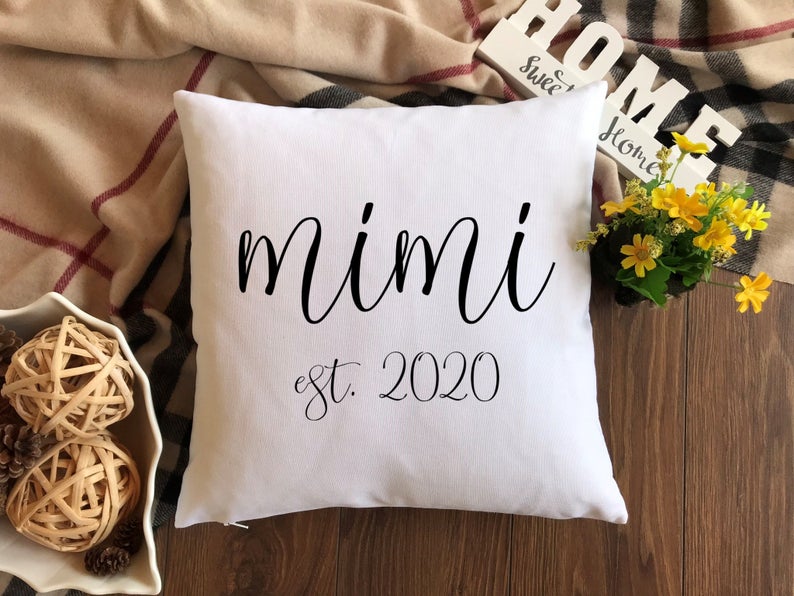 You can find something for everyone on your V-day list at Muskoka Pillow Company. Gifting you or the loves in your life with a custom pillow, place mat, table runner or apron will not only make their hearts day happier, but it will also give them a lasting reminder of your love that can be enjoyed long after the holiday.
From the shop: These handcrafted products are designed to enhance your everyday living space with a rustic flare, while remaining attractive and versatile. I use all natural cotton canvas in my products. All of the stencils and artwork are hand painted with acrylic fabric paint, or for more fine detail heat transfer vinyl is applied with a commercial heat press. All designs come in a variety of colors.
Delivery: Ready to dispatch in 3-5 business days with FREE shipping.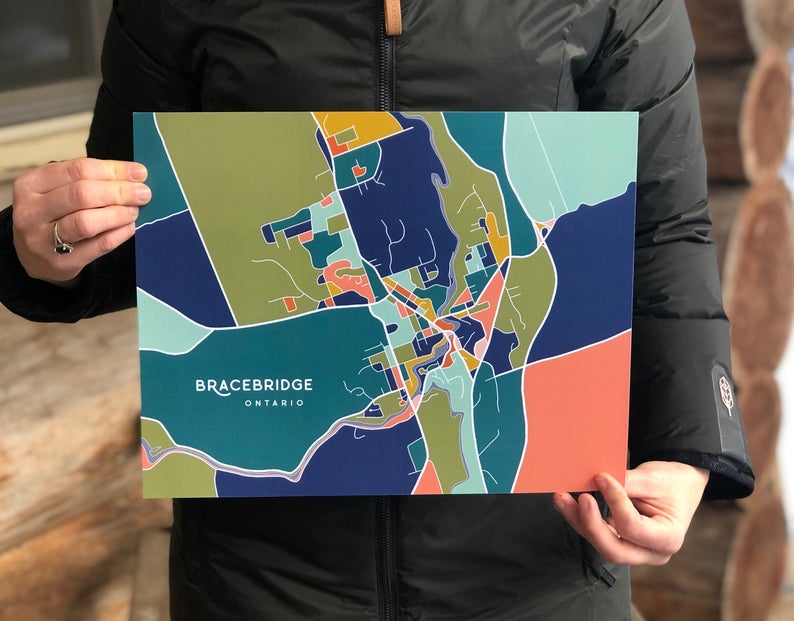 Northern-Ontario based Heirloom Island creates colour-filled artwork and hand-drawn maps. Up the wow sentiment of your gift by picking a place that is meaningful to you or your loved one and choose from the many illustrated maps and paintings that artist Julieanne has created. It could be your hometown, the place of your first date or even the location of your camp or cottage.
From the Shop: My prints are fade-resistant with vivid colors and with proper care, these beautiful colours will last a lifetime. My current artistic inspiration centres around the idea of 'home' and draws from my experiences growing up in Northern Ontario as well as from travels and adventures in different countries.
Delivery: Ready for dispatch in 3 – 5 business days. Free shipping in Canada.
How are you spreading the love this Valentine's Day? Drop us a note, we'd love to hear from you!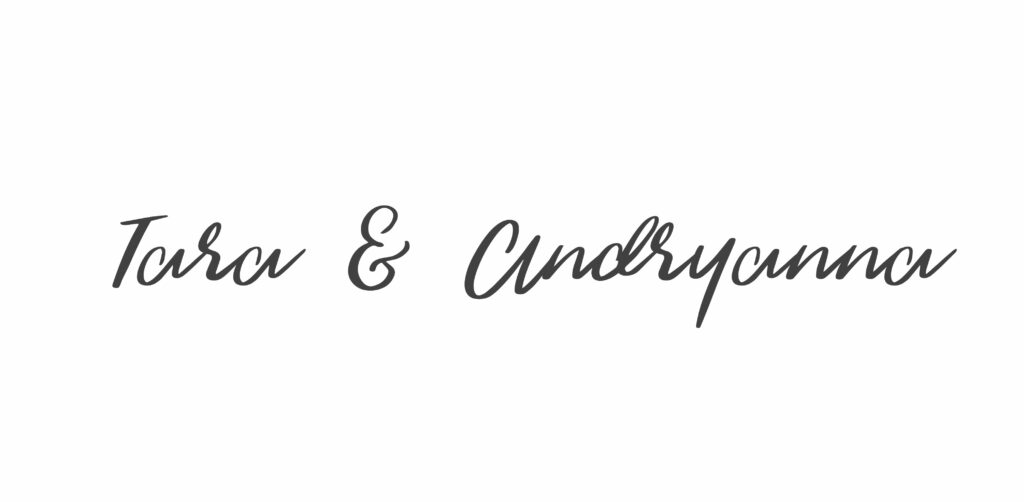 In celebrating the people, places and positives that set the North apart our editors naturally review products and make recommendations. If you make a purchase by clicking one of our links, we may earn a small share of the revenue. This will help subsidize the copious amounts of coffee and tea we go through while creating Northern-inspired content. Trust that any compensation received will never influence Northern Heart +  Home. We only feature items we love and think you will too!