The Northern Home: This interview series focuses on individuals from the North who are working to better our lives at home. From entrepreneurs to innovators, their goods and services enhance our home life.
Mind Growth Education was created by Isabelle Baril, who is a wife, mother, teacher and entrepreneur raised in Sudbury. Isabelle recognized a need for an interactive and fun reading log program that can be used at home or in the classroom. Given schools are currently closed across most of the globe, we thought our Northern Heart + Home community would love to learn more about how this learning tool can be of use. Our recent post on What You Can Do at Home & Online also has helpful educational resources and learning activities.
Below Isabelle provides an overview of Mind Growth Education, the ways in which it can be used during the school closures and describes how growing up in the North shaped this endevour. She also provides some of her tips for balancing it all.
Be sure to read the full story for details on how you can win a FREE ONE-YEAR MEMBERSHIP along with Isabelle's top buys to survive and thrive during social-distancing!
The Northern Home Q+A: Mind Growth Education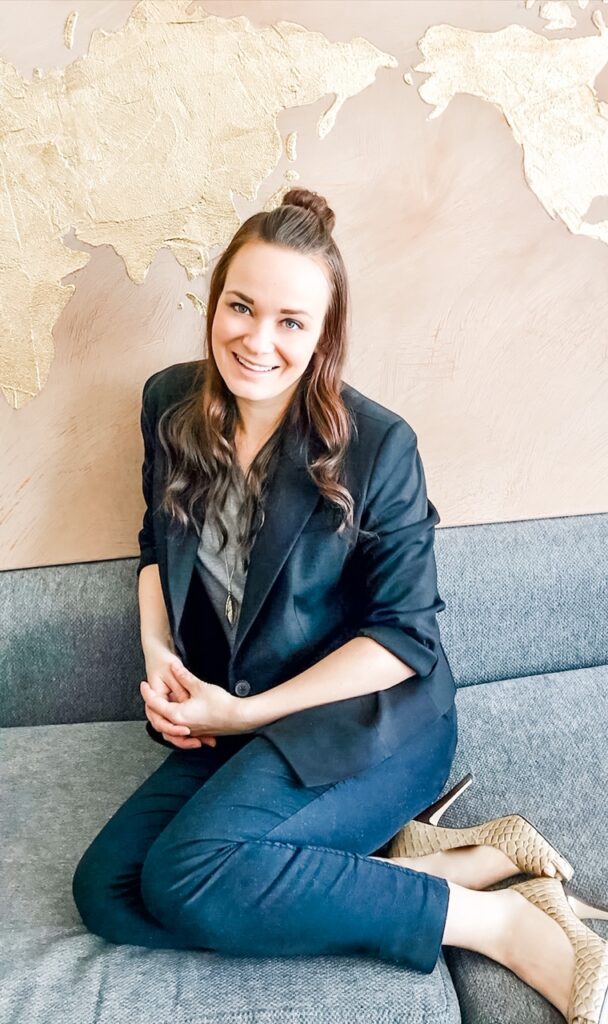 Tell us about yourself.
My name is Isabelle Baril and I am an entrepreneur with many passions: a mom of two, a wife, an event planner, a teacher for the past 10+ years, and founder of "Mind Growth Education". I was born in Rouyn-Noranda, Québec but raised in Sudbury, Ontario until I was in my early twenties. I moved to Vancouver, British Columbia thirteen years ago with my husband, Devin. We are now living in a lovely small beach town called Parksville, on Vancouver Island, BC with our two children. I am not currently teaching because I have chosen to concentrate on raising my children along with my business.
Describe Mind Growth Education.
Mind Growth Education launched on July 1st, 2019 and started out as an online educational platform that offers an interactive reading log and reading incentive program. Since the launch I have also discovered a love of helping educators and networking. In 2020, I launched Mind Growth Education's Speaker Series, where we host events to celebrate the accomplishments of teachers and educational assistants. We also educate them on teaching related topics such as work and life balance, how to manage burnouts, mental health, wellness, global learning, promotion of literacy, and more. In addition to hosting teacher events, we also host "Read-A-Thons" in schools, with the use of our reading log programs. Our fundraising program has been very effective in helping students raise money just by reading.
What ages is your "Read Across Canada" program developed for and how can children achieve success with it?
The program is developed for children from 5-14 years of age. Currently, we are offering our very popular reading log program entitled "Read Across Canada" where a student records the number of minutes they've read at home or in their classroom on a daily basis by signing into their Mind Growth Education account. Families use books that they have at home, from their public library, assigned from their teacher or even books from online libraries. The program automatically converts the student's logged minutes into kilometres and advances the student on their adventure across Canada, through various towns and cities to form a route that spans from Victoria, BC to through every province in the lower part of Canada, and back again, through the higher part of Canada, which ends in Whitehorse, Yukon. Every time a student arrives at one of the major points on their adventure, a little blurb pops up with educational facts about that city or town. The students also earn badges as they progress on their reading journey. Our reading log program can be purchased with an annual subscription.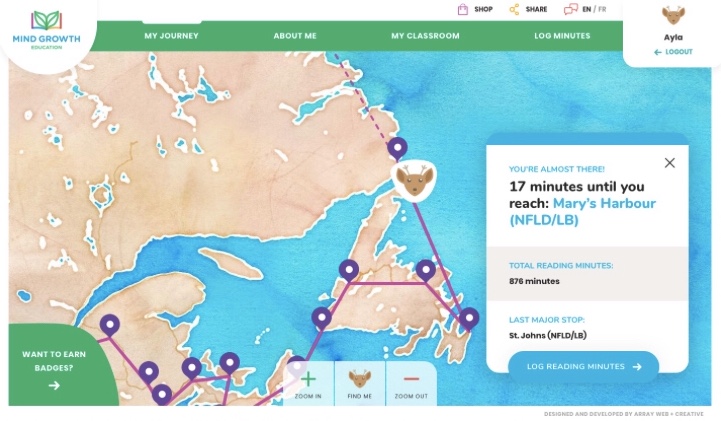 How can this learning tool benefit families and children who are currently experiencing a closure of their school?
Our program serves as a tool to track students accountability in an independent classroom and/or home reading program; therefore, very useful if you are wanting your child to continue mastering those literacy skills by being motivated to read at home on a daily basis during the closure of their school. To accommodate individual academic needs, we offer three levels of difficulty within the reading log program. We also offer students a way to explore Canada from a variety of perspectives: artistic, cultural, historical, geographical, political and/or economical. Using our program demonstrates growth in reading levels, comprehension, higher-level thinking, and can also be used in book studies and projects. We want to inspire students to become the best readers they possibly can be, as well as develop culturally aware leaders with the tools to ignite change on a global scale.
What was the process for creating this online education company?
Mind Growth Education was inspired by necessity. During my years as a classroom and learning assistance teacher, I implemented a variety of classroom and home reading programs, as well as a variety of reading log programs. I quickly realized that they were all great assets to childrens' lifelong learning journeys. My paper-based reading log program was very time consuming for myself and the parents (as per feedback I got). Having it interactive and online is very appealing to kids these days. It became a fun and easy way to keep the kids (and parents) interested in reading for the length of a whole school year. It also caters to all learning/reading needs within a classroom. This eventually led to hiring an amazing web design company called Array Studios based out of Nanaimo, B.C. and nine months later, we launched our first program on July 1st, 2019. I took care of all of the content side of the company/website/reading log program and they took care of all the tech/graphic design sides of it.
How did growing up in the North and graduating from a Northern university shape your endeavours?
In my opinion, growing up in the North, in a bilingual city like Sudbury, truly gave me an advantage for a happy, healthy and successful life. After completing an undergraduate program in Geography and French at Laurentian University, I moved to Vancouver with my husband, where I had many work opportunities because I was fully bilingual. I ended up getting my teaching certificate from UBC, in Vancouver, BC, as I saw there was a huge need for French teachers. I found that being proficient in English and French gave me a competitive edge over someone who speaks only one language. When it came to creating my online reading log programs and all of the educational blog articles and resources, it was a priority that they be made available in both languages to help all French, English and French Immersion students. We've had great success so far, including many Sudbury teachers who use the program within their classrooms.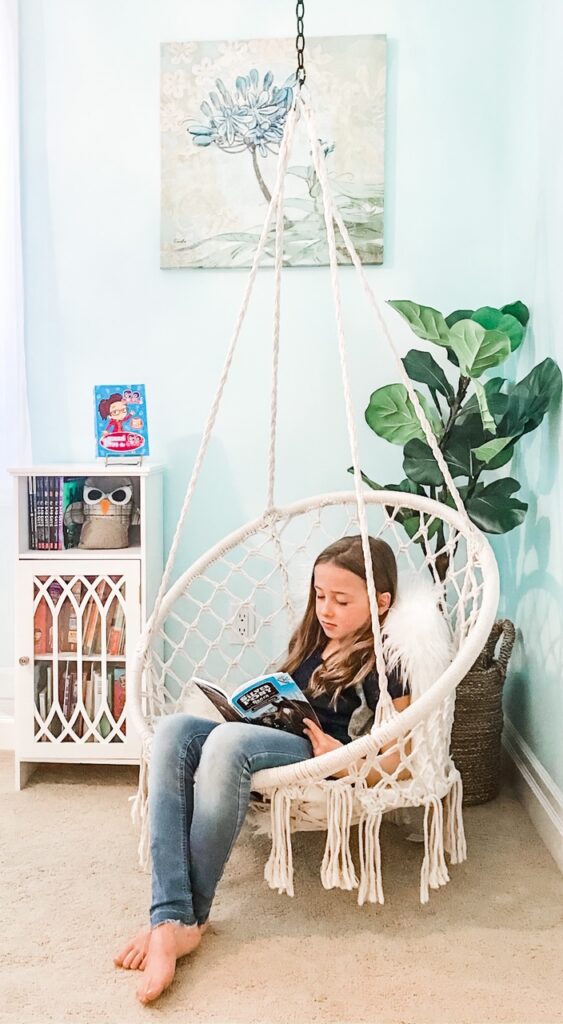 As a wife, mother and entrepreneur how do you balance it all?
This question definitely hits home. There are harder months than others but most months I feel I achieve that equilibrium. I have to admit, it took a while to figure out what my balance needed to look like for it to actually be effective. I quickly realized that the key was not to try to change everything at once, but to make small adjustments over time to determine what worked for me. Eventually, I found it and developed a whole new set of positive life habits and never looked back! Some effective strategies that work for me are: being able to adapt easily, disconnecting on the weekends (giving my brain a rest), allowing myself to say "no" to not become overwhelmed, paying attention to my health (getting enough sleep, eating healthier, minimizing negative influences around me and exercising), found myself a hobby and made an effort to stick to it for at least 6 months, made sure to have fun and smile!
What's next for Mind Growth Education?
At Mind Growth Education, we all come to work every day because we want to make a difference in the education world. One of our missions is to inspire students to become the best readers they possibly can be. That being said, we are launching our second reading log program entitled "Read Across the World" in June 2020, which we will be selling globally. Our intentions are to launch three more programs in the next few years: "Read Across Canada – Indigenous version", "Read Across the United States of America" and "Read Across the Solar System". We are also wanting to make our badge system digital as soon as possible. As for our latest events, we will be hosting them this Fall in the following cities: Nanaimo, Victoria and Vancouver. In addition to those, we will continue hosting "Read-a-Thons" in schools all over the country. To be honest, this is just the beginning! Amazing things are to come!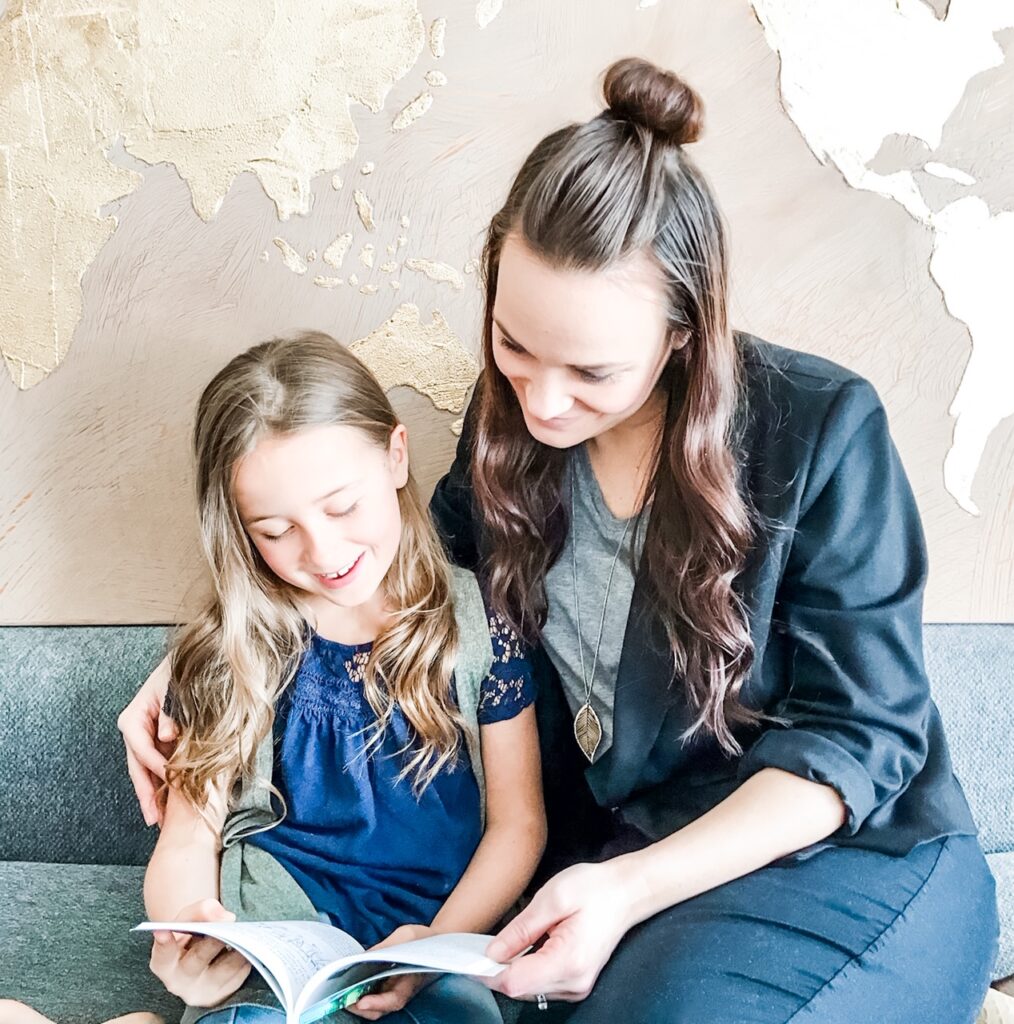 Follow Mind Growth Education
Read-A-Thon Fundraising Program
GIVEWAY!
Win a one year home membership* from Mind Growth Education. This can be used either for your home or classroom! Winner will be randomly selected on March 31st 2020.
How to WIN
1. Follow both Northern Heart + Home and Mind Growth education on Facebook and/or Instagram. Yes, you can double your chance of winning by entering on both sites.
2. Tag someone who can benefit from this program. Tag each name separately as a comment. Each comment counts as an entry.
3. BONUS entry if you share the post on Facebook.
4. BONUS entry is you share the post in your Instagram stories.
4. BONUS entry if you sign up to receive updates, special offers and more from Northern Heart + Home using the form below:
* A home account consists of a single account for an immediate family member or for one class to collectively accumulate their minutes during reading groups or silent reading time. You can assign your child or your class a level of difficulty (minutes/kilometres ratios), you can monitor the progress of your child or your class on the map and you have access to one printable "All about Canada" activity sheet per city or town on your Canadian reading route!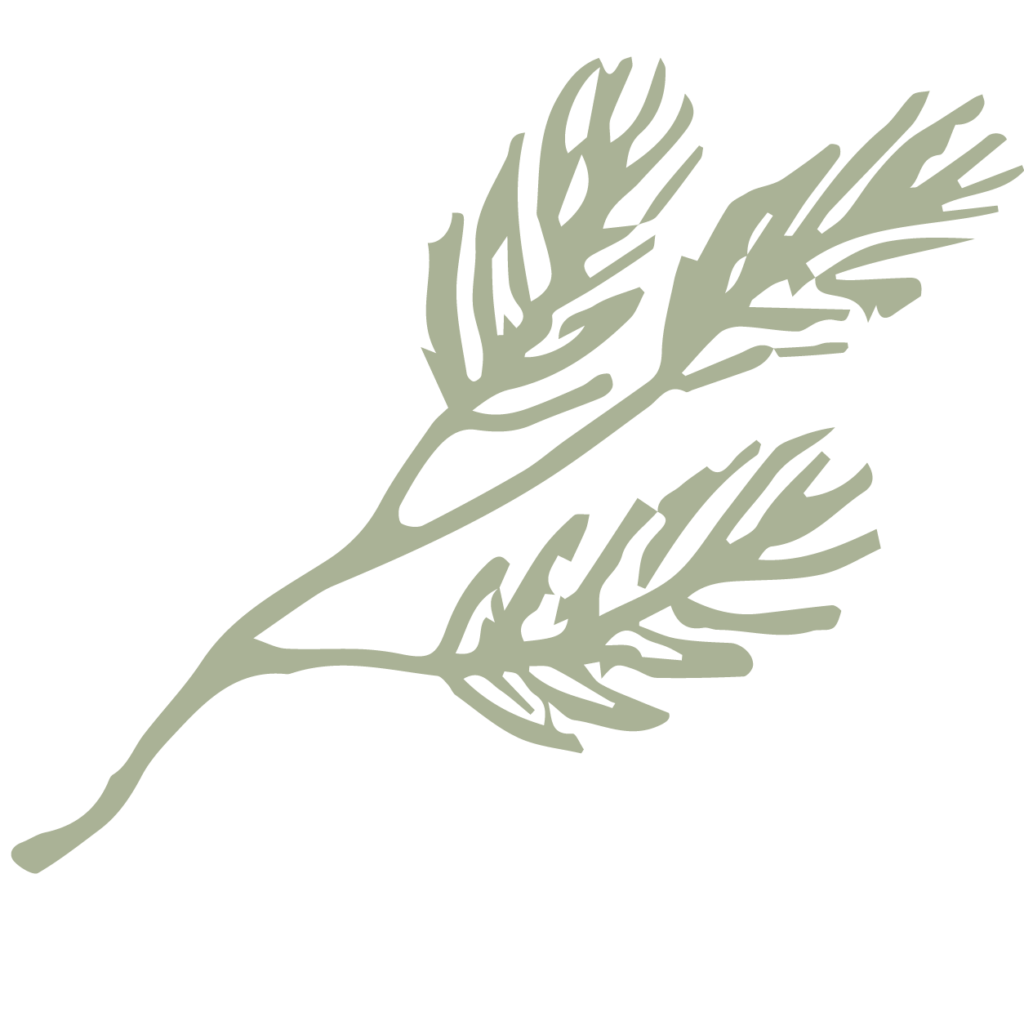 Isabelle's Top 9 Product Picks for the Home
Isabelle shares the products her family is using most during this period of self-isolation and social distancing. You will find everything from her go-to's to boost immunity, self-care product standouts and staples in her home. She also includes products from Mind Growth Education that can be used to create learning activities.
Relieve symptoms of flu such as colds and cough by diffusing the therapeutic benefits of comforting eucalyptus, refreshing lemon and cleansing tea tree oil.
Learning Activity: Since we weren't able to travel this Spring Break, we are using the activities in our travel journal to learn all about different places in the world. The postcards can be used to help master writing skills. We then mail them out to family members and friends so they can smile when they receive our postcards with cute positive messages on them.
Learning Activity: Getting your child to learn cursive handwriting improves neural connections, stimulates the brain in ways that typing cannot, increases writing speed, improves fine motor skills, increases retention, improves legibility and spelling abilities, increases self-discipline… just to name a few! So we've been mastering our cursive handwriting all week and as a bonus, the kids absolutely love trying something new. Available in standard and advanced levels.
Some of my family members, including myself, are battling seasonal allergies at the moment and/or a minor common cold, these shower steamer tablets are a lifesaver to help us breathe better
To save valuable time and spend it with my children, we've been using our instant pot more often to cook great healthy meals.
I've been using this face mask since FOREVER. When it comes to "mom time", this is definitely the one product I would use right away.
We've been using these beeswax wraps as an all natural and eco-friendly alternative to plastic wrap. Our go-to is from Goldilocks Wraps.
To keep up with our water consumption, I fill up our water bottles at certain times a day (8am, 11am, 1pm, 4pm, and 7pm). This way, I can monitor who isn't drinking enough water or not
I am sure everyone is like my husband and I and needing our coffee fix every morning, we use the following coffee from Potter and Crow Craft Coffee Roasters
Do you know of an entrepreneur or innovator from the North who is working to better our lives at home? Let us know!