Northern Heart + Home was designed to celebrate the people, places and positives that set the North apart.The Northern Hand interview series recognizes local artists, vendors and businesses with outstanding handmade offerings. Each profile showcases and highlights unique products that can be found right here, in the North. This Northern Hand interview features Carrie Schiffler of SCHIFFLER fashion.
Burk's Falls based Carrie Schiffler is the talented artist behind SCHIFFLER fashion. She has partnered with Le Galeriste, a wearable art gallery showcasing exclusive artworks from respected artists, produced on high- end clothing made in Montreal. Together they offer a beautiful collection of tops, pants, dresses, scarves, masks and pillows featuring Carrie's art. Her loose watercolors and intricate acrylic painting create the imagery on each and every piece. Schiffler describes her pieces as "celebrating nature in all its exuberant beauty". She currently draws inspiration from "Flowers and flying things and secretly hopes to inspire appreciation for our delightful yet delicate planet".

Read below to learn about how this collection perfectly compliments Carrie's writing and acting career. Carrie's poetry has been published in several anthologies and you've seen her in TV series' like Murdoch Mysteries, Northern Rescue, and Bad Blood.
Shop Carrie's collection and take advantage of this exclusive offer! Carrie is gifting Northern Heart + Home readers with a one of a kind 6×6 flower watercolour painting when they place an order with legaleriste from now until July 25th! After your purchase simply send Carrie a message on Instagram and she will mail you a mini masterpiece!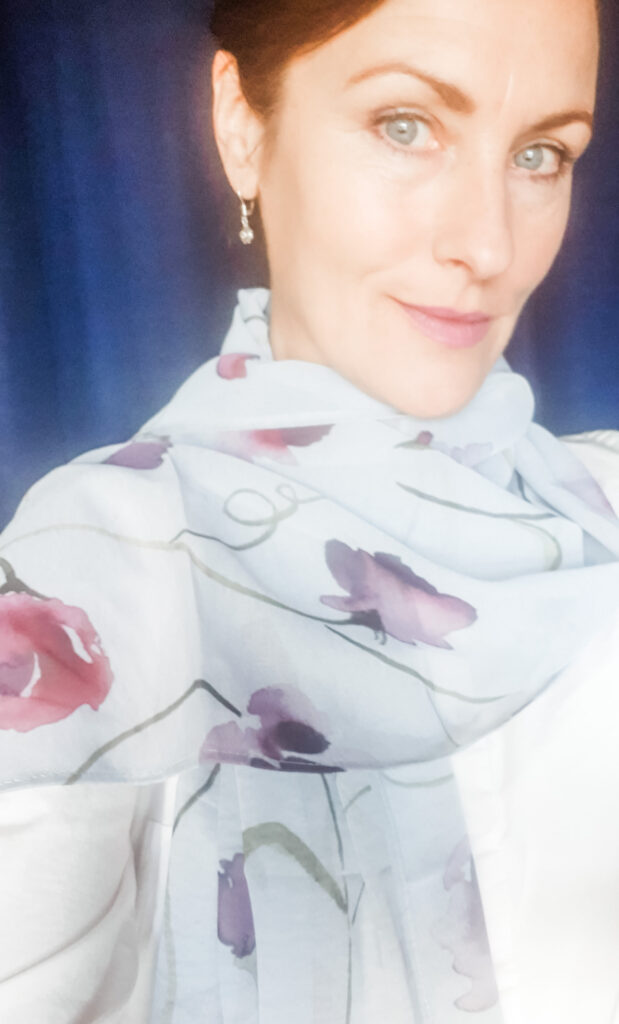 Tell us about yourself and why you call the North your home.
I grew up spending the summers, 'up north' at my Grandma's place on 3 Mile Lake, Burks Falls. 6 years ago I inherited her property and I'm thrilled to now call this house in the woods, our home.
How did your clothing line come to be?
My clothing line came to be when a good friend and fellow artist sent me a link to Legaleriste.
They are a fashion manufacturing plant based in Montreal.
Artists submit photos of their work to be transformed into everything from dresses to face masks, mens boxers and throw pillows.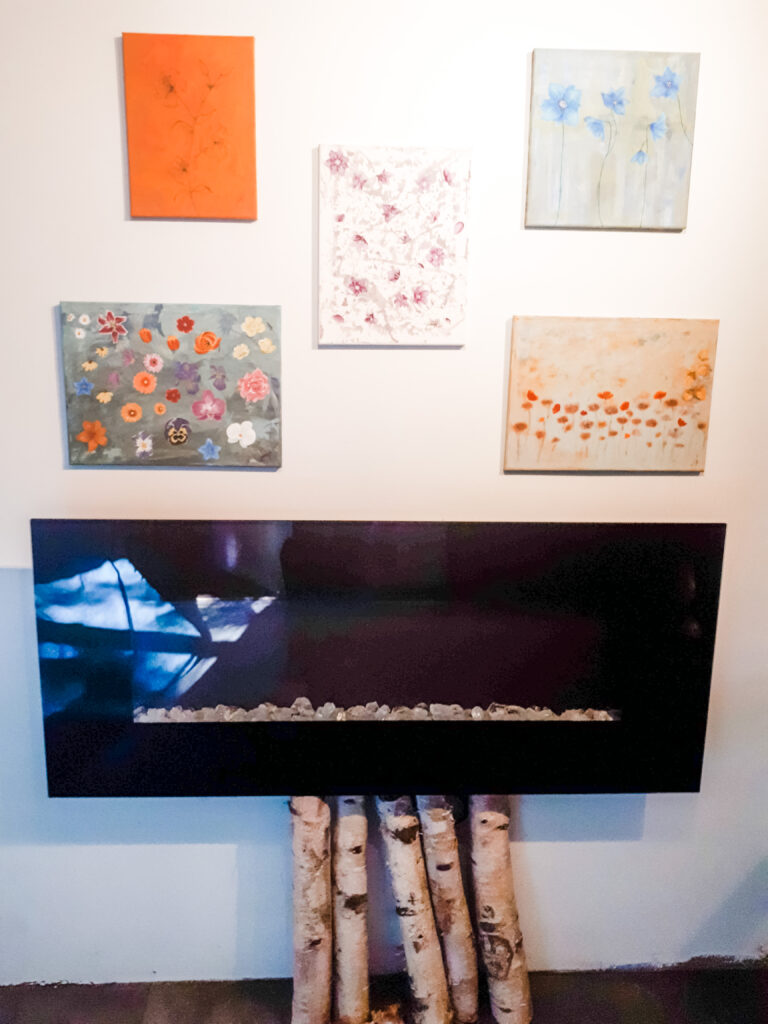 Describe the garments you make.
Thankfully I don't have anything to do with the construction of the garments. Sewing is not a strong suit! Each piece is made by hand by a team of professional seamstresses. All I have to do is paint what I think might translate well to fabric and then trust the experts to make it happen!
What is the inspiration behind your designs?
I'm currently inspired by all things, SPRING! Everywhere we look in the natural world, life is teeming with colour. It's a fiesta for the senses! I didn't realize how many varieties of flowers there are until I started painting some of my favourites. And don't get me started on the birds!
Like the sighting of the season's first robin, Spring ignites hope. God knows we can all use more of that in our lives!
How has the pandemic influenced your creative process?
The pandemic has had a huge influence on my creative process, most notably by giving me the gift of time.
I decided in April 2020, to view the stay at home mandate as an artist bootcamp and use the time to create something every day.
I started with writing limericks, then moved on to poetry, from there I wrote, performed, video taped, character driven comedy sketches. I also did over 20 make- up no mirror challenges.
Finally, last December I moved on to visual art.
Painting was always something I saw myself doing once retired. Alas…
You are a successful actor, author, poet, painter and now a clothing designer. How do these talents combine to shape how you see yourself as an artist?
That's a good question.
I'm comfortable with referring to myself as an actor and writer as that's what I've done for decades. Drawing and painting however are still so new that I'm really just a toddler mucking about. Yet my paintings and clothing line are selling soooo, I guess I should get over it and call myself an artist! All I know is I am compelled to create. It's my way of making sense of the world, shining light on it's infinite beauty and connecting with others. While the process of creation may be solitary, sharing the final product is essential. When someone laughs, likes or is moved by something I have made, it feels like the best kind of hug.
What's next for you?
There's lots to look forward to!
1-I'm back to auditioning, now that Film and Television slowly re -opens in the north.
2-My husband Rowan and I have a music gig! CARROW performs The Riverbowl in Burks Falls on July 31.
3-Continuing to unlock the mysteries of watercolour and learning how to paint perspective.
4- My fashion line- SCHIFFLER is now offering 5 styles in plus sizes.
5- I'm accepting submissions and editing an anthology titled; Generating Buzz: Cannabis and Creativity. Published by Durvile Press.
Purchase SCHIFFLER fashion and Carrie's one of a kind artwork
Le Galeriste – Wearable Art – Made in Montreal
http://www.cschiffler.bigcartel.com/
Follow Carrie Schiffler