You'll be seeing blueberries and kale in a whole new way after trying this dish - a Summer harvest salad that will make your tastebuds pop while keeping your belt notch tight! Delicious AND nutritious, this dish is gluten-free, keto-friendly, nut-free, egg-free, and has paleo & whole30-options.
As our August days speed along and the hint of Autumn can be felt at night, some of us (well, me) are feeling a little cranky about the end of the season. Thankfully, the silver lining to August is the Summer harvest that comes pouring in with all of the bountiful fruits and veggies that we have been watering, pruning and picking over for weeks and months.
This post is devoted to some of the lovelies that I have had the pleasure of tending in my garden pots over the course of the Summer as well as the mighty wild-grown Northern blueberry. It's also dedicated to my fishing father-in-law who spent days along Manitoulin Island, catching salmon, rainbow trout and lake trout.
With all of the fresh produce and fish at our fingertips, I decided to create a healthy but flavour-packed salad that, while chalk-full of vitamins and antioxidants, has the refined and polished taste of a chef-inspired dish. You'll want to Pin, re-post and save this one!

On the menu: Summer Harvest Salad
This gorgeous dish is prepared with the following ingredients that can be picked up from your local farmers market, homegrown/fished yourself or store-bought (keep scrolling for the recipe):
Kale
Salmon or Rainbow Trout
Blueberries
Goats Cheese (chèvre)
Strawberries
Balsamic-blueberry vinaigrette (see recipe below)
The great thing about a dish like this, is that it looks beautiful, tastes great and is so guilt-free that you won't feel bad about having an extra glass of wine AND dessert!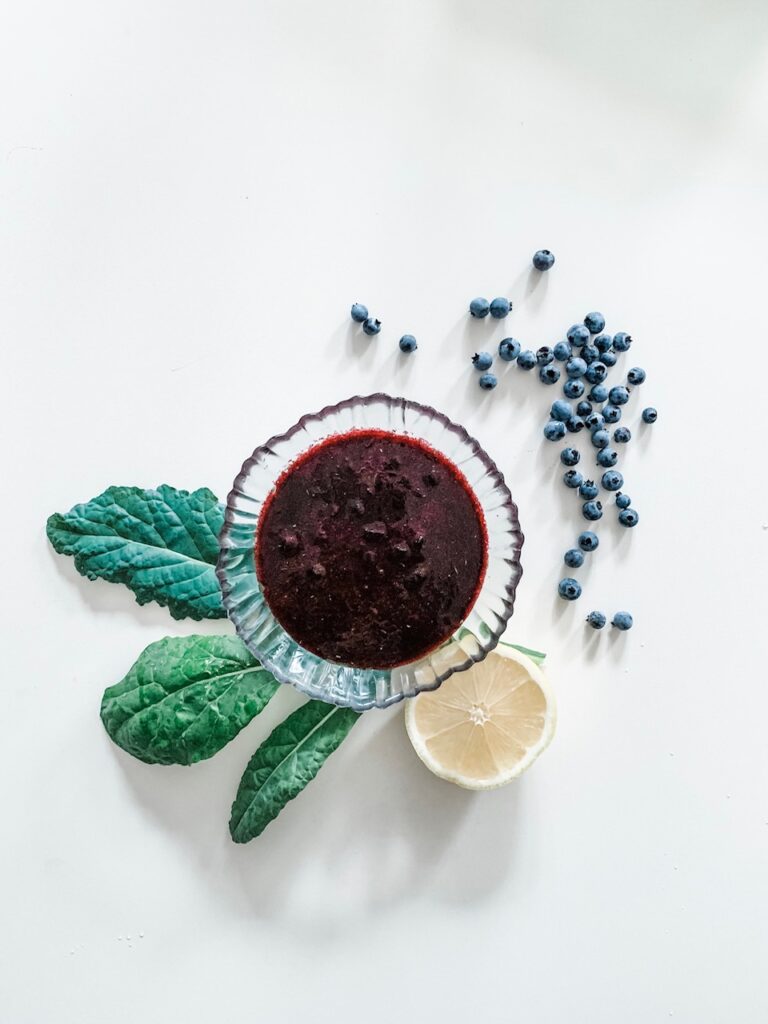 What makes this salad really stand out is the salad dressing: I experimented and came up with what I think is the best savoury use of blueberries: a blueberry balsamic vinaigrette. There's a hint of sweetness; but it packs a punch with bold and puckering flavours of garlic and lemon, all wrapped up in a blueberry and thyme mouth-watering sensation.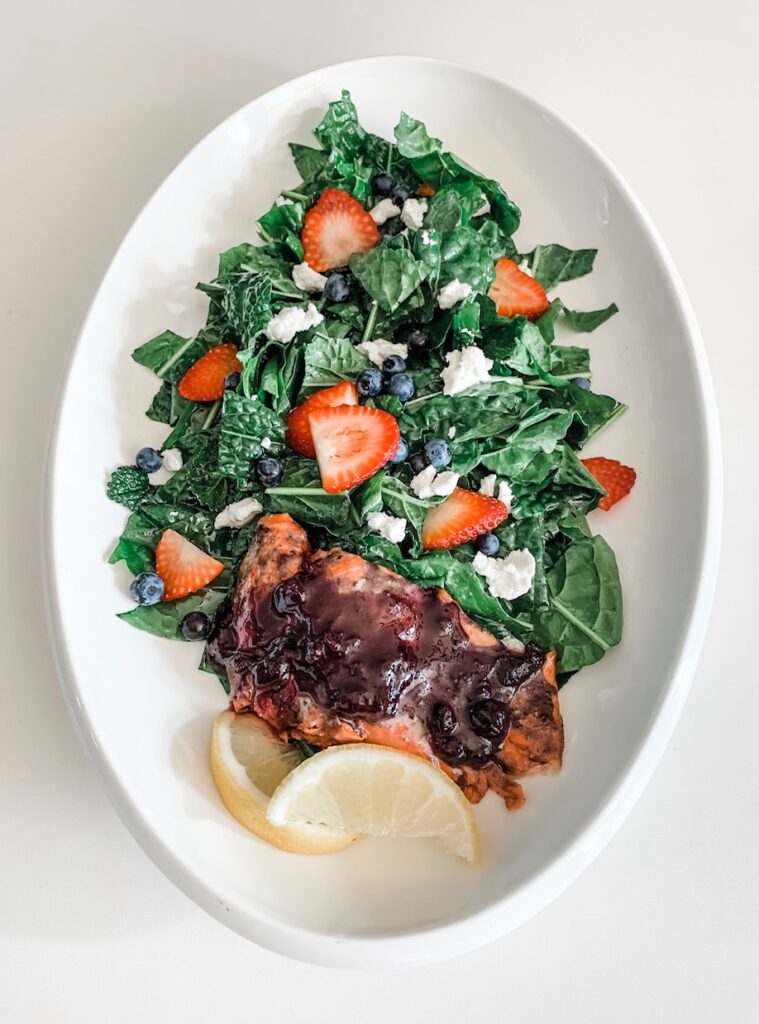 Summer Harvest Salad
Gluten-free, keto-friendly, nut-free, egg-free, paleo & whole30-option*
Ingredients:
Blueberry Balsamic Vinaigrette:
1 tbsp extra virgin olive oil
1 clove garlic
1 cup of blueberries
2 tbsp balsamic vinegar
1 tbsp lemon juice (approx 1/2 lemon)
1 tbsp water
1 tbsp maple syrup*
Zest of 1/2 lemon
1 tsp Dijon mustard
1/4 tsp thyme
Salt & pepper (to taste)
Roasted Salmon:
1 lb. salmon filet (or rainbow trout)
1 tsp extra virgin olive oil
Salt & pepper (to taste)
1/2 cup blueberry balsamic vinaigrette
Salad:
6 cups kale (or kale mixed with other greens of your choice)
1 – 2 tbsp extra virgin olive oil
1/2 cup sliced strawberries
1/4 cup fresh blueberries
1/8 cup goats cheese*
lemon wedges
Salt & pepper (to taste)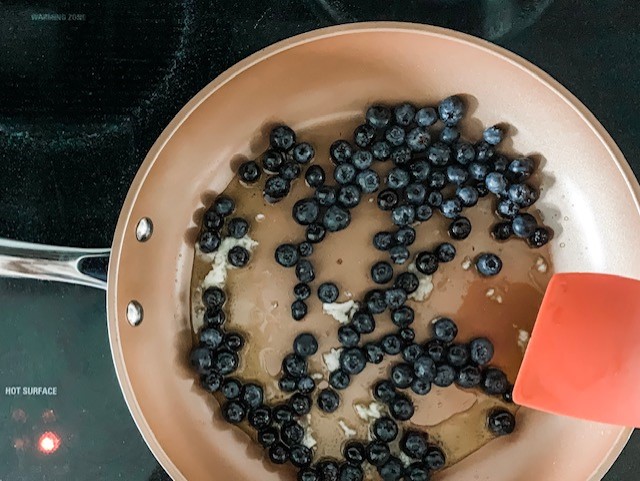 Instructions:
Preheat oven to 425 degrees F. On a lightly greased baking sheet, add your salmon filet. Pat dry with paper towel, add olive oil and salt and pepper. While the oven preheats and the salmon comes to room temperature, make the vinaigrette.
Over medium heat, add olive oil and crushed garlic in a frying pan. Once you smell the garlic (about 2 minutes), add your blueberries. Stir occasionally and use your spatula to softly press the warmed blueberries into the pan (about 4 -5 minutes).
Add the balsamic vinegar, lemon juice, water, lemon zest, dijon mustard, thyme and the salt and pepper. Turn the stove temperature down to medium-low and simmer, stirring occasionally until the mixture thickens (about 5 – more minutes). Pour into a heat-safe dish and let cool slightly.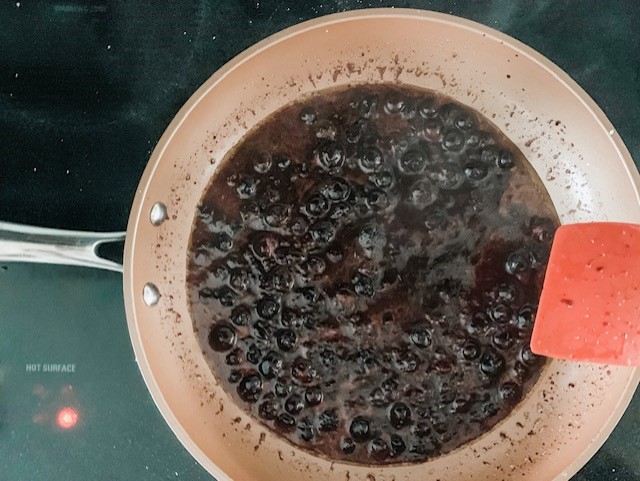 Once the the vinaigrette cools and the oven is heated, liberally brush 1/2 of the set aside amount of the vinaigrette over the salmon. Place the pan on the centre rack of your oven and bake the salmon for approximately 4 – 7 minutes (when the filet easily flakes, you know it's done). Once cooked, brush remaining portion of vinaigrette over the salmon and cut into portions.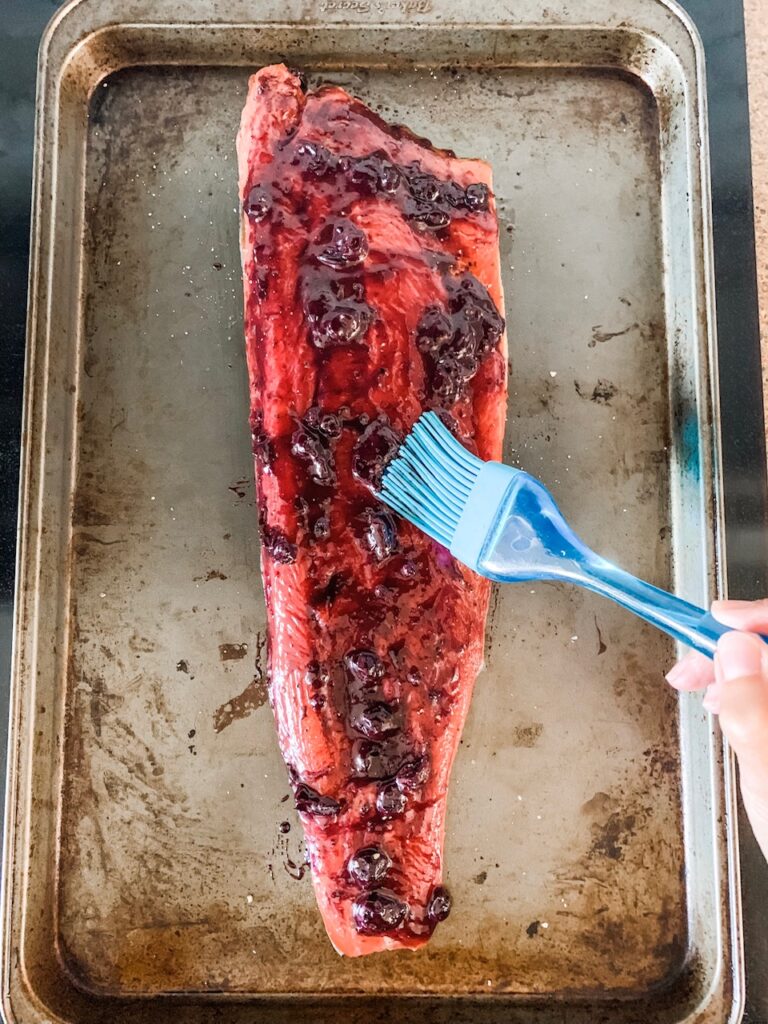 To assemble the salad, add kale to bowl or shallow dish, drizzle with olive oil and sprinkle with salt and cracked pepper. *IMPORTANT* Be sure to massage the kale with the oil! It sounds funny, but working the kale with oil will make it more tender and flavourful. Once oil is massaged, squeeze lemon wedges over kale. Then add sliced strawberries, blueberries and goats cheese.
Add salmon and serve right away, spooning over additional blueberry balsamic vinaigrette, to taste.
*omit maple syrup (adding more water instead) and goats cheese to comply with paleo and/or whole30 diets.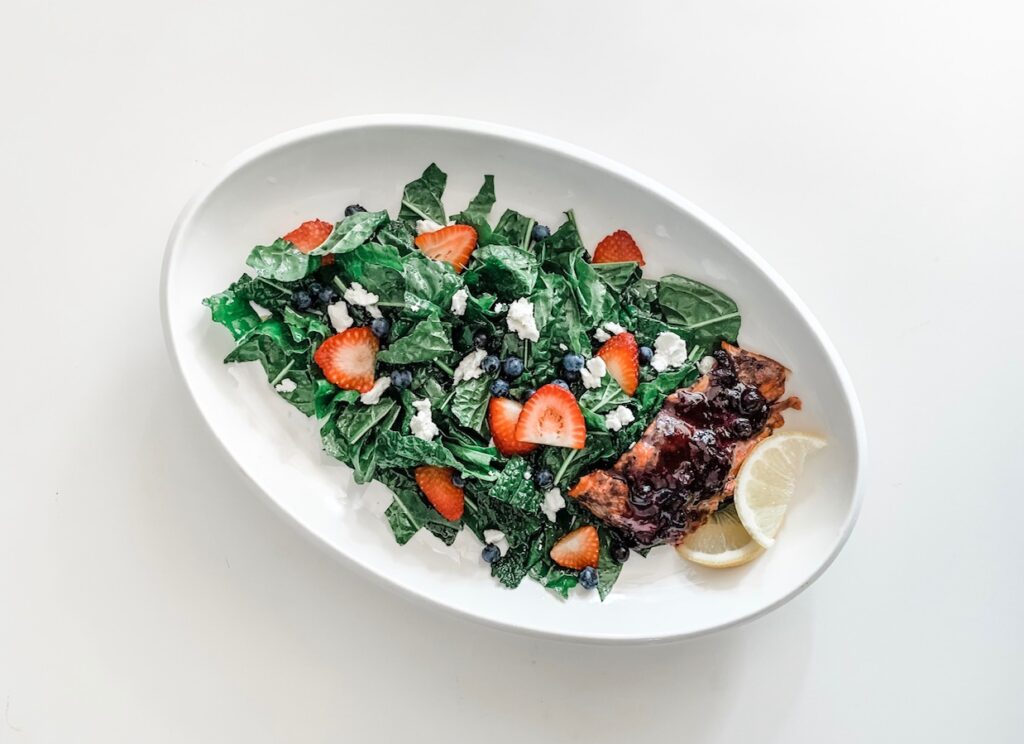 What are your favourite recipes for the Summer harvest? Drop us a note, we'd love to hear from you! If you make this dish, be sure to share pics and tag us!
Some of my favourite cooking tools!
These pans are a dream to cook with! Coated with titanium and copper ceramic, they are super durable, non-stick and the best part: toxin free (no PTHE, PFOA or PFOS)!
Safe to use with all kinds of pots and pans, these spatulas are made from non-sticking and heat-resistant silicone (up to 450 degrees!).
A must for any kitchen, silicone brushes are amazing for brushing marinades, glazes and sauces over meats, veggies and breads. This brush is BPA free, heat safe (up to 500 degrees) and super easy to wash.