Halloween has come and gone but it's not too late to use your carved pumpkins to cook up something special. Instead of letting your pumpkins rot on your front porch or fill up the landfill, consider putting them to a nutritious, delicious AND sustainable use.
Why pumpkins?! The list of superlatives for this squash goes on and on – we are talking a low calorie, nutrient dense, vitamin packed, immunity-boosting super food. Anything pumpkin is always a hit in my home, so here are a few of my favourite recipes that make use of this fresh and flavourful fruit. Allergies and health issues in our family mean these treats also use all natural ingredients with no artificial sugars. Bonus: not only are they sugar-free, but they are also Gluten-Free and Keto-Friendly!
From the sweet to the savoury, we got all your bases covered in the recipes below. Try them with fresh pumpkins post halloween or use a canned purée to enjoy these recipes all year long. Happy cooking!!
No Bake Pumpkin Cheesecake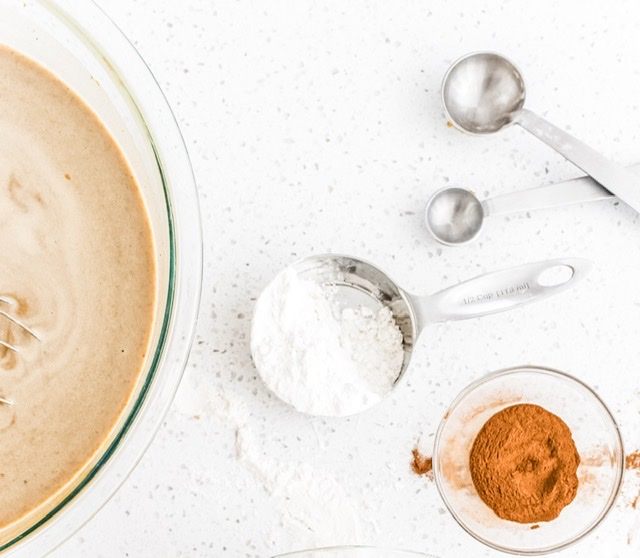 Crust Ingredients
1/3 cup unsweetened shredded coconut
1 1 /2 cup almond meal
1/2 cup pure maple syrup *for Keto sub Lakanto Sugar-Free Maple Syrup
1/2 tsp of cinnamon
1/4 tsp of sea salt
5 tbsp softened butter
Filling Ingredients
2 cups pumpkin purée (fresh or canned)
8 ounces of cream cheese
1 envelope gelatin
1 tbsp pure maple syrup *for Keto sub Lakanto Sugar-Free Maple Syrup
1 teaspoon cinnamon
1 teaspoon vanilla extract
2 tablespoons coconut flour
1/4 teaspoon of salt
Instructions
Use a circular or square 8 x 8 pan lined with parchment paper.
Pulse all crust ingredients in a blender or food processor and evenly press into the pan.
Prepare gelatin according to package instructions, let cool.
If using canned pumpkin purée proceed to the next step. If using fresh pumpkin, pre-cook and blend to make a purée. I like to make ahead so I have pumpkin purée on hand for different recipes. Method: Wash and cut pumpkin, remove seeds. Bake in a preheated oven at 400 degrees. Cook for 45-60 minutes, until the flesh pulls easily from the skin. Scoop out the flesh and puree. The fresh pumpkin purée can be stored in the fridge in an air tight container up to one week or in the freezer for 2-3 months.
Add all filling ingredients to a blender or mixer, less the gelatin that has been set aside.
Once filling mixture is smooth combine evenly with cooled gelatin.
Spoon into crust and let set in refrigerator 2-3 hours.
Serve as is, with a dusting of coconut sugar and pecans or with whip cream.
Pumpkin Carrot Soup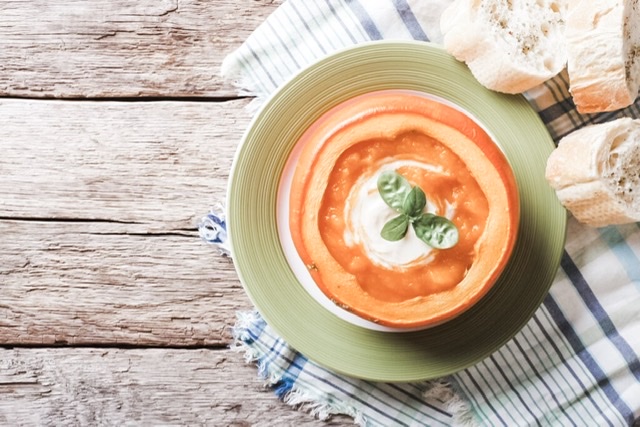 Ingredients
4 cups pumpkin (peeled and cut into 1" cubes)
4 carrots (peeled and roughly chopped)
1 onion (chopped)
1 tsp crushed garlic
1 can coconut milk
1 cup chickpeas (optional)
Instructions
Heat frying pan or Dutch oven at medium heat. Add olive oil and garlic.
Saute onion, carrot and pumpkin to soften, salt and pepper to taste.
Blend vegetable mixture with coconut milk.
Optional: blend in chickpeas for a thicker consistency with added protein. Skip if on a keto diet.
Serve in a bowl or a hollowed out pumpkin.
If you are looking for another satisfying soup option, you can also substitute pumpkin for the acorn squash in this recipe
Pumpkin Protein Pancakes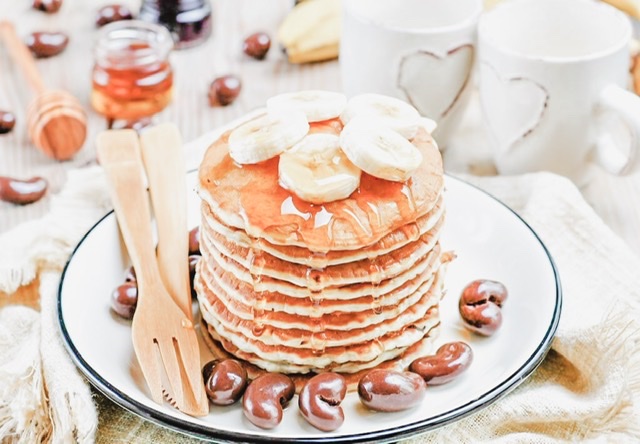 Ingredients
1/2 cup pumpkin purée (fresh or canned)
3 table spoons 100% maple syrup *for Keto sub Lakanto Sugar-Free Maple Syrup
4 eggs, lightly beaten
1/2 tsp cinnamon
pinch of salt
Instructions
If using canned pumpkin purée proceed to the next step. If using fresh pumpkin purée follow the method outlined in the pumpkin cheesecake recipe above.
Whisk together all ingredients in a bowl.
Grease skillet with butter or coconut oil over medium heat.
Pour batter in 1/4 cup rounds. Cook 2-3 minutes (or when batter bubbles) then flip checking regularly.
Garnish with fruit, maple syrup or honey.
Enjoy!


Top Selling Kitchen Staples
With hundreds of 5 star reviews, these kitchen staples have become my go-to:
Yupik Organic Coconut Flower, 1 kg
Lodge L8SK3 10-1/4-Inch Logic Pre-Seasoned Skillet
Labonte Pure Medium Maple Syrup
Professional Heat Resistant Oven Mitts with Quilted Liner & Mini Mitt
Oster Pro 1200 Blender Plus Smoothie Cup
Our editors review and recommend products to help you buy the stuff you need. If you make a purchase by clicking one of our links, we may earn a small share of the revenue. The compensation received via any form of advertising will never influence Northern Heart + Home's content. We only feature items we love and think you will too!