The Northern Hand: this interview series recognizes local artists, vendors and businesses with outstanding handmade offerings. Each profile showcases and highlights unique products that can be found right here, in the North. This Northern Hand interview features Mercedes Byrnes of Wolf & Pine Herbals.
Clean beauty for dirty people is the tagline for Wolf & Pine. This vegan skin care brand is made in Sudbury but ships throughout North America. With risqué names for the products and humour in the messaging, owner Mercedes Byrnes also ensures sustainability and environmental consciousness are at the heart of the company. Wolf + Pine is sustainably sourced, fair trade, uses organic ingredients, has recyclable packaging AND donates proceeds to wildlife and reforestation efforts. We were pumped to get insights from Mercedes and a look at her process in this Northern Hand interview. Scroll down to learn more and score an exclusive 15 % OFF DISCOUNT code for Wolf & Pine Herbals!
The Northern Hand Q+A: Wolf & Pine Herbals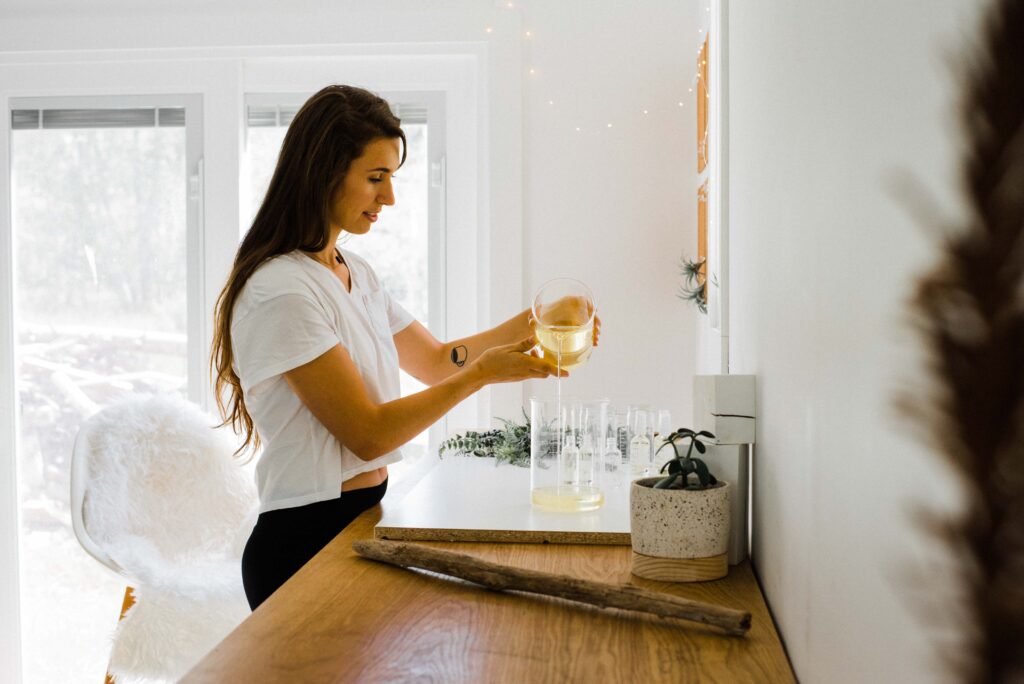 Tell us about what you make.
Hi, I'm Mercedes and I'm the owner and creator of Wolf & Pine Herbals! I make vegan + natural skin and body care for playful personalities, with product names like "Lady of the Night", "Artichoke Me, Daddy", and "Me So Thorny".
Wolf & Pine products are for those who seek natural skincare solutions for modern problems, but uncompromising on quality and fun. Each product is created using a foundation of clays, butters, plant oils and plant extracts. Most of my ingredients are organic and wildcrafted, many of which I forage myself right here in Northern Ontario. We donate a portion of our sales to a wolf sanctuary and to reforestation efforts around the world!
How did you come to realize and hone in on your talents?
When I began whirling around the idea of starting Wolf & Pine, the creative in me wanted to make something beautiful and useful. In the initial conception phases, I knew that I needed a fun aspect to the products because there are a million other gorgeous beauty brands out there. So, I threw in a little of my personality and wit. I don't think I'm particularly talented in any aspect of my business, but I am curious and creative. My work has been refined over the years, the first drafts still make me cringe, but I think with time and challenging myself to improve and learn things I wasn't good at, it gave me a solid array of skills. For me, it's liberating to think of my business as a perpetual work-in-progress.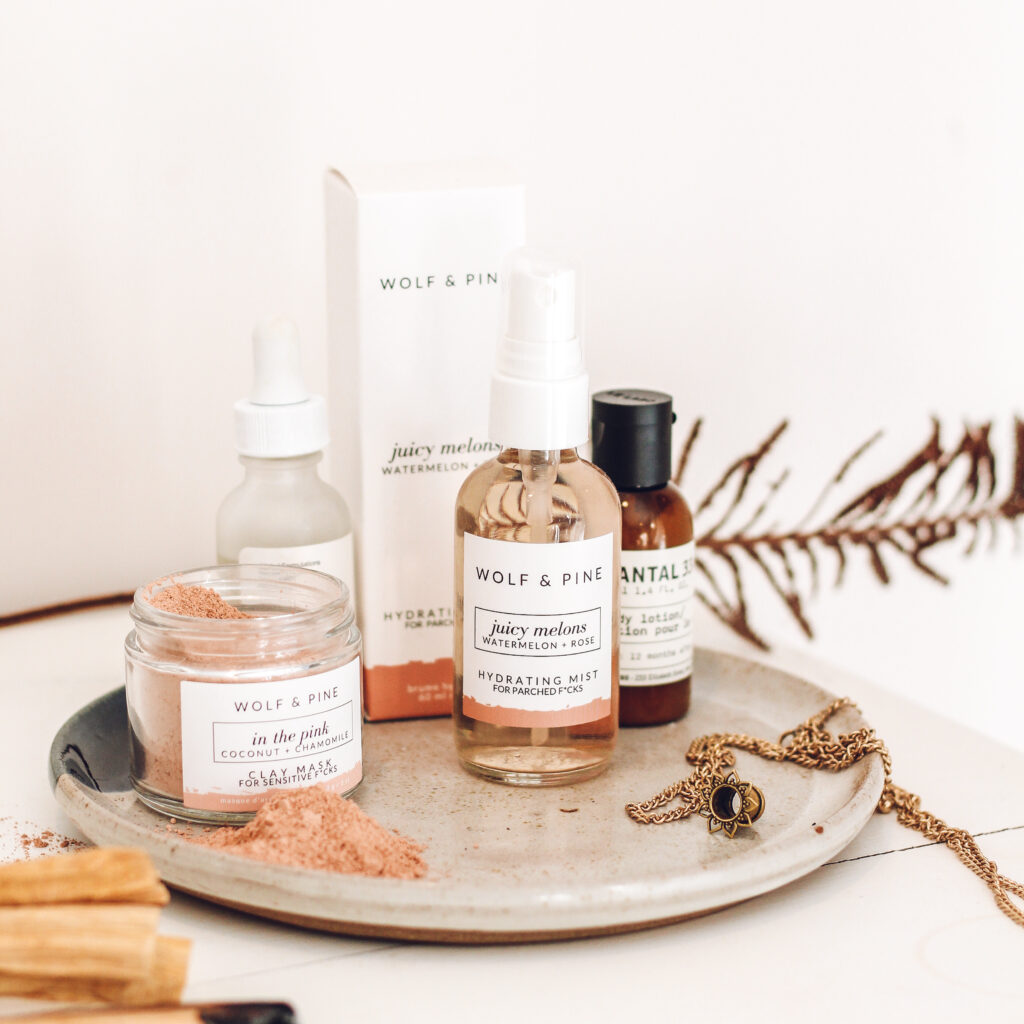 Where do you find inspiration to create your offerings?
All of the product recipes are created by myself, and from scratch. So my creative process has a few different components. I generally start with wanting to create a product to meet a skin or health need, then I usually look to botanicals and how to incorporate them in my work. This is where the fun part begins, because I'm often inspired by little dorky things like the colour of a herb, or texture of an oil. Or inspiration may come quite simply by having dry skin that day.
How has living in the North shaped how you make/create your products?
I'm so happy to have started my business in the North. As I mentioned, I love to include botanicals from this area in my products and we have such a great diversity of flora.
For example, I create a hydrosol using branch clippings from Balsam Fir trees to include in the balancing toner, which allows me to reduce carbon foot print sourcing my ingredients, and connect with the nature around me.
On another note, the community is also amazing for supporting local artisans and makers. I have grown my business a lot over the last two years and I owe so much to the lovely people who organize the markets, the makers and the attendees that show up year after year.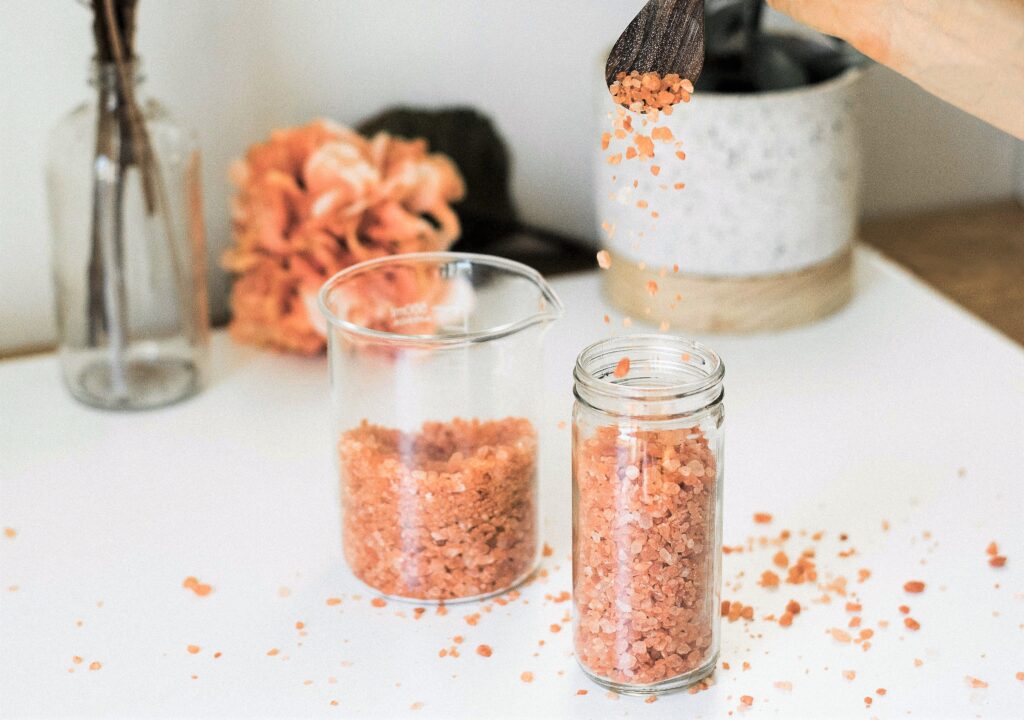 What is one ritual that you could not live without?
I actually have two loves: Shopify and Canva. Shopify is my online store platform. It is so robust and perfect for product-based businesses. There are many built-in tools that have been invaluable to my growth as a business owner. Canva has been a saving grace for n00bz like me in the world of graphic design. I've been able to create so many great graphics and marketing materials for a fraction of the cost than if I were to outsource. Plus it's so easy to use which makes it actually fun.
What's the biggest obstacle you face in making things yourself?
Time.
I run my business on my own, and I wear many hats from designer, maker, photographer and admin. I'm also not an organized person at my default state, so getting all my tasks done in one day can be really challenging. I'm learning to let my perfectionist nature slide a little so I can get more done without getting caught up in too many details. The best thing I've ever done for myself is get a planner and create to-do lists.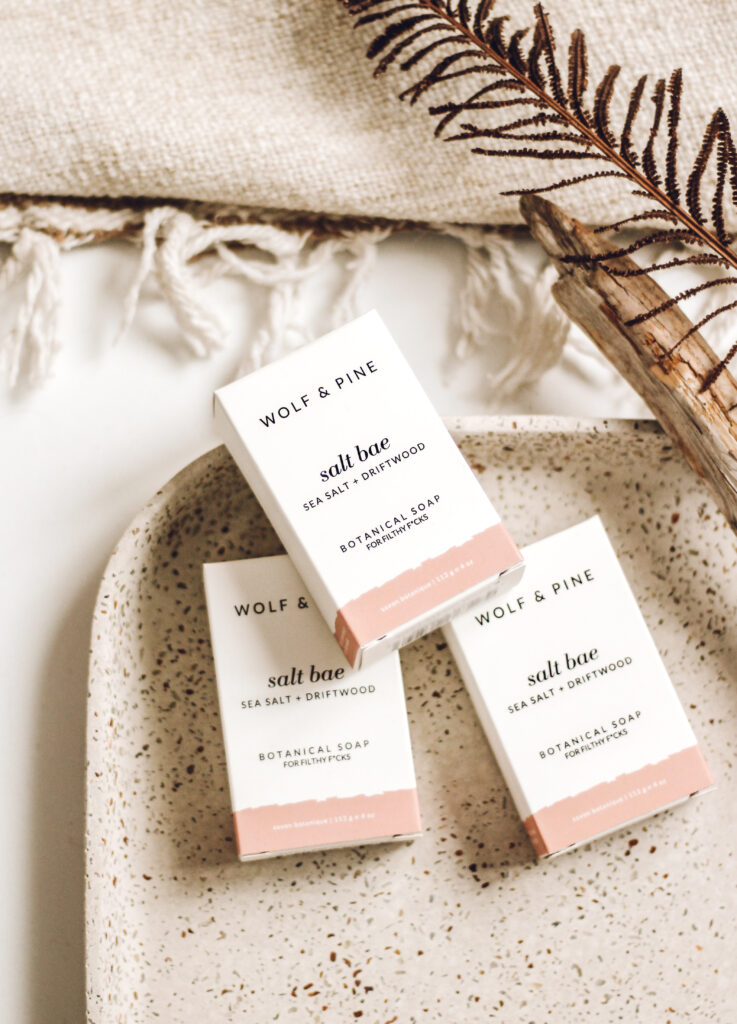 What's the most rewarding part about being a maker/creator?
I think what pleases me the most is seeing people out in the world using my products and really enjoying them. It's like seeing my babies add a little joy to people's lives.
Do you have any favourite northern vendors that you love to buy from?
Yes!!
Paula Walsh Pottery
Heartwood Kombucha
Spark Bakery
The Woodland Sisters
Heirloom Island
Yellow House
Fourth Avenue Designs
Where can we purchase your products/offerings?
You can purchase online on my website www.wolfandpine.co .
Under these new circumstances with COVID-19, we've been offering free weekly doorstep delivery in the Sudbury Area using the promo code "LOCALDELIVERY". Free shipping is available in Canada on orders $85+ and the US $100+.
You can also purchase our products locally in Sudbury at Stitch & Stone, All About Massage and Le Petit Spa Skin Studio . In North Bay you can find Wolf & Pine at Elliot + Olivia Bridal and Tranquility Spa Salon.
Special 15 % off Discount!
Good news! If you're already a huge fan of Wolf & Pine like us, or if you're chomping at the bit to try out something new, Northern Heart + Home has partnered with Wolf & Pine to offer a 15% discount on ALL Wolf & Pine products! That's right – 15% off EVERYTHING available from www.wolfandpine.co until July 31st!
To get the 15% discount code, make sure you join our mailing list – along with the 15% discount code for Wolf & Pine Herbals, you'll also get exclusive offers, further discounts and details on all the best the North has to offer. To sign up, use the form below and an email will be sent with your code!