The Northern Hand: this interview series recognizes local artists, vendors and businesses with outstanding handmade offerings. Each profile showcases and highlights unique products that can be found right here, in the North.
Touted as Sudbury's premiere bakeshop + bar, Guilty Pleasures does not disappoint! They offer luxurious specialty baked goods made with the best fresh, local, organic and natural ingredients, whenever possible. All baked goods are handcrafted in store with evident love and care. Justine Martin, Bakeshop Boss + Cupcake Connoisseur, gives Northern Heart + Home a peak at her process and shares a special offer for YOU, our Northern Heart + Home reader.
The Northern Hand Q+A: Guilty Pleasures Bakeshop + Bar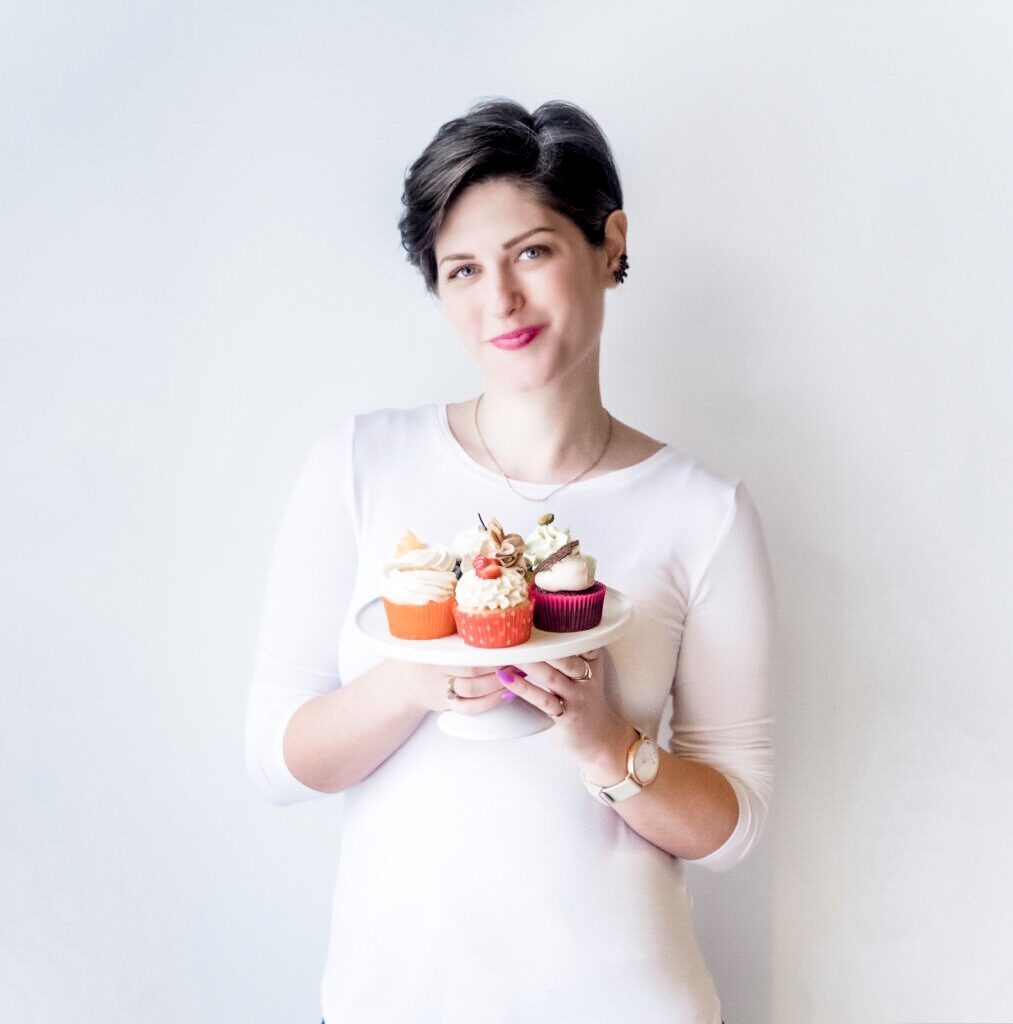 Everything! Just kidding, sort of… In my spare time, I knit things, build things, sketch things and grow things, but, I won't sell you any of that!
In all seriousness, I own a bakery that specializes in gourmet desserts. While you'll always find our ever popular butter tarts and petes des soeurs in the display, we're really known for our treats that put unique flavours and elegant design front and center. Think unicorn cookies, maple bacon bourbon cupcakes , lavender vanilla lattes, chai marinated peach and cranberry pies and gold marble finished cakes.
How did you come to realize and hone in on your talents?
I'm not a trained pastry chef by any means… My 'professional' baking journey began when I made some cute cupcakes in 2015 and my mom posted a photo to her Facebook with a caption along the lines of "my daughter is unemployed, please buy her cupcakes…"
Over the next year, I took a small number of cupcake orders—mostly from her friends and colleagues—while also working in marketing. Things just kind of started to snowball from there. I employed a never say no attitude. People would ask me to make things I'd never tried before. I've always been an effective problem solver so I'd say yes on the spot and then figure out the logistics later. I made my first ever cake only about three years ago now. It was a two tiered casino themed cake and I had no idea what I was doing. I did a ton of research on google and watched a million youtube tutorials until I was confident I could pull it off. The cake turned out amazing and I was hooked.
We still employ a similar mantra at the bakeshop now; without it, we'd never have progressed to where we are. We're constantly challenging ourselves to try new recipes and techniques so that we can continue to offer unique creations. Just this past March we pushed ourselves to make a 4ft tall, 75lb cake modelled after a vintage dress form for the opening of a local vintage store.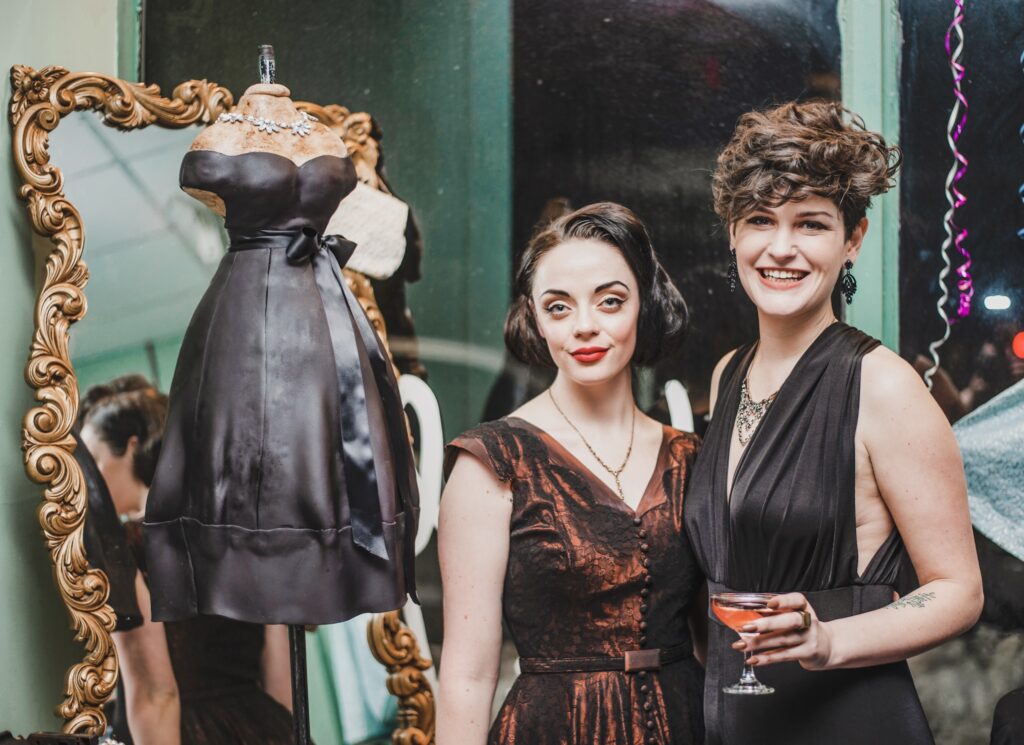 Where do you find inspiration to create your offerings?
In terms of developing recipes and flavours, I'm not a big sweet tooth. I actually prefer cooking to baking, so I like to start with a tried and true base recipe and infuse flavours you may not be expecting, often drawing inspiration from other culinary areas. I have a particular obsession with herbs—which, if you've seen my forearm tattoo, is obvious—so you'll notice that we play around with those a lot. On any given day, you might find us making lemon lavender cupcakes, blueberry basil lemonade , or bourbon soaked apple and rosemary pies.
As for cake design, we draw inspiration from all areas of life. Our @GPbakeshop Instagram feed is full of interior décor, architecture, florals, makers of all kinds (potters, painters, and graphic designers, to name a few), and, of course, other culinary artists. Jo and I regularly DM each other pictures that spark our imaginations. Right now we're particularly into anything and everything with a natural look. Whether that's a concrete stone finish in buttercream, a marbled fondant finish or a natural cascade of fresh flowers.
How has living in the North shaped how you make/create your products?
I try to focus on local ingredients and products as much as possible. I have a big garden at home so much of what we use comes from that. Raspberries from my shrubs flavour our fresh lemonade, rhubarb stalks straight from the soil fill pies, fresh herbs garnish cupcakes, and hot peppers spice our homemade soups. Josée and I start our Saturdays extra early with a trip to the market and plan our menus based on what's fresh and abundant.
And, of course, local blueberries. Lots of blueberries. Blueberries in everything, all summer long.
What is one tool (program/ritual) that you could not live without?
I am the dictionary definition of a scatterbrain. I can't sit for more than ten seconds without something new popping into my mind, usually at the expense of whatever was originally occupying that space. When I'm at my best personally and professionally, it's due wholly to disciplined list making and record keeping. I have a meticulous order log that holds the information for every single order we receive. Last summer, my Mac went rogue and deleted the log; I was playing catch up for months. I now protect the log with my life.
What's the biggest obstacle you face in making things yourself?
The biggest challenges I face as a maker and business owner are all health related. On a physical level, I have a connective tissue disorder that makes me incredibly prone to injury and chronic pain. I have to be careful about the activities I choose to engage in to try to minimize any potential down time.
I also struggle with anxiety and depression that range at any given time from mild to incredibly debilitating. At my worst, I become overwhelmed very easily and will often find it difficult to get out of bed, complete even menial tasks, keep my records straight and interact with people. Depending on the circumstances, this either manifests as compulsive decorating in the kitchen, or a state of productive procrastination, where I'll spend hours editing photos of cakes or cleaning my inbox instead of staying on top of bookkeeping or doing inventory.
I'm incredibly fortunate to have Josée by my side, whether it's to pop my rib back in place—yes, she's actually had to do this, more than once—or to pick up my slack and fill in the gaps when I'm overwhelmed.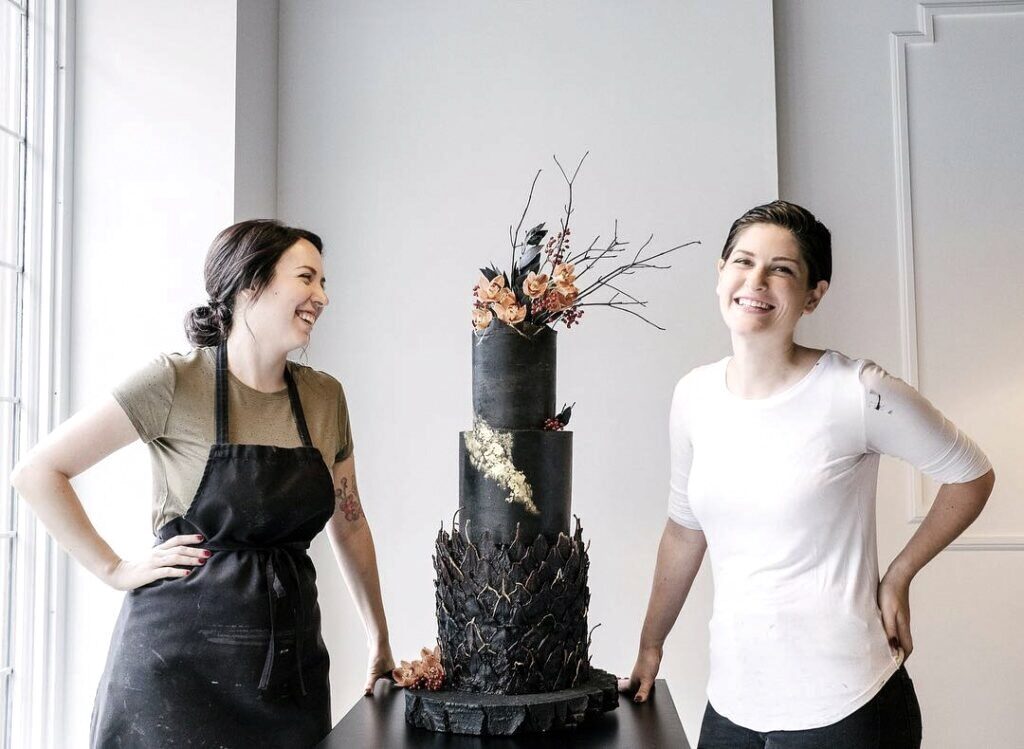 What's the most rewarding part about being a maker/creator?
The most rewarding part of being a maker is feeling genuinely intertwined in the lives of my clients by helping them to celebrate their most cherished milestones. Going full circle from making someone's birthday cupcakes, to their wedding cake, to their baby shower desserts and eventually their child's first birthday cake is amazing. This is going to sound really cliché, but I swear some of my closest friendships have grown from client relationships.
Jasmine commissioned me to make Meghan's 30th birthday cake a couple years ago and we haven't looked back since. I went from serving them white rose lattés and caffé mochas to spending Saturday nights in their guest room (after they served me too many glasses of wine), and was honoured to attend their wedding last summer, both as a guest and as the 'cake lady'.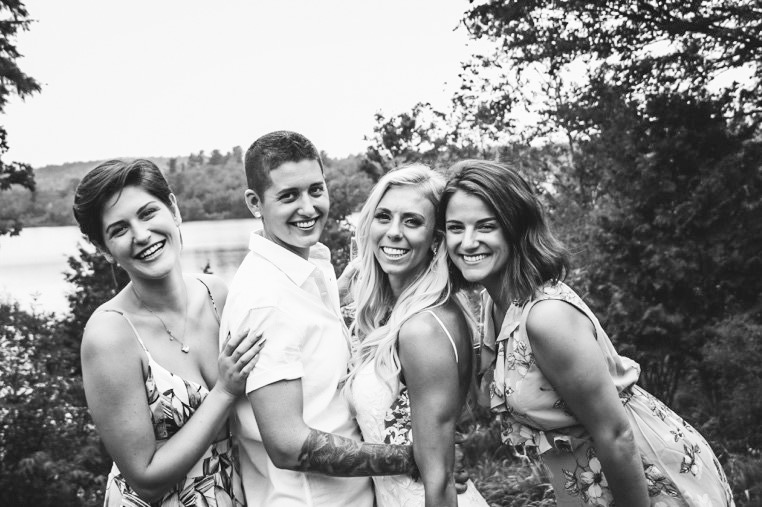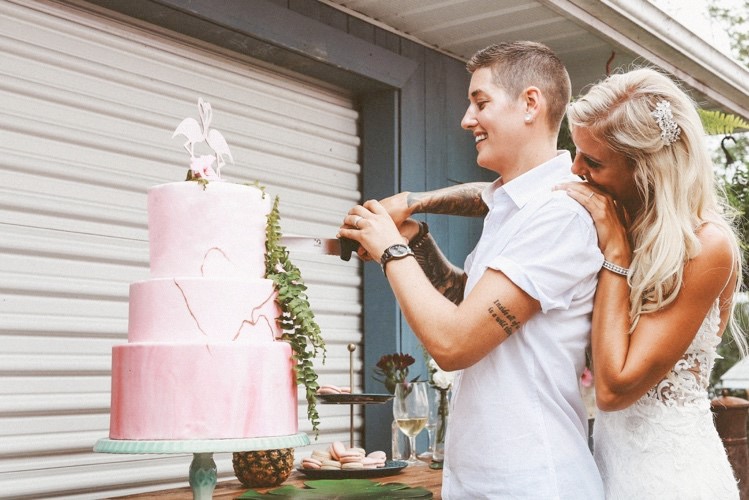 Do you have any favourite northern vendors that you love to buy from?
We have *so* many amazing local (and local-ish) vendors in Northern Ontario. I've paid careful attention to only sell local goods in the shop and have put care into choosing the best of the best. I love the fragrant soy candles made by Diane at Joyful Home, the beautiful greeting cards designed by Julia at ByFlook, the delicious loose leaf teas curated by Anastacia and Matt at Té , the stunning arrangements from FlowerTowne, and especially all the cozy things from GreenKnits, which are thoughtfully crafted by Josée (the friendly face I get to work with every day)!
Also, St. Joseph Island Coffee Roasters is seriously the best coffee I've ever had. I might sound biased since this is what we serve in the shop, but it single-handedly converted me into a black coffee drinker; It's that good.
On a purely personal level, I'm obsessed with both the 'R' Little Secret boutique and Starlotte Satine Vintage's new shop. I'd be hard pressed to find something I've added to my wardrobe in the last two years that isn't from one of these gems.
Where can we purchase your products/offerings?
We always have a varied selection of our handmade treats available in stores so you can stop in for a white rose latte and a mocha cake truffle any time! We also have to go boxes if you're hosting a last minute dinner party and want to swing by to snag some cupcakes that'll wow your guests.
If you're looking for something truly show-stopping for your next big event—weddings included—you can fill out our order request form and we'll work with you directly to bring your vision to life.
As a local expert in your field, we know we can't begin to match your skills or talents, but can you help us by sharing one of your tried and true product secrets, recipes, or tricks of the trade?
Salt is your best friend in baking—and cooking in general. Salt is one of the five basic tastes we register on our tongues. Used with restraint, it doesn't make things taste salty, just better. It has the peculiar ability to intensify flavour and bring out the characteristic taste of almost anything. The right amount of salt will take your dessert from flat and bland to complex and vibrant. Throw aside the unsalted butter and bring in the good stuff, then add a bit more; you can thank me later.
Plus, a touch of salt goes a long way in cutting bitterness. Add a pinch to unsweetened chocolate or even a fresh cup of coffee and you'll notice an instant improvement in the balance of the bite.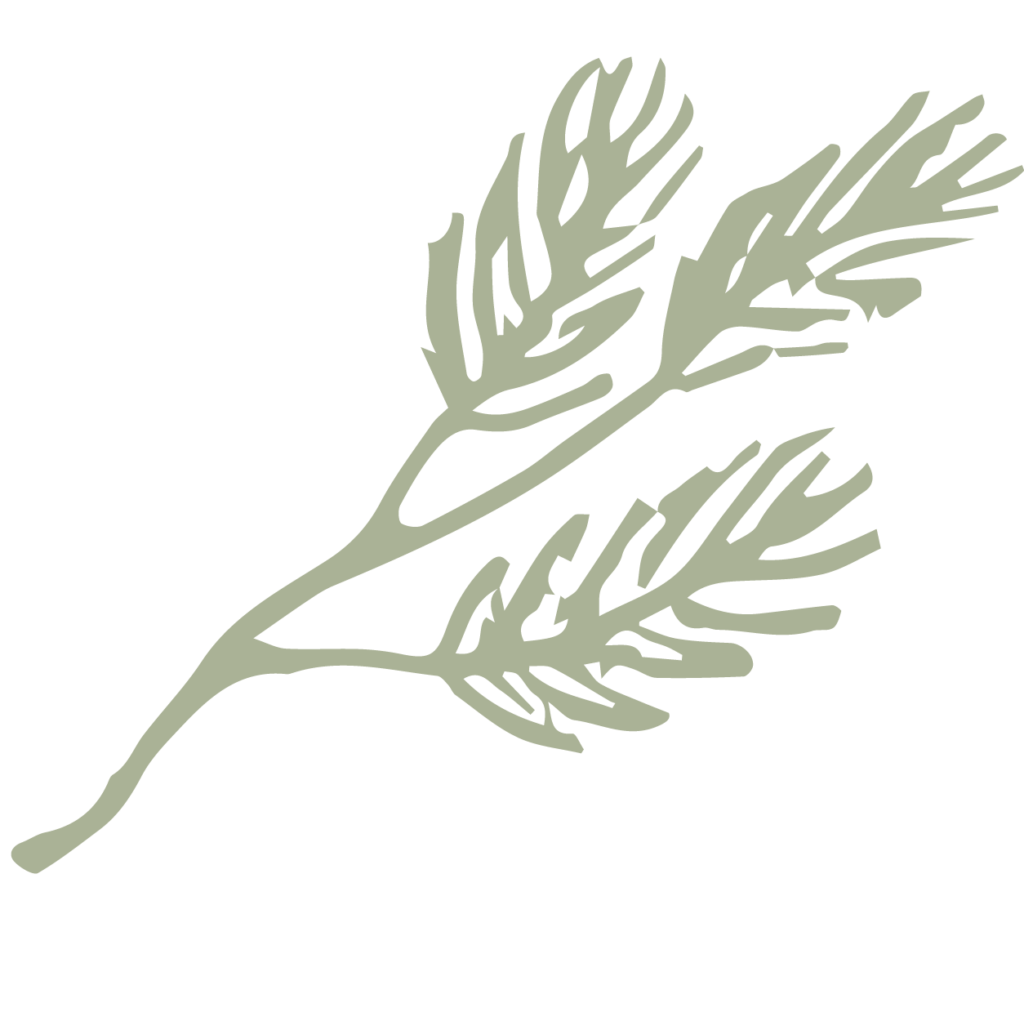 Follow Guilty Pleasures Bakeshop + Bar:

Website: gpbakeshopbar.ca
Facebook: facebook.com/gpbakeshop
Instagram: instagram.com/gpbakeshop
Do you know of an amazing Northern artist, vendor or business with outstanding handmade offerings? Let us know!
SPECIAL OFFER!
Are you salivating at the photos and descriptions in this interview? Do you have a special event coming up that could use some GP magic?!
Lucky for you, Northern Heart + Home and Guilty Pleasures Bakeshop + Bar have partnered up to offer you $10 off the purchase of one dozen cupcakes, valid for orders placed in the month of May! (some conditions apply*).
All you have to do is subscribe to our site, using the form below and we will email you your coupon!
Already a loyal subscriber?! Just send us a note using our contact form and mention 'GP cupcake offer' and we will send you your coupon.
What are you waiting for – subscribe now and get your $10 off coupon for a dozen delicious cupcakes, courtesy of Guilty Pleasures Bakeshop + Bar!