Northern Heart + Home was designed to celebrate the people, places and positives that set the North apart. The Northern Hustle spotlight series focuses on inspiring stories of determination and dedication in our northern communities. Each profile highlights citizens whose hustle and heart have helped them overcome obstacles to ultimately thrive in the North. Thanks to Carrie Schiffler and Johanna Stickland for sharing their journey to create Umbilicus with us.
Meet Carrie Schiffler and Johanna Stickland, the talented team behind a beautiful book of poetry and visuals titled Umbilicus. Carrie is a writer and actor based in the tranquil Northern Ontario town of Burk's Falls. Her poetry has been published in several collections and you've seen her in TV series' like Murdoch Mysteries, Northern Rescue, and Bad Blood. Johanna Stickland is a Canadian painter, photographer and writer based in Portugal. Her work has been featured in several magazines and is collected across the world.
Not only do Carrie and Johanna share similar interests and acclaim, they also share DNA! As mother and daughter their collaboration on Umbilicus is all the more powerful. Surprisingly, working together on this project wasn't initially planned and they overcame obstacles to bring the book to life. First hitting shelves in Fall of 2019, this Northern Heart + Home feature has been in the works since then. A pre-pandemic book tour took them to Toronto and Calgary before a planned launch party in Northern Ontario had to be put on hold due to COVID restrictions. We are thrilled to finally have the opportunity to share Carrie and Johanna's story here!
Read below to learn more about their journey and how you can support talent in the North by purchasing Umbilicus.
PLUS, head to our Facebook and Instagram to find out how you can WIN your own autographed copy of Umbilicus!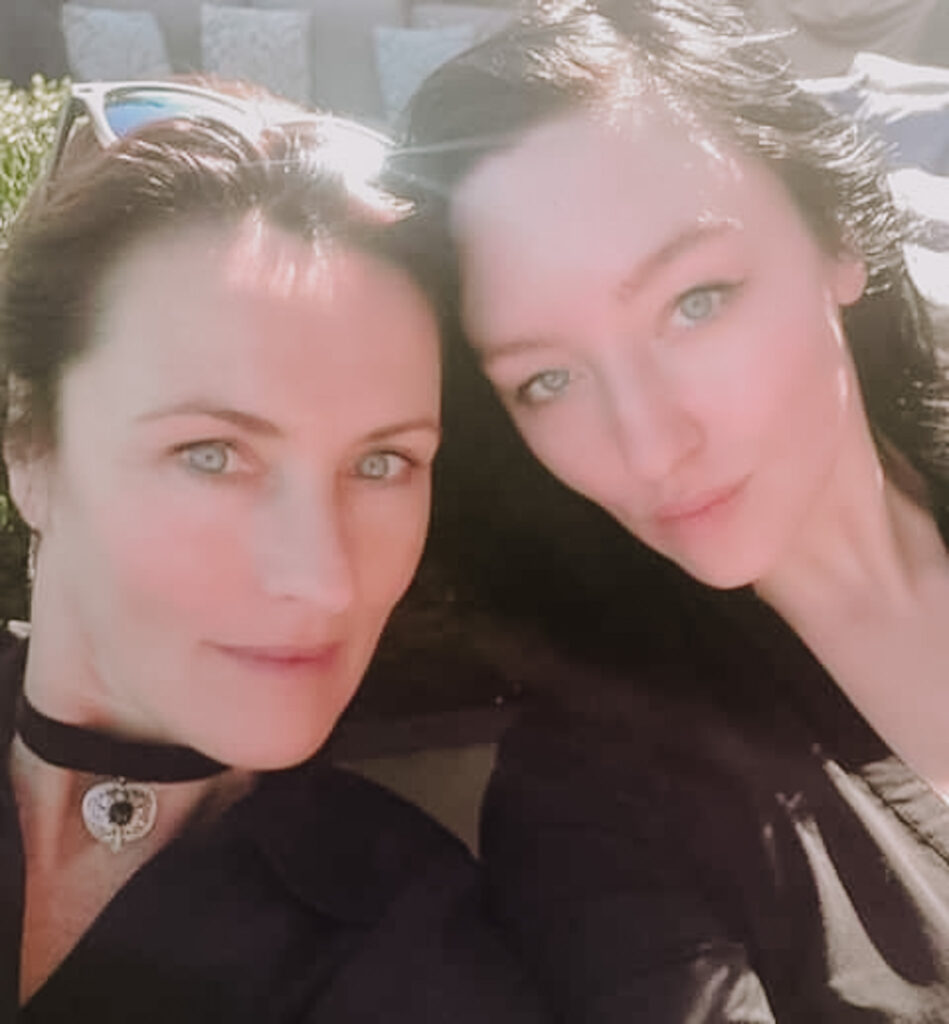 Tell us a little about yourselves.
Carrie: I am an actor who writes and a writer who acts. Both disciplines inspire us to observe human behaviour in all it's fragile and flawed glory! I watch people and take notes. Sometimes a poem emerges. Sometimes an idea for a character is born. People are endlessly fascinating and I never tire of observing them with an open heart.
How did Umbilicus come to be?
Carrie: Lorene Shyba of Durvile Publications, contacted me in the fall of 2018 and asked if I would like to have my poetry published. I asked her, " How many pages are we talking?" . She replied, "Around 100". After wiping up the coffee I had just snorted out my nose, I told her I would have to use a VERY LARGE FONT. There was no way I could write 100 poems! Shyba suggested I partner up with a high quality graphic artist. EPIPHANY- I can do better than that! I will partner up with a high quality painter and photographer, my daughter, Johanna Stickland! Lorene loved the idea, and thankfully Johanna leapt happily on board too. All we needed now was a title!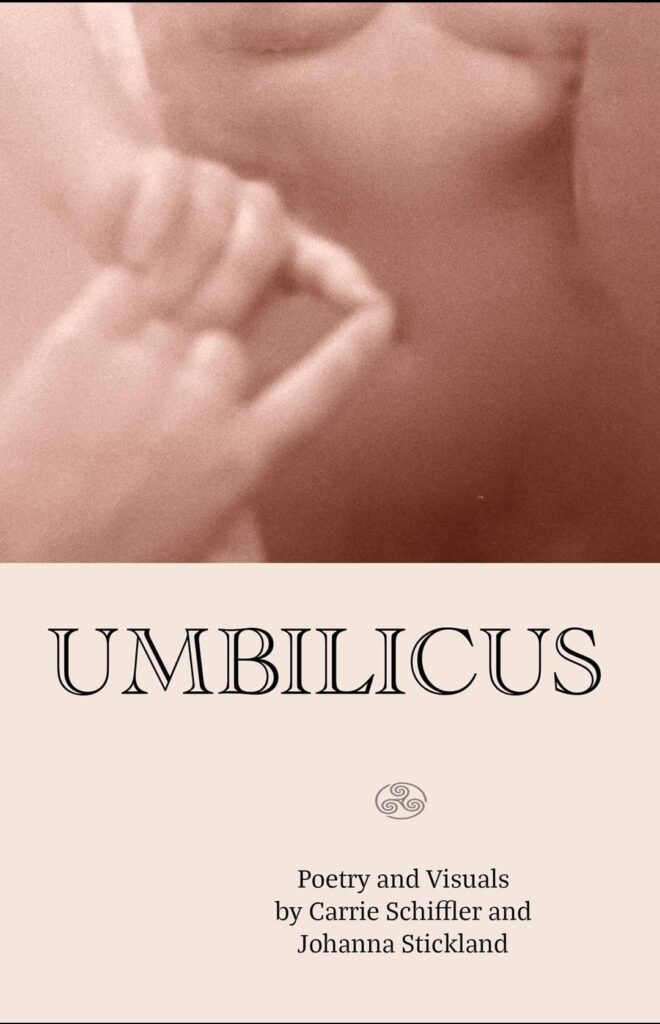 Literally Umbilicus is the clinical name for a navel or belly button. Why did you select this?
Carrie: When I write I always have the reader in mind and constantly ask, 'is this relatable, will they chuckle, cry or be moved in some way?'. I strive for genuine connection in all creative endeavours and I wished for the title to reflect this intention. Seeing as our first tangible connection to another human being is in vitro, and our book was a Mother/Daughter co production, Umbilicus seemed an ideal fit. And then Johanna sent me a beautiful photo of a female torso with a hand gesturing towards the navel and I knew we had the makings for a perfect cover and title.
What was the process for the poetry and visuals?
Carrie: When assembling the poetry I had maybe 30 current pieces. By current I mean they were written over the last 10 years. I then dug through the archives (rubbermaid bins of journals, diaries and cocktail napkins) for another 20 offerings. Every poem was given a much needed re-write which I thoroughly enjoyed doing. Revisiting the 'oldies,' gave me insight into how much I have changed over the years and specifically how motherhood had softened the hard edges and made everything richer.
As for the artwork, Johanna submitted her files directly to Lorene. I didn't know exactly what artwork was selected until I held the book in my hands. I had total faith that Johanna's visuals would not only complement the poetry but actually elevate it. Be it the ethereal lighting of her photography or thick dripping strokes of her paintings, my daughter's artwork brought out the best in my words. She made me look good.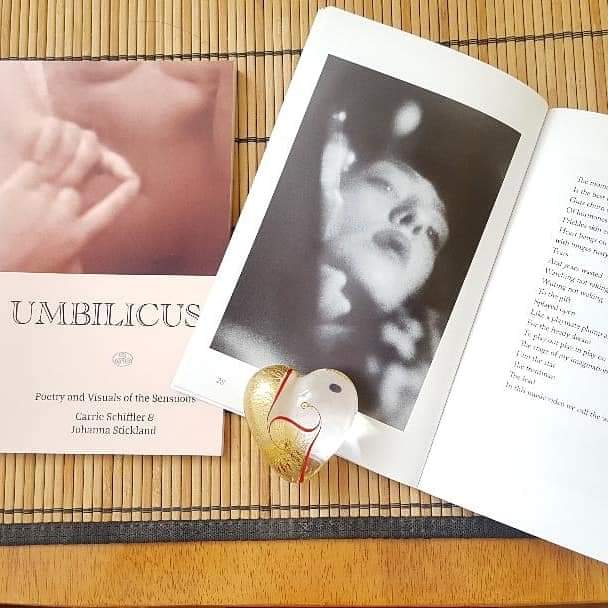 How did being Mother and Daughter shape this journey?
Johanna: I think being Mother and Daughter shaped this journey in a beautiful way because we have such a unique bond. Pairing our work together just felt natural, I think because we both use our emotions in our writing and painting.
Have you ever collaborated in the past?
Johanna: Being a mother and daughter is an ongoing collaboration! Family is a collaboration and our friendship is one too. Living in different parts of the world also forces you to make things work and be inventive with how to communicate.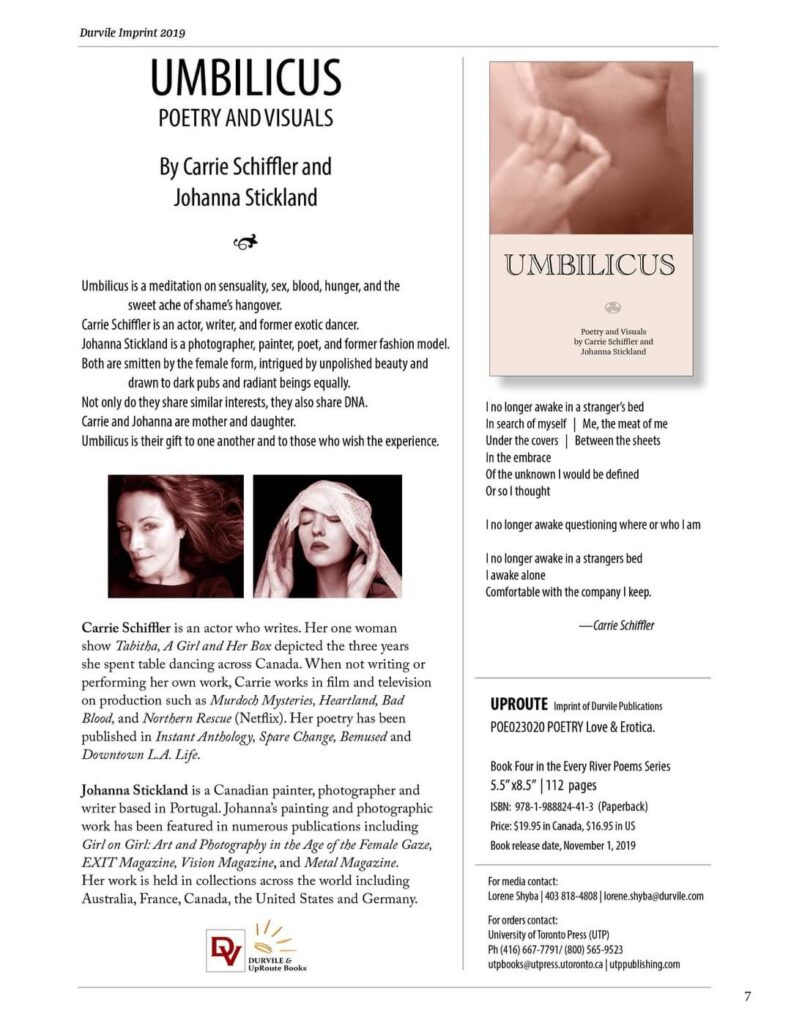 Would you work together again?
Carrie: Collaborating with Johanna again is a hard, YES! We're thinking a film may be the next undertaking. Rumour has it she wants to cast me as the lead. I'll have my people talk to her people. We'll do lunch! LOL
Johanna: In a heartbeat I'd work with my Mom again! She's my dream collaborator. I'd love to write and shoot a film where she's the lead actress and inspiration. Hopefully that is next on the horizon!
Do you have any advice for fellow writers and artists looking to publish their work?
Johanna: My advice for fellow writers and artists to publish their work would be just putting it out there online. See what magazines or publishing companies are putting out stuff that you feel a connection with. And write those editors/gallerists! You never know what can happen from sharing on Instagram these days.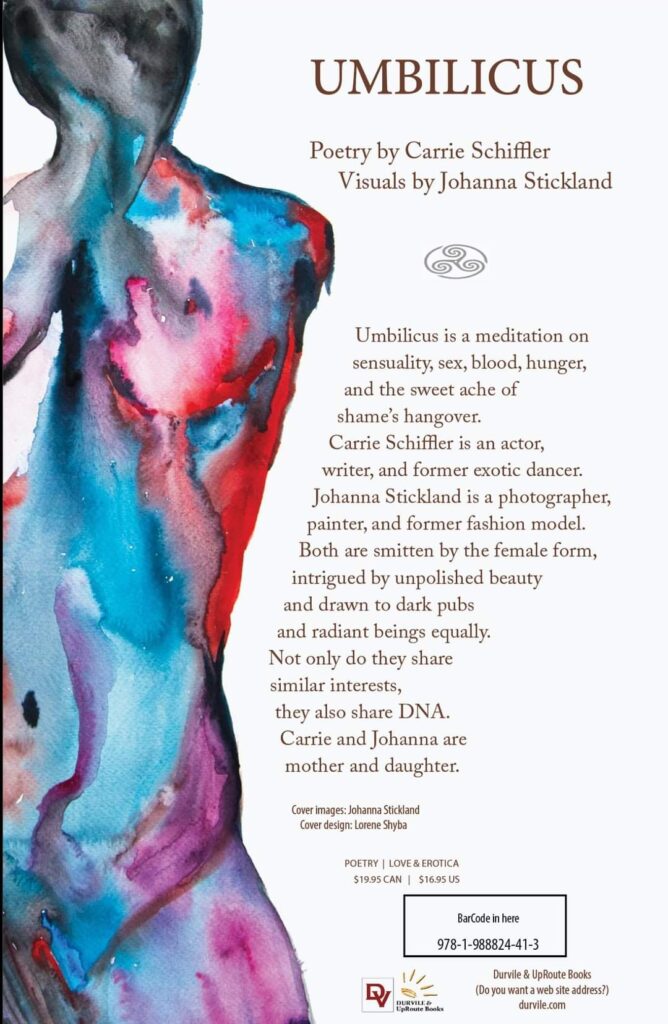 What's next for each of you?
Johanna: Being in the present moment. Doing lots of yoga and being healthy. Staying happy and sane.
Carrie: As for my writing I've been chipping away at a collection of memories, titled, Tales from the Corner of Bad and Ass. I could have completed it during the quarantine but I made a series of short comic videos instead. It was a heavy time and I desperately needed some levity. Creating 'wacky ' characters was not only a healthy diversion, it also forced me to learn how to edit video!
At the moment, I'm super grateful that production has resumed. Business in Hollywood North is full steam ahead. I have two sizable auditions to get on tape by tomorrow so I best bounce but thank you so much for the opportunity to share our passion project.
PLEASE purchase copies of UMBILICUS directly from Durvile & UpRoute Books | Going Beyond the Book
Rapid Fire Questions:
1. Favourite northern city/town? Carrie: It's hard to pick just one. Any place on a lake has my vote.

2. Favourite winter pastime? Carrie: Vacationing in a warm climate. Johanna: Being cozy inside with hot chocolate while watching the snow. And tobogganing!

3. Is it a "camp" or "cottage"? Carrie: Cottage

4. Favourite local business? Carrie: Katrine General Store – so much more than a convenience store. They have fresh baked (on premise) treats, pizza made to order, ice cream, espresso bar AND Kimberly, the owner also runs a full service hair salon! Where else can you buy fishing worms, butter tarts and get your hair coloured?!
Follow Carrie Schiffler and Johanna Stickland
Purchase a copy of Umbilicus