Looking for a last minute Halloween costume? From the cute to the clever, we got you covered! And the best part is everything you need to create these easy ensembles is already in your closet.
Whether finding a costume for your family has been sitting on your to-do list for far too long or you just scored a last minute invite to a spook-tacular soiree, there is no need to stress. You can easily and affordably throw these halloween costumes together in a flash! Check out categories from party-ready to family-friendly and even work-appropriate, plus everything in between below:
Six Simple Halloween Costumes You Already Have at Home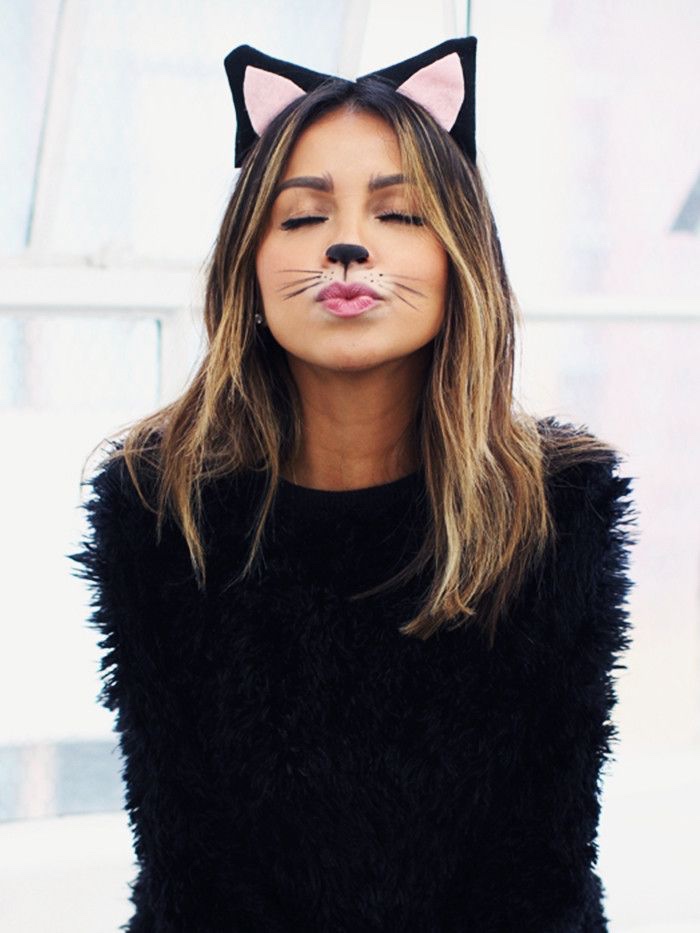 1. Party Ready: Black Cat
Longing for something simple and sleek this Halloween? This look is for you! Bring out all your favourite black basics, be it a dress, bodysuit, leggings or even a leather skirt. Add some ears, a tail, grab your eye liner to paint on some whiskers and voila! Looking for a clever twist on this classic? Try a Cat Burglar! Just add a black mask and forego your purse for a sack with a dollar symbol for an instant upgrade!!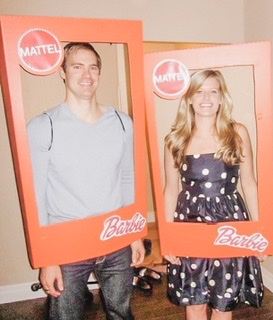 2. Couples: Barbie and Ken
This classic couple never goes out of style! Dressing up like these dolls is easy: wear virtually any outfit, pair with perfect hair and perma-grins. Bonus points if you put in some elbow grease and create the iconic Barbie box out of extra cardboard laying around the house (hit up your local appliance or big box store if you are looking for spare boxes)!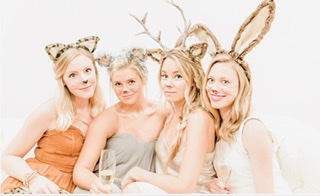 3. Group: Party Animals
They say your vibe is your tribe, so grab a group of your closest girl or guy friends and take a walk on the wild side this Halloween. All you need is a fancy dress or suit, glass of champagne and a pair of animal ears or antlers. That eyeliner and highlighter adds extra cuteness to this look, in the form of whiskers, doe eyes and freckles. If you have extra time, do a DIY and make them yourself!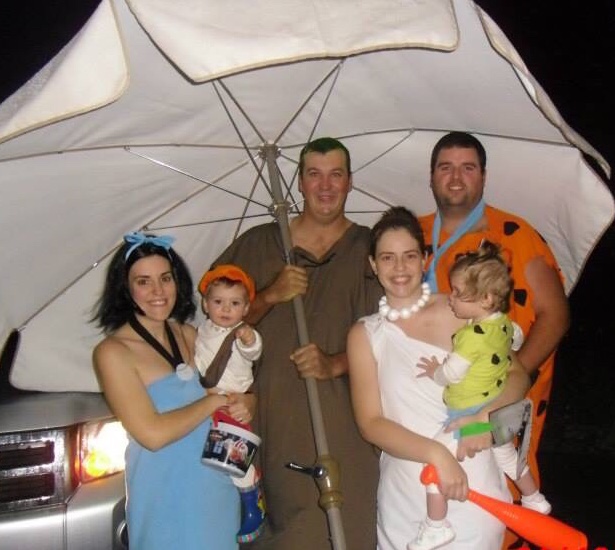 4. Family Friendly: Flintstones
Have a Yabba Daba Doo time this Halloween! These costumes are fun for the whole family and easy to piece together with items you already have at home. Bring out your inner Betty in a blue dress and rock Bedrock like Wilma in white. Or create the look with strategically cut and pinned old t-shirts! An orange blanket with a blue tie and black sharpie can be used to create Fred's look. A brown blanket with a hole cut through the middle is all you need to be Barney Rubble's "double". And your littlest loves likely have something that matches Bam Bam and Pebbles. Accessories are key! Go the extra mile with a pearl necklace, blue bow, bat and top pony.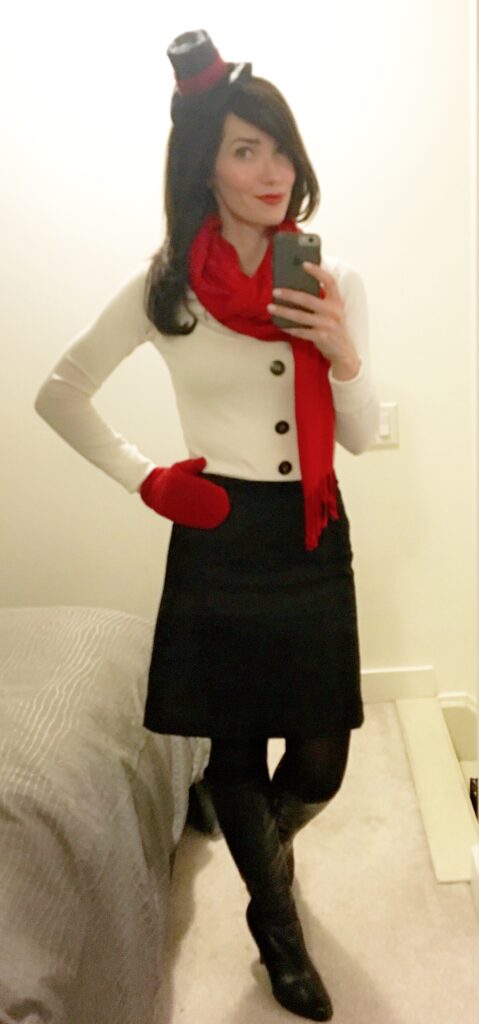 5. Work Appropriate: Frosty the Snowman (or woman!)
What to do when your office is having a Halloween costume contest on the same day you have a big client meeting? Take a cue from you childhood friend, Frosty! I'll admit I had my reservations, but a white sweater with a black skirt let me change quickly from professional to playful. After my meeting I just added the red scarf, gloves, top hat, boots, and stuck buttons on with double sided tape to complete the look. If you have kids who love the popular Disney movie Frozen, this look could also pass for Olaf.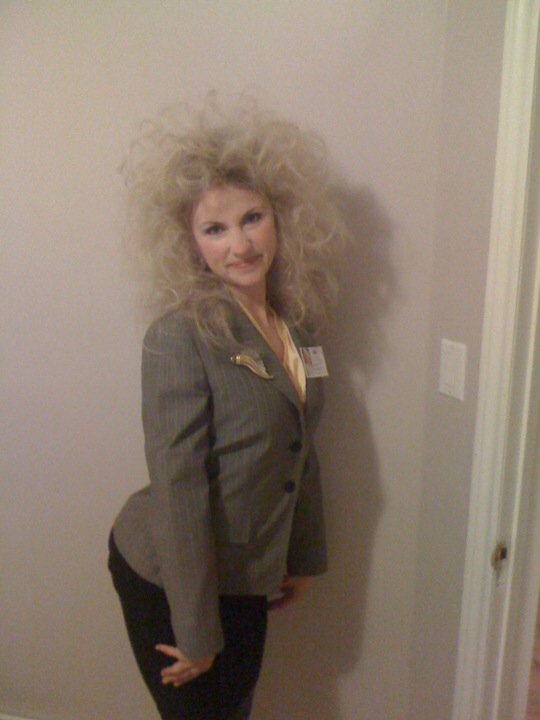 6. Northern Inspired
Take inspiration from the Great North and create a costume that reflects the culture of your city. You can easily mimic the wardrobe of a notable Northern public figure or sport the jersey of your home team for an easy costume with local flavour! Sudburians take note, Andryanna's take on "671-WORK" brings local real estate to a whole new level! Can you guess which local icon she dressed up as?! And we would love to hear from our readers in North Bay, Muskoka northward and across the world, is there a Northern inspired costume you would rock to trick-or-treat around your block?!
Putting it All Together
If you love these six simple halloween costumes but are missing a piece or two, consider investing in similar items that do double duty for both your costume and everyday wardrobe. Check out Northern thrift, consignment and vintage stores like Fashion Closet, New to You or Starlotte Satine Vintage. Value Village is still a great place to pull a last minute costume together too!
In a pinch you can also shop online and sign up for a free 30 day trial that offers FREE two day shipping to ensure your purchase arrives long before all Hallows Eve!
Looking to get further into the spirit of the Halloween season? Try these Easy Outdoor Updates along with the latest and greatest of Happenings in the North.
Happy Haunting Everyone!!
Do you have ideas on how to create a BOO-tiful costume using items in your closet? Let us know!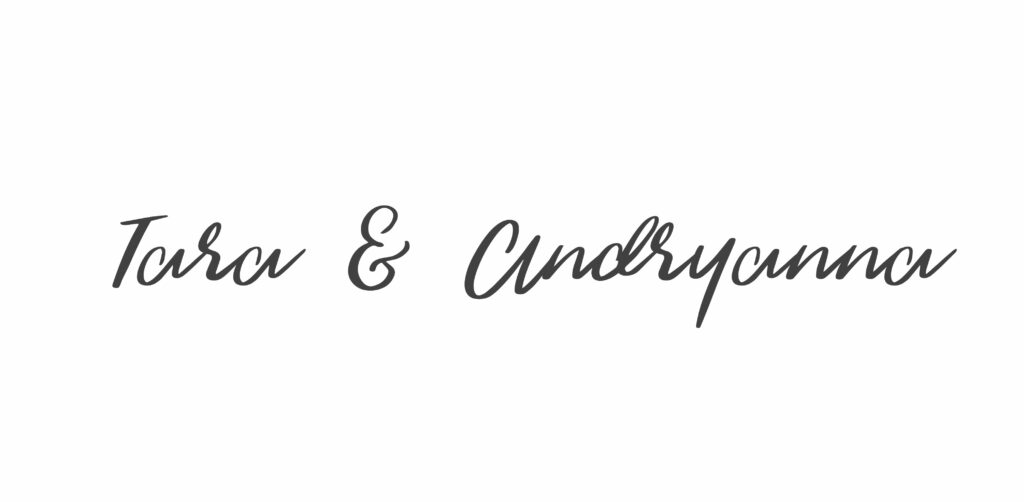 Our editors review and recommend products to help you buy the stuff you need. If you make a purchase by clicking one of our links, we may earn a small share of the revenue. The compensation received via any form of advertising will never influence Northern Heart + Home's content. We only feature items we love and think you will too!