Did you miss Google's visit to the North?! If you're looking to grow or start your business, expand your digital skill-set and deepen your online understanding to expand your audience, this article series is for you. Read all about our experience at the event and how you can get your business online using Grow with Google!
Part One: Getting Your Business Online
I will admit that when I was mindlessly scrolling through IG late one night and stumbled upon an ad noting that Google would be hosting an event in Sudbury, I had to do a double take and make sure that my tired eyes weren't playing tricks on me. I immediately sent a screen capture to Tara thinking that we could attend together and clicked through to register, hoping it wasn't some sort of sneaky trick. Shortly after, we both received confirmation that we were, in fact, registered to attend the #GrowWithGoogle workshops, here in northern Ontario. How incredible! An entity that has grown so immensely and is now a verb ('Google' it) as well as the search function that we all know near and dear was coming to the North. We counted down the days until it was time to attend.
In true Google fashion, the details and added touches at the event were flawless. The 'Googlers' were friendly and helpful and the set-up inside Science North's Vale Cavern was inviting and eye-catching. All aspects of the day, from the spot-on custom-made Sudbury/Google graphic (which included the Kivi Park wishing tree, bridge of nations, lakes, Science North, Big Nickel, water tower and more), to the 'local eats' and beverage station were on-brand and executed to perfection. All aspects were true indicators that showed Google always giving 100% in everything they do. The Grow with Google workshops in Sudbury included registrants from all walks of life, from industry professionals, to business owners and students; all looking to learn and build on their digital literacy skills.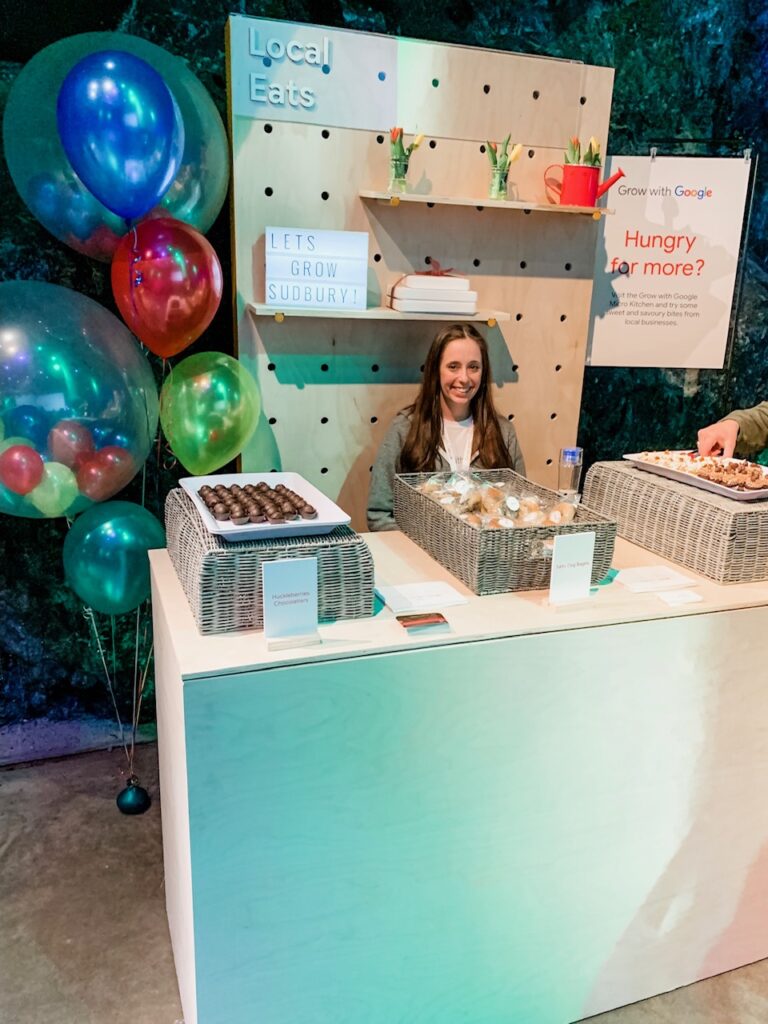 In his opening address, head of communications for Google, Aaron Brindle, noted that "65% of jobs that today's kindergarten students will get into, don't get exist". This really spoke to me since my oldest child is in kindergarten right now! Aaron's address really got me thinking about how digital technology and innovation is changing so rapidly and that continued learning will be essential in order to keep up with future demand. This is why Google wanted to share their tools with us – for our future. And this is why we want to share what we learned with you, our Northern Heart + Home readers!
If you're looking to grow or start your business, expand your digital skill-set and deepen your online understanding to expand your audience, this article series is for you. We will take you through each of Google's three workshops; including our northern take, and provide you with the tips and tools you need to expand and meet your online goals.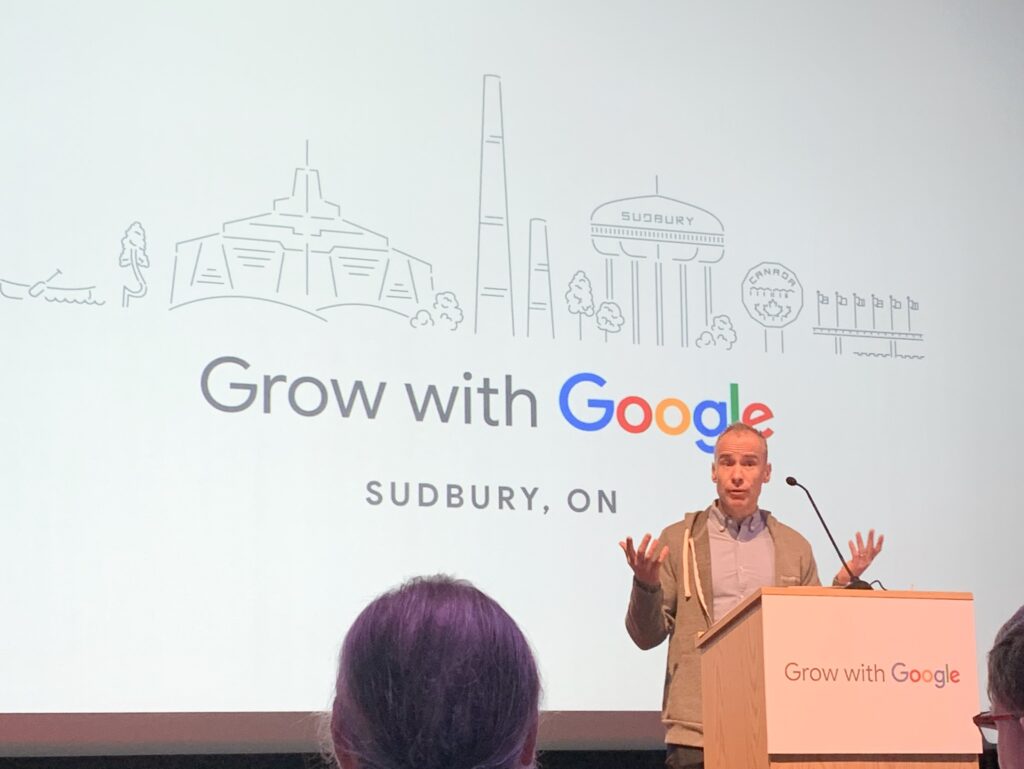 This is the first of a three-part series that delves into growing your online business profile. Here we will focus on getting your business online – the most important step in growing your business in today's digital era. Part two will show you how to reach customers online with Google. And in part three we will tackle how to use data to drive business growth. So let's begin …
How-to: Get Your Business Online
Before I even mention the word 'online', I think it's important to understand why being online is so vital to the success of your business. So here goes my marketing 101 rant in 200 words or less.

As a marketing professor, I tell my students that the essence of marketing is to create and capture value for your customers. That's it. That's all marketing is – developing ideas and creating strategies that will provide the best value to your customer, versus your competition.
So how do we do this? How do we create value for our customer? Well, we have to a.) understand who our customer is and b.) what their needs and wants are. Let's take one more minute to drill down a bit further:

WHO: in defining a target audience we can look at a number of factors and characteristics that make up your ideal customer a.k.a. the person who has the need AND the ability to purchase your product or service. When you know who this ideal customer is, you can begin to understand WHAT their needs, preferences and buying behaviours are.

Here are few starting points and questions to get your started:
Geographic (where does your target market live and work?)
Demographic (what census-type information can you find about your target? Age, gender, marital status, income, occupation, education, ethnicity, etc.)
Psychographic (what does your target market value? What are their prevailing attitudes, media habits, technology usage patterns, personality traits?)
Behavioural (how and why does your target market buy and use products/services?)
Now that you know who you are trying to reach, let me ask you why you think improving your online business presence will ultimately help you gain more customers. How will getting or improving your business online, help your business overall?

And I'm sure you're screaming the answers into your device right now, but the response that most of you are likely summoning up is simple: you know that your target market, the ideal customers for your business, are interacting and using online tools to make decisions about how they live. Whether it's deciding where to go for dinner, or what type of vehicle they want to buy, most shoppers are either doing research, asking for advice or even making purchases online – and in some cases doing all of the above. Have you ever typed into Google: 'restaurants near me' or 'best places to eat in Sudbury'? This is the customer journey. And regardless of our target market, most customer journey's in some way are increasingly happening online.

What does this mean for you and your business? It means that you have to be along for the ride in order to end up at the same place as your (potential) customer. If your customer is only looking for information about various products and is not ready to make that final decision, you still better be there to help them get the info they need (research phase). If your customer is hoping to get reviews to feel confident about the purchase choice that they want to make, you better be facilitating that experience (consideration phase). And naturally, when your customer is nearing the end of their journey and is ready to spend their hard-earned money, you damn-well better ensure that you're doing everything in your power to make the purchase experience as quick and convenient as possible – whether it's online or in-person (final sale). Finally, don't forget to be there AFTER the purchase to facilitate ease-of-use or general satisfaction with your customer.

So there you have it. You know that it's important to have an online presence. And you know it's essential to be able to guide your customer through their journey to making purchasing decisions. So how do you do this in a way that is easy and effective? Well for starters, you are there for your customer when they are searching for what they need (via Google searches). You're also telling them where you are, your hours of operation and how to get to your place of business. Oh, and you're also there regardless of what type of device they're using (mobile device, tablet, laptop or desktop). Being there for your customer is number one, but as a business owner/operator you want to know how your potential customers are accessing information, where they are, and when they are searching for items that relate to your business.

And hey, what do you know – Google knows this and has developed a FREE tool for all types of businesses that bring all of these elements together. This tool is called a Business Profile on Google. Keep reading to access and build this tool to promote your business online.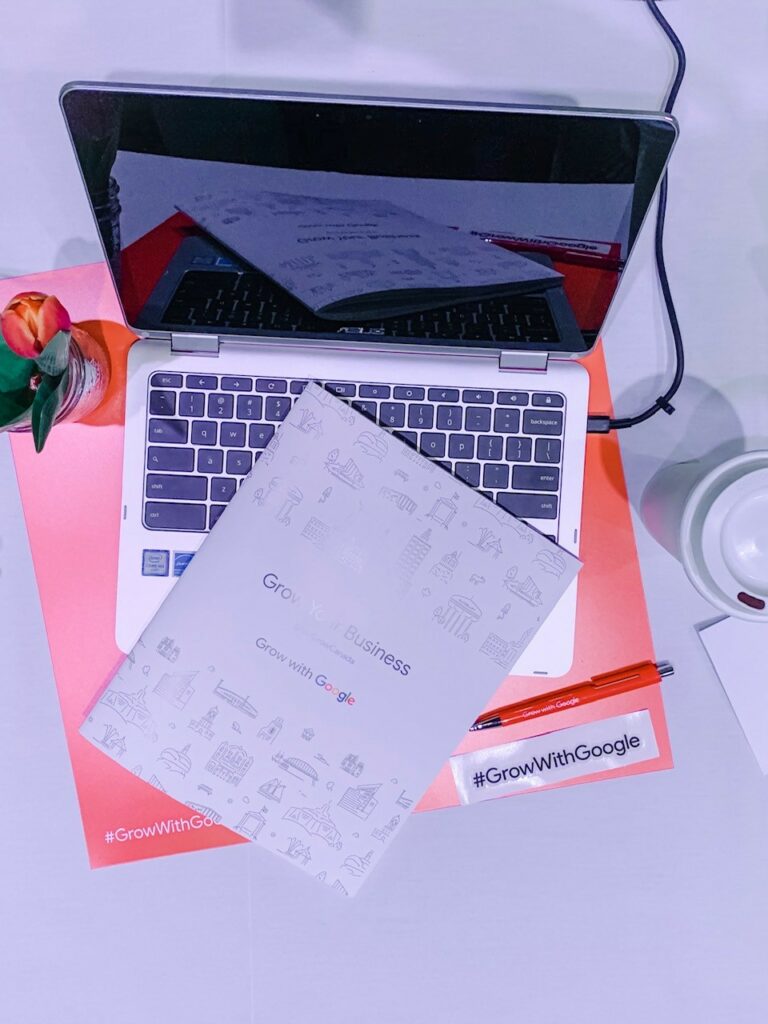 How-to: Create a Business Profile with 'Google My Business' in 3 Easy Steps

Step 1: Go to the Google My Business page (google.ca/business), click 'START NOW' and sign into your Google Account (the one you use for your business). If you don't have one, you can go here and click 'create account' to set this up.

Step 2: Follow the prompts.
Google has made this incredibly easy to follow. Just answer the questions they ask.
What's the name of your business? Pop in your name.
Where are you located? Throw in your address.
What kind of business do you run? Select a business category.
What contact details do you want to show your customer? Enter phone number and or website (if you don't yet have a website, you can create a FREE website with Google, more on that another day).
Step 3: Confirm you are authorized to manage your business profile (click continue) and verify your business (clicking on 'mail' sends your info to Google and once they check it out and confirm that it's legitimate they'll send you a postcard with a verification code).

You're done! Now you have a Business Profile that will come up in search results, sharing important information about your business. You can add more to this profile and review insights to learn how and when your customers are searching for you.

Things to include in your profile:
Your logo: Brand recognition is so important. Make sure that you include your logo on your profile so that customers will recognize your brand.
Imagery: Pictures and videos speak for themselves. Including nice images or short videos that showcase the best of your business, whether it's your building, your team or your products, will help your customers get to know your business and understand what you offer.
Descriptions & Reviews: The more information you can provide to your customer, the better they can understand your business. Keep it relatively short and sweet, but don't assume that potential customers know about what you do and offer. Tell it like it is!
Booking Links: If you operate the type of business that using booking, Google has options in its Business Profile that allow for booking appointments directly through the profile.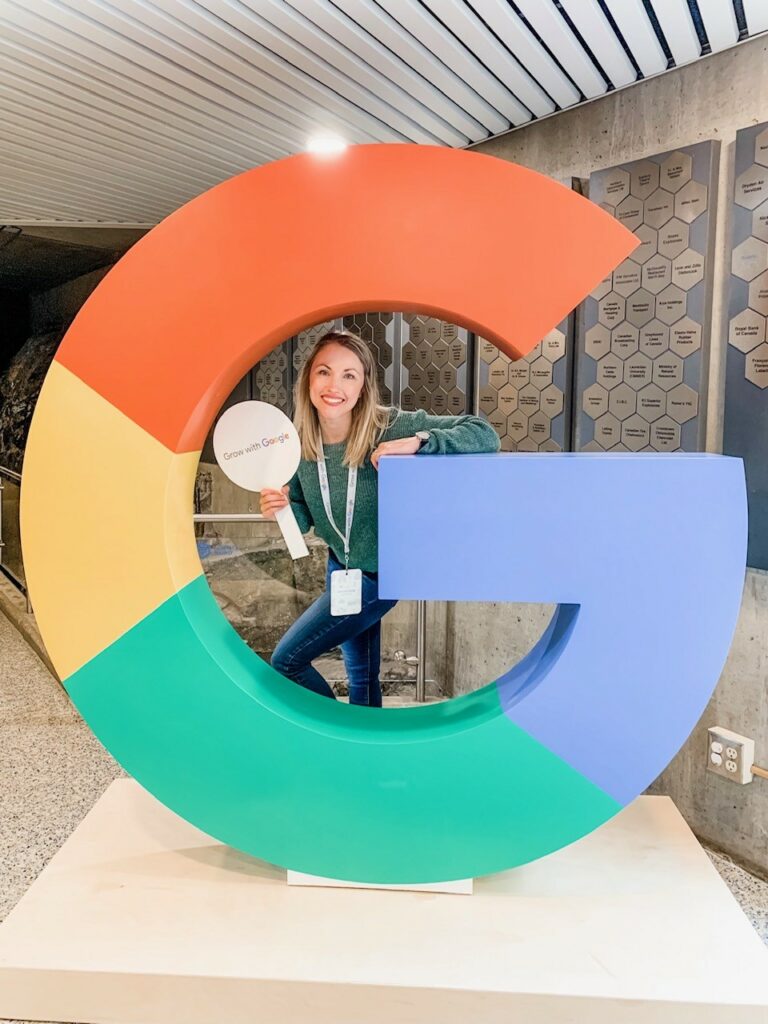 Our Tips for making the Most of your Business Profile on Google:
Keep your profile up to date: Are you taking a well-deserved vacation and therefore have to close or alter your hours of operation? Make sure you're updating it on your profile. Do you have special hours for holidays? Get it in your profile. I was recently out of town for Easter and came down with a nasty sore throat. Searching for walk-in clinics that were open was a daunting task as typical hours of operation weren't being followed that weekend. Do your customers a favour by keeping your information up-to-date. It may mean the difference between a loyal customer and an ex- or never-customer.
Include NICE imagery: Your food truck poutine may be out of this world incredible, but a photo of it taken in bad lighting, next to the fryers with your employees dirty apron in the background won't capture its essence in the best way. If you're going to include photos or videos on your profile, it's well-worth the cost to hire a professional. If you don't have the budget for this right now, aim for natural lighting and clean, simple backgrounds.
Interact online: read your reviews and comment on BOTH the good and the bad ones. Thanking your loyal customers who have taken the time to write a review and addressing the disgruntled ones by trying to fix the issue will bode well with the customers who left the reviews and the potential customers seeking information.
Have you set up your Business Profile on Google yet? Is it helping you reach your audience? We want to hear from you – comment or send us a note!

Next week, I'll take you into the second of three workshops that Google offered in Sudbury: Reach Customers Online with Google. This article will include insights from Google including how search works, performing a site search and tips for appearing in organic (unpaid) results.

Be sure to subscribe below so you don't miss the rest of this three-part Hustle series and more!