March 8th was International Women's Day. A day to recognize and honour the contributions and strengths of women throughout the world. Northern Heart + Home celebrated IWD by attending the She&Her IWD Event in Sudbury. And it did not disappoint.
She&Her officially launched its organization with a sold-out inaugural IWD event in 2018. Since then, they've held multiple events that aim to inspire, empower, support and encourage women locally and throughout Canada. They also has an online speakers series blog that "is a chance to showcase and highlight exceptional female leaders who are changing the dialogue in our community." As a huge fan of this series, I was so honoured to be interviewed in 2018, among some of the coolest, most intelligent and overall badass women in the North (You can read my interview and others here).
Before I go any further, I must mention that the three women behind the face of the organization – Hailey Short, Samantha Davidson and Kate Lafantaisie are all exceptional in their own right and together they are absolutely unstoppable. I could go on, but back to IWD19 …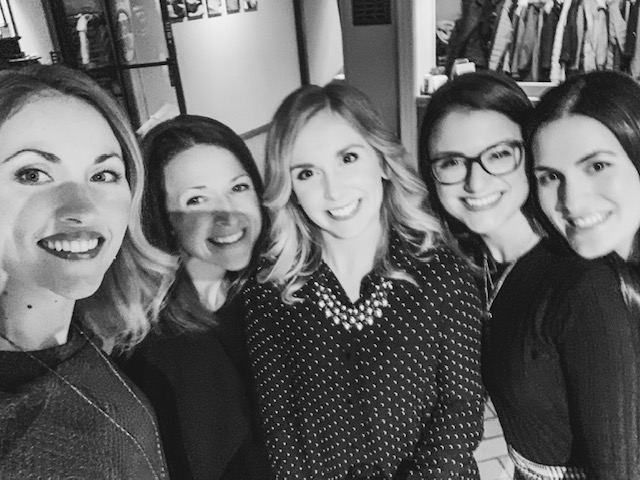 As I drove to the event, blaring Beyoncé with the sense of freedom only a mom can experience as she takes off with empty car seats, I thought about the past year and how many women have impacted and bettered my life. There have been a lot!
I parked my car and as I walked to the doors of the venue, I noticed that there was an actual line up to get in! The Sudbury Theatre Centre was buzzing with excitement. The space was welcoming, with two DJ booths playing in different rooms (kudos to Soundjack DJ Services), delish food and treats casually laid out (provided by Nesci's Catering and Guilty Pleasures Bakeshop + Bar) and a bar (featuring an impressively long line to be served, likely because the $40 ticket to attend the event included a glass of wine!). The vibe was so friendly, almost like everyone who was attending felt like they could pick up a conversation with anyone who walked by them – and in many cases we did! After cocktails and mingling, the event transitioned into the theatre where a panel discussion and keynote address wowed and inspired the audience.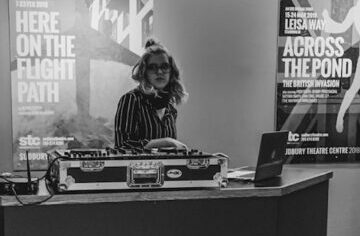 The thoughtfully chosen panel included women who have different backgrounds, perspectives and journeys, but are all equally exceptional in terms of their motivation, abilities and attitudes. On the panel:

Cassandra Visentin – teacher, Intensive Support Facilitator and STEM club founder/coordinator at St. David School.
Tammy Gaber – founding faculty member, assistant professor and coordinator at the McEwen School of Architecture; author; mom of two children.
Tracy Baker – founder of Yellow House, a new creative studio in Sudbury; co-author/illustrator of the children's book, The Awful Alphabet; co-founder of Makers North in Sudbury; Visual Arts instructor at Cambrian College; and mom.
Wendy Watson – current Director of Communications for Greater Sudbury Utilities; past television and radio personality; passionate volunteer and member of many boards (past and present); mom and step-mom to four combined children.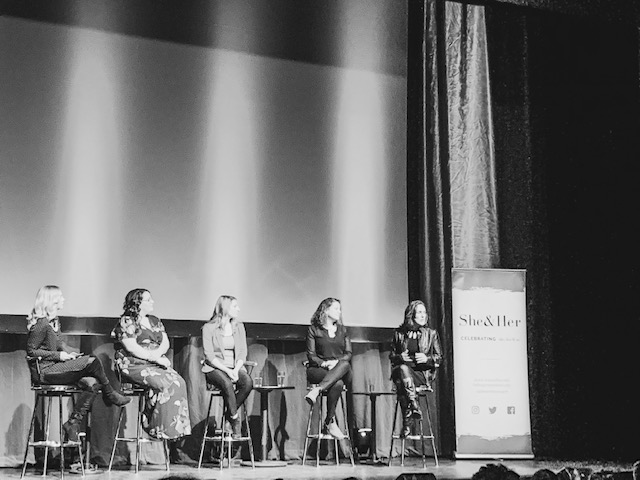 Cassandra, the youngest on the panel showed us that age doesn't matter when you're driven, passionate and strive for a greater purpose, hers being to guide and better prepare elementary school children in the areas of STEM. When asked what obstacles she's overcoming, Cassandra noted that being comfortable with herself and being alone has been a challenge and that she's learning to roll with it touting baking and blasting tunes as a way to enjoy her alone time.
Tammy, while seemingly soft-spoken, her intelligence and overall clear passion for her role shone through with each response. Noting that as a single mother, the lines of 'work/life balance' often blur and that she is OK with it, knowing that she is always ready and able to tackle important priorities as they come to her, whether it's leaving work to help her children, or taking work home to keep up with the demands of a tenured professor.
When an audience member asked the panel how they respond to those who talk down and use demeaning colloquial phrases to coin her such as 'sweetie' or 'darling', Tammy received an overwhelming round of applause with the response that she would clearly say, "it's doctor" and continue her conversation.
Tracy kept the audience literally laughing out loud with her smart-mouthed, witty, and real responses. As an accomplished artist, author, instructor and entrepreneur, Tracy was the first to admit that she's often a hot mess and doesn't have the answers most of the time. When responding to questions about overcoming obstacles, she noted that when she makes mistakes she is the first to own up to them and admit when she is wrong. Her next steps always involve making any wrongs 'right' and working smarter and harder to fix it.
Wendy, who admitted and relished in being the most senior of the group and a grandmother, has seen many accomplishments in her career, notably being the first female chair of both the YMCA and GSDC boards. A true believer in the power of women, Wendy shared dozens of insightful tips throughout the evening. She reminded the audience that we must continue to bring one another up and let go of the 'bitches' in our lives, whether they be friends, co-workers or even social media profiles.
When asked about her greatest accomplishment, she noted that blending her and her partner's families while their four combined children were teenagers was a feat that she was incredibly proud of.
Gabrielle Roy, or Gabe as her team refers to her, was the keynote speaker for the evening. Gabe is the founder of Stitch & Stone, a beautifully curated and extremely popular retail destination with two locations in Sudbury and an online e-commerce platform that ships orders around the world. With two children, a supportive husband and parents and a staff of 24, Gabe spent the evening sharing warm anecdotes about her journey that started out as a child in Kapuskasing, Ontario and how she has gotten to where she is now.
The stand-out advice she gave the audience while playfully poking fun of herself and childhood buzz cut, was to think back to your own childhood and remember what you did that made you happy, how you felt when you didn't worry about anything else but being a kid that day – and to take that childlike abandonment and use it to reignite your inner fire. She gave this advice while displaying a photo of herself as a child with an honest-to-goodness buzz cut, one dangling earring and sailor dress on the huge screen and then described how it helped her realize her passion and gave her the courage to follow her childhood dreams.
Gabe used the image of a winding road to describe her career path and how it led her to where she is today. Noting, "it's a winding road, but it's mine", she told the audience that she's grateful for all the experiences she's had because they've ultimately led her to where she is today. After various twists and turns (including working at a Kapuskasing sports retail store for a boss who was seldom present, serving acute care patients and the corporate world at Sudbury's HSN hospital, managing her husband's sports bar and the massive amounts of debt that came with it, and the humble beginnings of Stitch & Stone that involved selling scarves from a small 8' x 8' office), Roy – with the constant support of her husband – opened the first Stitch & Store location on Cedar Street in Sudbury in 2014.
Throughout her address, Gabe kept the audience laughing, smiling and ultimately rooting her on as she described her journey. Dressed casually but exquisitely in brown suede boots, ripped jeans, a long patterned kimono and fashion fedora hat (she noted that she has more hats than shoes), Gabe told the audience that this (pointing to herself in the clothes that can be found at Stitch & Stone) was 'her'. And never before opening Stitch & Stone had she been able to fully be herself (both inside and out) since she was a child. This moment resonated with the audience and led to resounding cheers of encouragement and a giant standing ovation.
I left the She&Her IWD event feeling empowered and excited for the future – thanks to these women who inspired me through their stories and advice – and to the women who are here for me day in and day out; listening to my struggles, helping me with my successes and cheering me on regardless of how I'm doing on any given day. So in ending this piece, please accept my sincere gratitude mom, Vilya, Baba, Aunties, my sisters-in-law, my BFF's, former teachers, bosses, colleagues, mentors and all of the women who have helped me get to where I am now "because when women work together, we can accomplish anything" – Mindy Kaling (and thanks as well to Mindy Kaling for being hilarious and amazing).
UPDATE: On April 15th, She&Her announced that $3,700 was raised at the 2019 International Women's Day Celebration for the St. David Elementary School STEM (Science, Technology, Engineering and Mathematics) Club! On social media, She&Her noted that, "With this donation, St. David will be able to deliver high quality, hands-on opportunities in a welcoming environment for all students, independent of the barriers they may otherwise face". For more information on this and She&Her, visit their website or follow them on social media.

Who are the women who have shaped you and built you up? We'd love to hear from you in the comments below!