Northern Heart + Home is pleased to welcome Dr. Adam Ball as a special guest contributor! Adam is passionately interested in all things related to health, nutrition and fitness. He a Doctor of Chiropractic and clinical nutritionist as well as the co-owner and head coach at the Sudbury School of Fitness.
In this post, Dr. Ball helps to simplify what most of us are concerned about this time of year: our health. Read on as he provides great tips and resources for keeping ourselves and families healthy and happy during cold, flu and COVID-season! PLUS, scroll down for an exclusive 15% discount code for Metagenics supplements!
3 Ways to Improve your Health
My advice isn't going to be, "don't do that". Even though sometimes that does help. So if that works for you, go for it. For most though, a metered, and a more introspective, or clever approach may work best. We're going to make a bunch of stops here, all of which can be the difference-maker with regards to helping support your goals, while also providing you with resilient health. Here are 3 simple approaches to improving your health: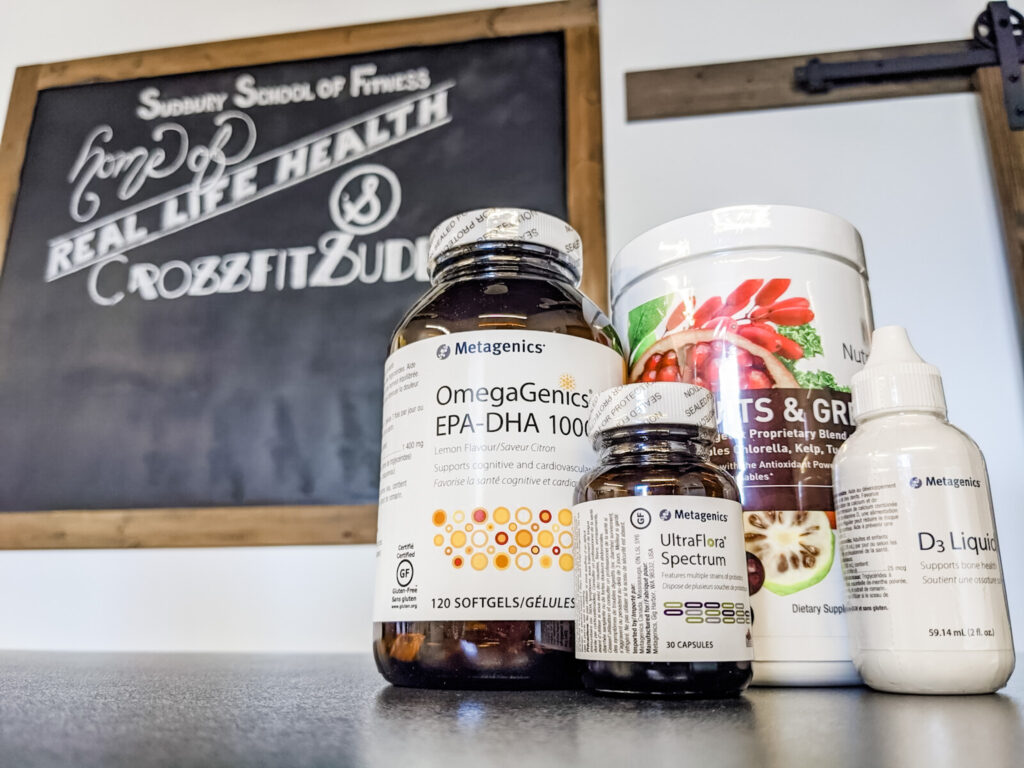 Step 1: Make sure you're covering your bases, nutrient-wise.
This comes down to providing sufficiency where deficiency typically exists. While there are TONNES of antioxidants, vitamins, minerals, and amino acids that can help to boost immunity, help with energy, stimulate immune cells, etc. We will focus here on making sure you aren't deficient. Deficiency will often mask itself as hunger first, hoping that you will find and consume something containing those vitamins/minerals you lack.
Sadly egg nog and chocolate chip cookies don't typically have the nutrients you need. Sometimes your body will be intelligent and provide you with a "weird" craving – anyone who's been pregnant has likely had this (i.e. "I don't know why, I just REALLY wanted to eat a lot of oranges…") So…
Vitamin D: It's winter. We live in the North. Yes there are still sunny days, but you aren't making vitamin D at this point. The way the sunlight hits your skin no longer stimulates the synthesis of vitamin D once we get to this time of the year. It's time to spend ~$20 and make yourself sufficient for the year. You're aiming for about ~1000iu per 40 lbs. of bodyweight. Just do it — it would be irresponsible not to.  If you're concerned at all about dosage, you can ask your family doctor for a blood test to assess your current vitamin D status.
Fish oil. EPA & DHA: Yes it can come from squid, krill or seal as well (and sometimes even algae, for those devout vegans). You are aiming for ~500mg of EPA+DHA per 40 pounds of bodyweight. Taken with food ideally to help with absorption.
Probiotics: A broad strain option is good, but typically something with some letters and or numbers after it, as well as it being bifidobacterium or lactobacillus is ideal as those strains have the most research to back up their utility. My suggestion is to buy Metagenics as they are the most stringently tested (as far as my knowledge), though there are definitely other great brands. I would stick to something recommended by your healthcare practitioner as there are also a lot of poor quality products out there that do nothing.
SPECIAL OFFER: for 15% off any order with Metagenics use the code: NH+H2020 at check out!
That could be it, if you want, and if you shape your meals off of whole foods (meat, veggies, fruit, tubers, nuts, seeds). Though if you want to really cover your bases, you could also opt for:
Fruits & Greens powder: We like Nutri-Dyn as they're the most delicious. But Greens+ and Progressive are OK as far as I know. I'm sure there are other good brands as well. Beware anything sweetened with Sucralose, acesulfame potassium (K), aspartame, or even erythritol.
Additional Vitamin C: It's fairly cheap, and most of us are deficient in it due to stress and poor diet.
Magnesium (citrate, or glycinate, or threonate): Can help with improving sleep, reducing muscle tone (in a good way), and either making you more regular with bowel movements (citrate), or more calm/balanced mentally (glycinate and to a greater degree, threonate).
You could also look at taking something like Immucore, or some other mushroom blends (Four Sigmatic, and Host Defense are great options). Mushrooms are great at modulating the immune system (interestingly enough, up OR down – whichever is needed).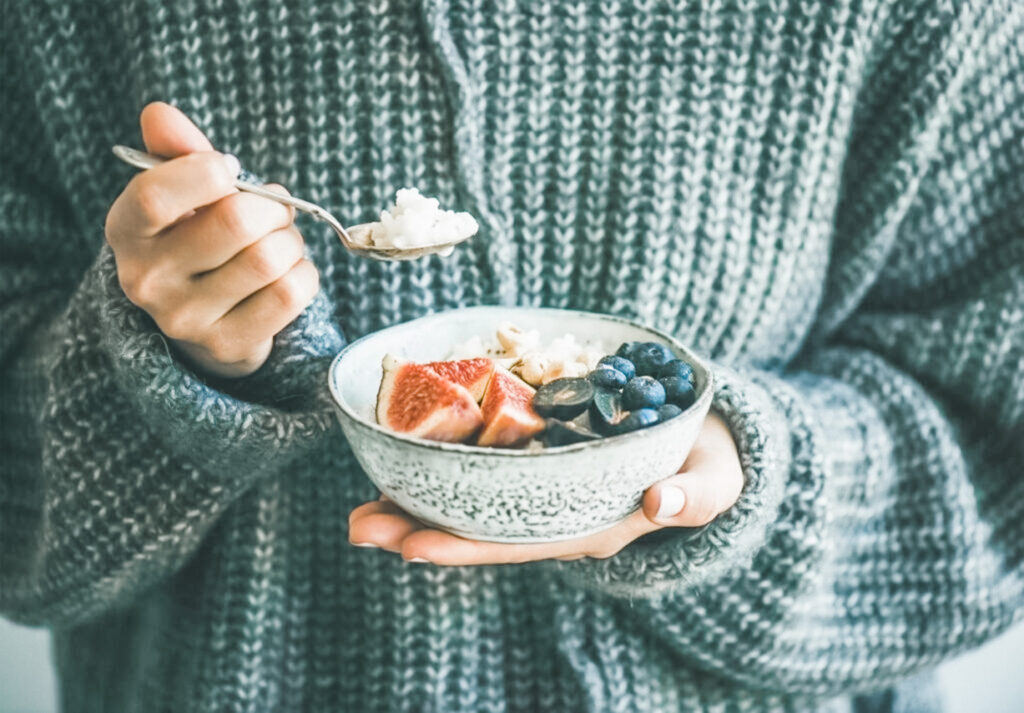 Step 2: Eat to Live 80% of the time.
The point here is, eat to provide you with the clarity of mind and energy you need to support your life and goals. This should be some combination of meat, veggies, fruit, nuts, seeds and tubers. Each person will have their own spread that works best.
During the "other" time, is the time to kick your heels up and have a nice glass of wine, some pumpkin pie, or other worthwhile treat. This should be to help enhance an otherwise happy/enjoyable environment/moment.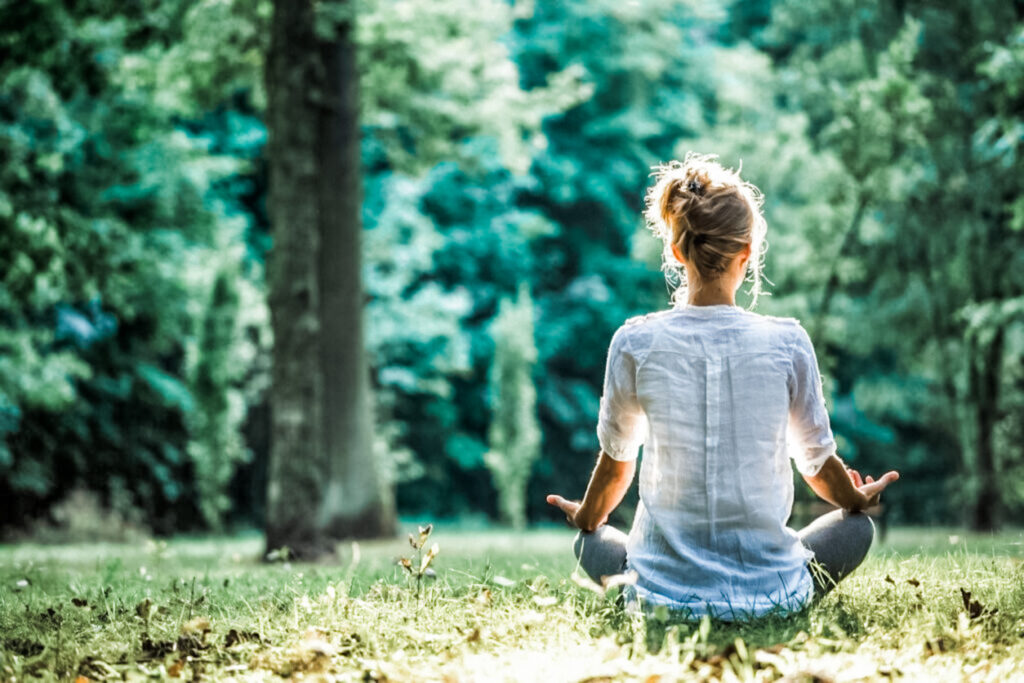 Step 3: Train Hard – Recover Harder
Many of us have had big goals in the gym at one time or another where we want to train ALL day and crush extreme on every moment of every workout – then eventually we tire of it, get some sore spots, or lose our desire to crush quite as extreme.
Don't forget that as often and as hard as you are working out, you should be working IN. Once again, finding what works for you will help. It could be as simple as going easy on the stuff in the gym, or as nuanced as meditating, journaling, doing some yoga, walking in nature, etc. We all have our activities and moments where we feel recharged.
Sleep – you should be getting 7-9 hours of sleep each night. No electronics before bed (up to an hour would be ideal). Take some magnesium if need be, and drift off into restorative dreamland.
The Bottom Line
Buy some vitamin D, fish oil, and probiotics. Take them in the recommended amounts above. Every day.
Consider some other immune support (greens, mushroom mixes, vitamin C, magnesium).
Make sure you're eating well otherwise.
Train hard as frequently as works for you.
Recover harder – find out what works best for you here too (sleep, meditation, journaling, light cardio, yoga, etc.)
If you are interested in picking up some of the aforementioned health supplements, we have them stocked in the clinic, where I recommend them to my patients almost every day. And if you're looking for anything else, you can order through this link, to ensure you're getting the absolute highest quality supplements on the market.
SPECIAL OFFER: for 15% off any order with Metagenics use the code: NH+H2020 at check out!
If all this is confusing or you aren't sure where to start and would like some help – let me know or book an appointment – I'd love to help.
Stay healthy Friends!
Dr. Adam Ball