Father's Day is just around the corner - and amidst golfing, fishing, and (insert Dad hobby here), it's no secret that the big guy is going to want a great meal to celebrate his day.
For the dad's in our family, nothing tops a classic 'steak and potatoes' meal for special manly occasions. But my thinking is that just because it's a classic doesn't mean it has to be boring. Here's what we are cooking up to celebrate our dad's/husband's/father-figures, this year. The theme: rosemary.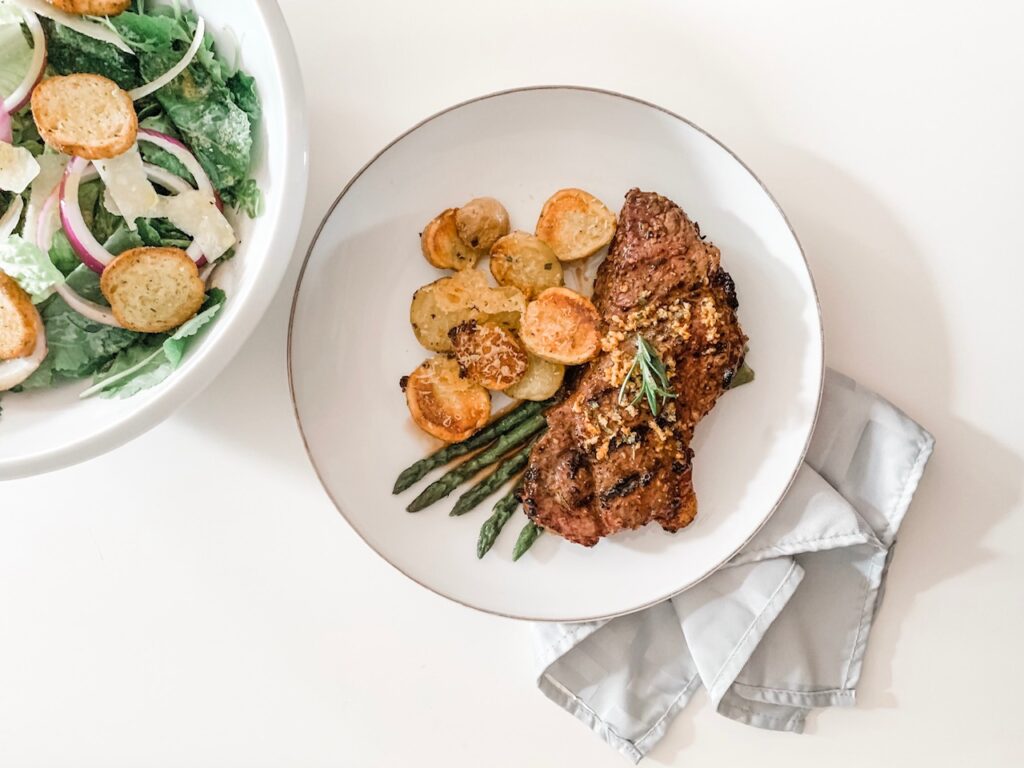 On the menu:
Grilled sirloin steak with garlic and rosemary infused brown butter
Baked rosemary and parmesan baby potatoes
Steamed asparagus
Dad Salad: Romaine, arugula and baby kale salad topped with red onion, shaved parmesan and rosemary infused crostini; drizzled with lemon dijon vinaigrette
The great thing about a meal like this, is that it works for small groups or big gangs. It's the type of meal that requires some attention, but can be prepped in advance and is relatively fool-proof. I'll take you through each recipe and will include a play-by-play schedule for making the meal all together.

The inspiration for this meal actually came from Mother's Day. My bears got me a raised garden bed and I filled it with cucumbers, sweet peppers and herbs. My rosemary is already growing beautifully, so I decided to dedicate this herb with its distinctive sharp – and well, manly flavour – to the meal that is dedicated to our men.

The steaks, while always a great choice for BBQ'ing are taken to a whole new level when topped with a gloriously garlicy but creamy rosemary brown butter, which drizzles onto the asparagus to add flavour. The potatoes are insanely divine – crispy, savoury and addictive. And the salad, while providing a healthy dose of greens, packs a flavourful punch with its lemony garlic dressing and hits of red onion and thick shaved parm.
So here's how this inspiration came together with a little elbow grease and a lot of love for the dad's in my life!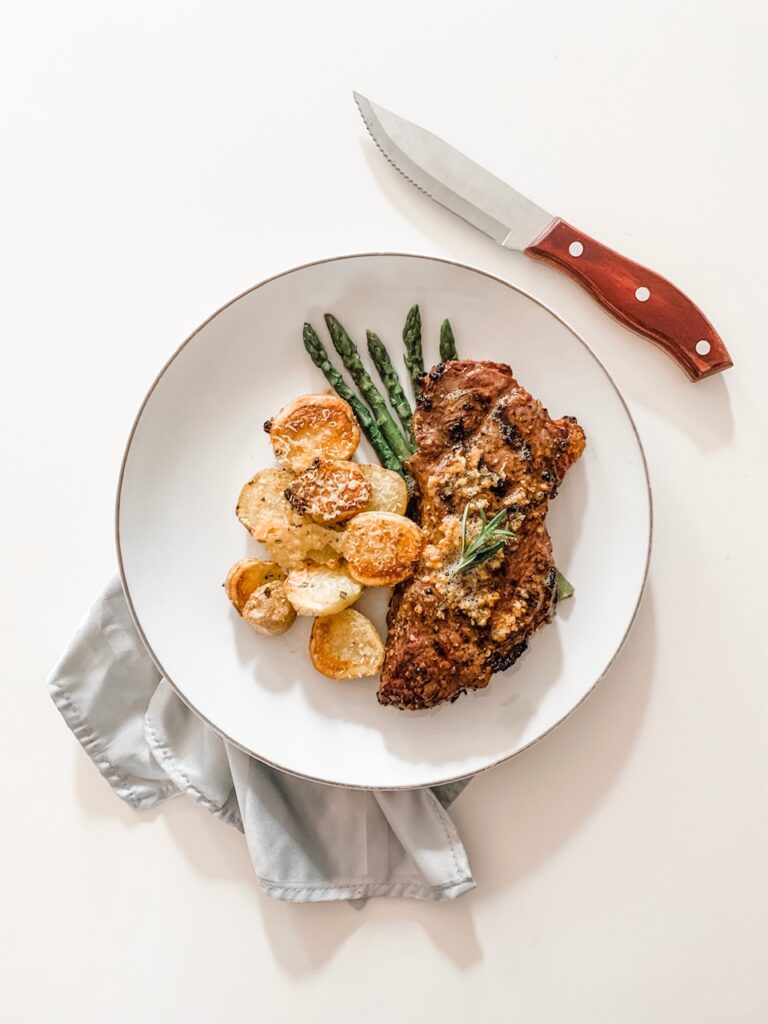 Grilled Sirloin Steak with Garlic and Rosemary Infused Brown Butter (serves 4)


Ingredients:
Four (4) 10 – 12 oz. top sirloin grilling steaks (while typically a leaner cut, ask or look for cuts with a good balance of marbling, which will make the steaks tender while grilling)
¼ cup extra virgin olive oil
2 TBSP Worcestershire sauce
¼ cup salted butter
2 cloves garlic, crushed (or finely chopped)
½ tsp freshly chopped rosemary
Salt and pepper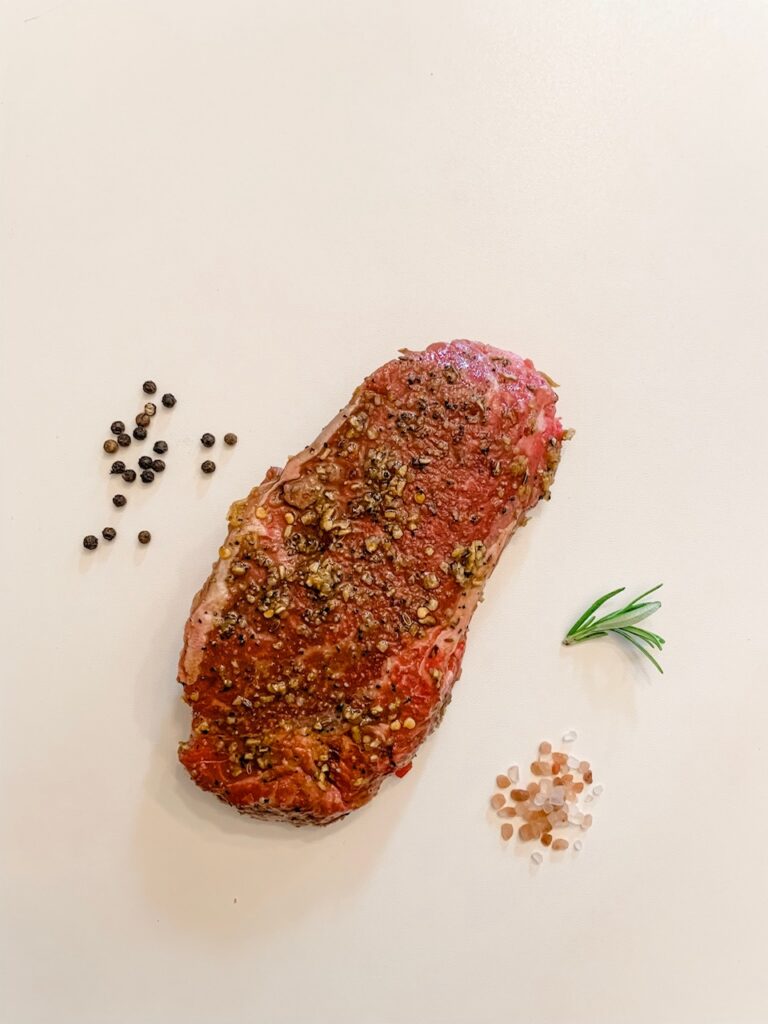 Recipe:
Start by prepping your steaks: Drizzle the extra virgin olive oil over and then the Worchestershire sauce. Generously top with salt and pepper and gently massage it all in. You can prep your steak the night before, placing them in an airtight container in the fridge, or you can do this the day of, up to an hour before you grill them.
*Tip: I have been told that the secret to a great steak is to use a lot of salt, with the general rule being to put double the amount that you think should go on. I cracked Himalayan sea salt over our steaks and probably used about 10 turns per steak, per side*
*Tip: Another secret to grilling a great steak is to let your beef come to room temperature before placing it on your BBQ grill. The general rule is to take out your steak about 20 – 30 minutes before grilling.*
To make the garlic and rosemary brown butter: Once your steaks are prepped, you can get your butter started. Place the butter, crushed garlic, finely chopped rosemary and a few turns of coarsely ground pepper into a frying pan. I like to throw everything into a pan prior to grilling, so that when the time comes to cook it, all I have to do is turn the heat on the stove. When you're ready to cook, turn your heat to high to let the butter melt. Once your garlic is fragrant (after a couple of minutes), turn the heat down to low and stir every few minutes. You want the butter to bubble and turn brown, and you want your garlic and rosemary to cook and infuse the butter with flavour – but you don't want it to burn. This takes about 10 minutes or so, stirring every few minutes. I like to set it aside and keep it in the pan until it's ready to be served.
To cook your steaks: Now barbecuing is a bit of an art and I don't claim to be a BBQ artist, but here is my advice. Start with a clean and hot grill. I set our BBQ to high and wait until the temperature reaches about 500 degrees. Add your steaks and then turn your heat down to medium-high. Depending on the thickness of your steaks and how you like your steaks cooked, the grilling time will differ. For 1 ¼ inch steaks cooked medium rare, I cooked mine approximately 4 minutes per side, then 2 additional minutes per side. You can always use the old feel test to determine doneness (a medium rare steak will feel similar to the inside of your palm, under your thumb). A meat thermometer also works wonders, but don't prick your steaks too much to let all the juices out.
As a general rule of thumb, it's best not to play around flipping the steaks too much. Some people argue that a steak should only be flipped once to preserve juices. But I like my steaks with the fancy-looking criss-cross grill marks, so I do 3 flips – use your judgement!
*Tip: once your steaks are cooked, take them off the grill and let them rest. Ideally, you should allow for about 10 minutes of 'resting' to let the steaks 'come to' and preserve all of the yummy juices.*
To serve: plate your steak and add a couple of spoons of brown butter, including some of the crispy garlic and rosemary. Enjoy!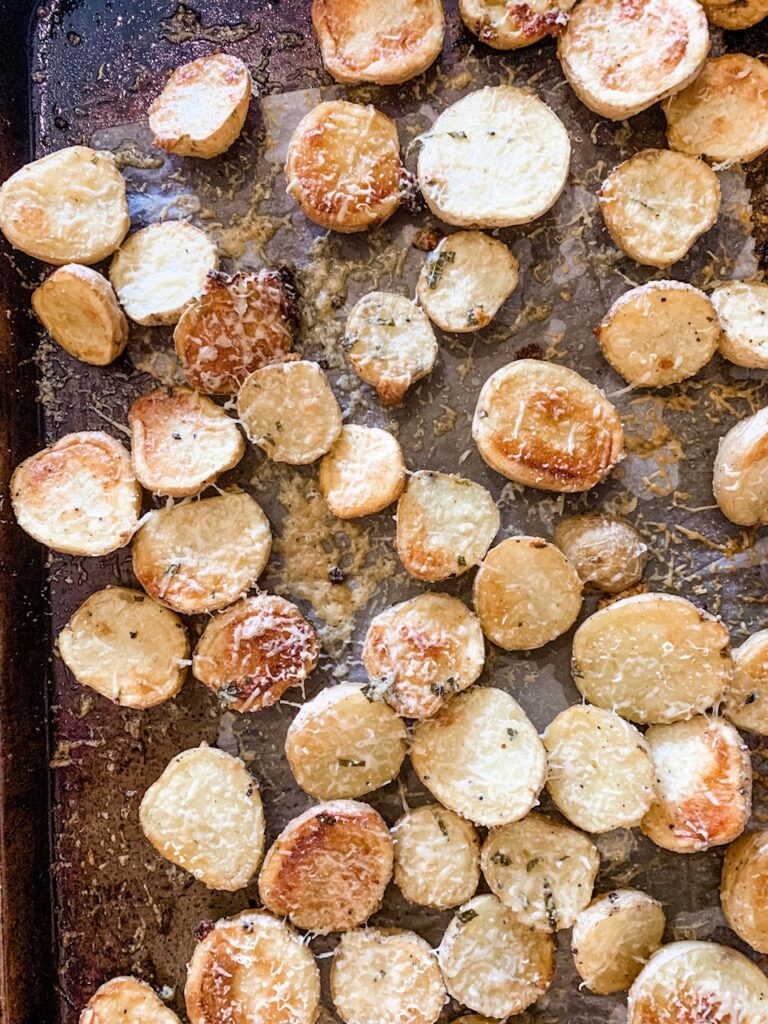 Baked Rosemary and Parmesan Baby Potatoes (serves 4)
Ingredients:
1.5 lb. bag of yellow-fleshed mini potatoes
¼ cup extra virgin olive oil
2 cloves garlic, crushed (or finely chopped)
½ tsp freshly chopped rosemary
2 – 3 TBSP freshly grated parmesan cheese (pecorino or romano work as well, but avoid the dried varieties that can be found on the dry shelves at grocery stores)
Salt and pepper
Recipe:
Preheat your oven to 400 degrees
Wash and dry your potatoes, and cut them in half lengthwise (leave on the yummy skins)
In a large bowl, mix your potatoes with the extra virgin olive oil, crushed garlic, finely chopped rosemary and salt and pepper (to taste). Toss to mix well.
On a large cookie sheet, lined with parchment paper, place the potatoes *faced down*. It will take you about two extra minutes to turn each potato half to face the cookie sheet, but it will be worth it, I promise. I also add a few more turns of salt to the top of the potatoes.
Place in the center rack of the oven and cook for 25 minutes. DO NOT touch the potatoes during this time. Let them sit and get crispy on the bottom.
After 25 minutes, take the potatoes out of the oven and flip them (yes, this will take another two minutes, but I use a large pancake flipper and it does the trick). Once they are all facing upwards sprinkle parmesan cheese over the tops and place back in the oven for another 10 to 15 minutes. You'll know the potatoes are done when the cheese is browned and the potatoes look crispy and delicious.
To serve: portion potatoes out onto plates, or place into a large dish. If you're lucky, you'll have some extra bits of parm melted onto the parchment paper – you'll want to use your spatula to scrape these bits over your potatoes!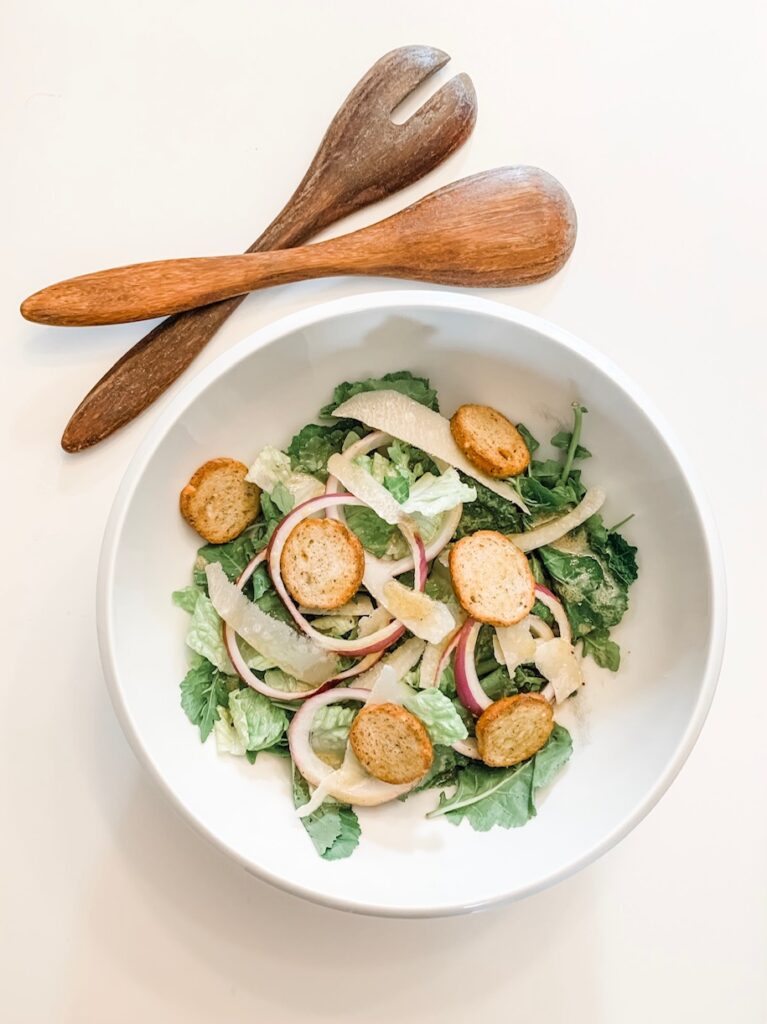 Dad Salad (serves 4)
Ingredients:

Salad:
One head of romaine lettuce, washed and torn or roughly chopped
Box of baby kale and arugula (I buy this variety premixed, but you can buy each separately, or use your own mix. I find that the tart, peppery and hearty flavours of the arugula and kale bring this salad up a notch).
Red (purple) onion (approximately ¼, thinly chopped into rings)
Small brick of parmesan cheese (we use approximately 12 – 15 shavings, or to taste)
Bag of Grissol Baguettes, Rosemary Olive Oil flavour (or any rosemary flavoured crouton)
Vinaigrette:
½ cup extra virgin olive oil
½ lemon, (approximately ⅓ cup of freshly squeezed juice)
1 clove garlic, crushed
1 tsp dijon mustard
½ tsp salt
⅛ tsp freshly ground pepper
Recipe:
Toss romaine, arugula and baby kale together in a bowl and set aside
In a small bowl, mix the crushed garlic, dijon mustard, salt, pepper and lemon juice. Slowly whisk in the extra virgin olive oil and stir until well combined.
To serve: toss the lettuce mixture with the vinaigrette then top with rings of red onion, thick shavings (I use a potato peeler) of parmesan and rosemary crostini.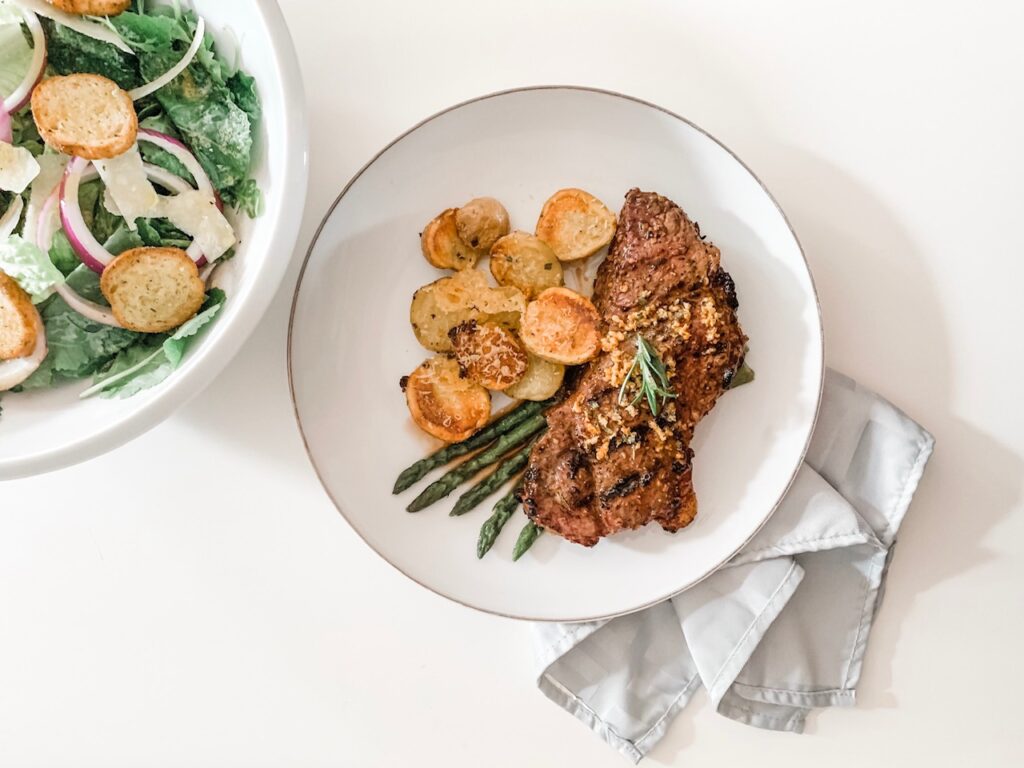 Putting it All Together

To make this 'Father's Day Feast for the Family', give yourself about an hour to an hour and a half. You can marinate the steaks, prep the potatoes and make your salad vinaigrette in advance to make life easier. It's always best to set the table before starting to cook, so you don't have to worry about it at the last minute.

I like to start by taking out my steaks to get them to room temperature. Then I will get the potatoes prepped, pre-heating the oven and then doing the washing/chopping/seasoning. Once the potatoes are in the oven, I will get my steak butter prepped and then I'll start the BBQ. While the BBQ heats up I'll get my lettuces ready in the bowl and will put the vinaigrette together. After this, I will typically put the steaks on the BBQ. While grilling my potato timer typically goes off, so I flip my potatoes, add the parm and put them back in the oven. Then I'll take my steaks off to let them rest. At this point, I'll turn the stove on to cook my steak butter and I will toss the salad with the vinaigrette. The potatoes will be done around this time and then everything is ready!

From here, it's up to you to decide how to serve this meal up, but for special occasions, I like to plate the food and make it look pretty. If you're serving a big gang, it's often easier and faster to place everything in a buffet line. Now you can sit back and enjoy – I'm sure everyone, especially the Dad's will appreciate this one!

I hope you have a wonderful Father's Day, whether you are with your dad, the father of your children, amazing fatherly figures, or if you're thinking of Dad's who may not be with us. While I may give my hubby a lot of slack (can you please just close the cupboard doors after taking things out?!), I would be absolutely lost without his support – and my boys would be too. I'm extremely lucky to have my dad here in Sudbury and am fortunate to say that he's one of my best friends and biggest role models. And my father-in-law may very well be one of the kindest and hardest working guys in the North – make that country. No matter where you are, or what you're serving up for dinner, I hope you can take the time to think of a strong and supportive role model in your life – whether you call this person dad, or something else, send them some loving thoughts – and if you're lucky enough, tell them too!

What are you doing to celebrate Father's Day? Drop us a note, we'd love to hear from you! If you cook this meal up, be sure to share pics and tag us!