International Women's Day (IWD) is this Monday March 8th! Join in at home or online in celebrating the social, economic, cultural and political achievements of women across the globe.

In-person events may not be possible this year but why not take a moment to recognize the fabulous females in your life and do something to celebrate YOU? You deserve it!
The #IWD2021 theme is #ChooseToChallenge. The official site explains:
A challenged world is an alert world and from challenge comes change. So let's all choose to challenge. How will you help forge a gender equal world? Celebrate women's achievement. Raise awareness against bias. Take action for equality.
Read below for ways to celebrate at home, virtual events you can attend online, along with our top buys for boss babes and our must-reads for motivation!
Celebrate IWD at Home
Show your Thanks by Supporting Local
Surprise the wonderful women in your life or treat yourself to a favourite dish, flowers or something special from local female founded businesses. Love the idea but don't know where to go? Check out the profiles in our Heart, Health, and Hand sections which feature businesses run by some of the most ingenious women in the North!

Get Active Outdoors
Indoor gatherings may be restricted but you can exercise outdoors on your own or safely distanced with your favourite females. Use the time together to discuss how you will #ChooseToChallenge in 2021. Review your accomplishments over the last year, discuss your goals for the next and how you can support one another in achieving them. Bonus: exercise is both a mood and energy lifter, something we can all use more of these days. So take a walk around the block, have a picnic on your porch, venture on one of our recommended 'FAB' or FAV Northern hikes or just enjoy the fresh air together in your own back yard.

Be Inspired and Empowered
These uncertain times may test our spirits, but motivational material is proven to lift them. Check out our Heart profiles which feature the people shining at the heart of our Northern communities. You can also read our International Women's Day 2020 post. It features some incredible advice from the top female leaders in their field. If you have been meaning to download that ebook, start that project or better your business now is the time to do it!

Celebrate IWD Online
Create Your Own Virtual Event
We are lucky to live in a time where technology provides a means of connection and a way to celebrate when we can't physically gather. Try hosting a virtual happy hour or party with family and friends in honour of the holiday. Do you have a talent or service you can share? Consider providing online classes, performances, concerts, faith services and more to create a sense of community in celebration of IWD.
She INSPIREs Me
When: Submissions accepted starting Match 8

INSPIRE: A Woman's Portrait Project is an organization that runs photography/story projects that highlight women. They are launching She INSPIREs Me on International Women's Day. It's a project where anyone, anywhere can submit a photo of a woman, female-identifying or non-binary individual who inspires them along with a short description of why they are inspiring. From the images, a curated collection will be selected to be shared broadly in April. Check out the link to learn more!
She&Her: Virtual International Women's Day Celebration
When: Friday March 19, 6-9pm

This organization is dedicated to celebrating she, her and us. Their yearly event is always a sell out and this year it's online, so we are psyched that they will be announcing their amazing speakers, prizes and fun activities in the coming days. Since it takes place after IWD there is still time to buy your tickets! We have attended in previous years, and it has always been an amazing and inspiring night.
Top Buys for Boss Babes
Use this link for 10% anything and everything on Creative Market from Business Card and Website Templates to Logos, Fonts and Free Goods!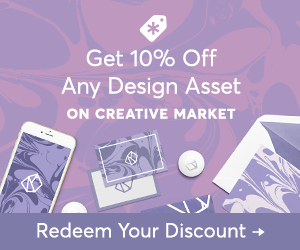 Checking copy for typos or perfecting punctuation? Try Grammarly free!
Looking for a side hustle or a work from home position? Find it at FlexJobs
Need glasses? Get 50% off your first pair of glasses plus free shipping at Clearly! Use this link to take advantage offer.
Even if you don't wear prescription eye glasses or contact lenses, staring at screens all day (computers, tablets, phones, even TV's) can cause our eyes to strain, which can lead to headaches, blurred vision, dry or watery eyes and can overall put a damper on our productivity. If you spend a lot of time on screens there is a great way to minimize these negative effects: digital protection lenses! You can add this protective layer to prescription or clear lenses to defend against eye strain and protect your eyes from harmful blue (screen) light. Use this link to get 50% off your first order!
Rakuten is an easy way to find bargains for business, personal and everything in between while making some extra cash. If you use this link, you will get a $20 CREDIT to your account and once you start shopping you will start earning cash back!
Our Fav's for Motivation and Inspiration
These books are our go-to, inspiring and empowering us to be better every day. Check them out and let us know your thoughts!
The 52 Lists Project: A Year of Weekly Journalling
How are you spending International Women's Day? We would love to hear about it! We are beyond grateful to have so many amazing women in our lives who lift us up and have helped us become better versions of ourselves: our grandmothers, mothers, mothers-in-law, sisters-in-law, aunts, cousins, nieces, girlfriends, each other, all our female features, and especially YOU – our Northern Heart + Home reader.

In celebrating the people, places and positives that set the North apart our editors naturally review products and make recommendations. If you make a purchase by clicking one of our links, we may earn a small share of the revenue. This will help subsidize the copious amounts of coffee and tea we go through while creating Northern-inspired content. Trust that any compensation received will never influence Northern Heart + Home. We only feature items we love and think you will too!